If you're one of those people that gets proper sleep on a regular basis, it means that you'll spend approximately one third of your life in dreamland. And yet, if the average American were surveyed and their sleeping habits were monitored, the results would likely show that most individuals don't get as much sleep as they should. In fact, it's estimated that more than 50-70 million Americans suffer from insomnia or some form of wakefulness disorder.
Maybe that's why a new gadget created out of Palo Alto, California has been such a huge hit in its first two weeks on crowdfunding platform Indiegogo. It's called the FitSleep. It's a sleep monitoring device that the user can place under their pillow or mattress in order to track various aspects of their sleeping pattern. The campaign has now raised nearly $60,000 in just its first two weeks and it appears the gadget is going to easily surpass its goal of raising $100,000 fairly quickly with more than a month remaining in the launch.
The device measures and monitors various aspects of one's vital signs including the heart rate, respiratory rate and sleep patterns. Unlike most monitoring devices already on the market however, it actually has features built-in that help the user get a better sleep. It uses invisible alpha waves and frequencies in order to do so.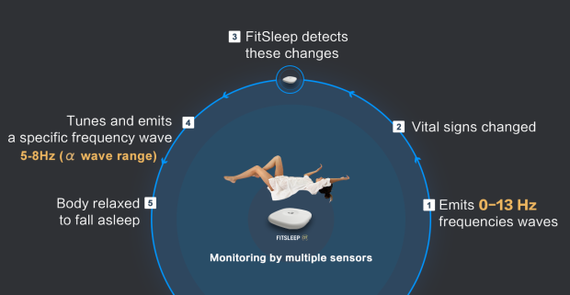 It's obvious that these kinds of devices represent the next frontier in technology and more specifically in the health and wellness space. The creators of the FitSleep clearly recognize that, as the technology and its companion app work together to help users fall asleep, stay asleep and also recommend exercise routines and lifestyle changes that will aid people in leading a healthier lifestyle while they are awake.
The mission of the company and the product is to help people learn more about their own personal sleep pattern and to provide the tools to be able to improve their quality of rest and the quality of their lives.
Perhaps one of the reasons the FitSleep is generating such a buzz among backers who seem to be gladly putting their money down on it is the fact the device can be used by both children and adults, and its app can be used by family and friends, not just a single user.
In a time where it seems people can monitor just about any aspect of their health, it seems sleep monitoring technology is reaching new heights, which should make plunking down on a mattress for a full eight hours a little bit easier for America's insomniacs.
Related