If you're like me, trying to get some sleep while traveling via plane, train, or automobile is almost impossible. Unlike some animals, people just weren't designed to fall asleep with our heads in a vertical position. Fortunately, we will soon have the FaceCradle Travel Pillow, which puts all other travel pillows to shame, as evidenced by the fact that it has become one of the most popular items on KickStarter. The campaign has already raised over $342,000 (US Dollars) with more than a month left to go after starting the campaign with a modest goal of just $15,000.
FaceCradle is the brainchild of Australian entrepreneurs David Scrimshaw and Roz Ruwhiu, who have both experienced first hand the difficulty of sleeping on an airplane. Their solution to the problem was the FaceCradle, which consists of two pillows that are held up by an internal frame and bound together by a hinge that enables the two pillows to fold out and lock in whatever position the user desires. This gives the FaceCradle versatility that doesn't exist with any other travel pillow on the market.
With the FaceCradle, the user has five different options for positioning his or her head:
1. Dozing Mode - Mimics the position of a standard neck pillow.
2. Snoozing Mode - FaceCradle is positioned between the user's head and shoulders, allowing the user to move his or her head horizontally and relieve pressure from their neck.
3. Table Nap Mode - FaceCradle is placed on the airplane tray table or any other table with user's arms in between the two pillows. This mimics falling asleep on any table but with far more comfort.
4. Deep Sleep Front - The FaceCradle harness is attached to the seat back with the user leaning forward at the most comfortable position. User places head into FaceCradle as if he or she were lying on a massage table.
5. Deep Sleep Side - Same as Deep Sleep Front except with the user's head facing sideways.
Not only does the FaceCradle provide more versatility than the average neck pillow, but it's also more convenient. The pillow can collapse easily so it's quick to fold up and easy to carry unlike a bulky travel pillow that can be a hassle to carry or pack in a suitcase. Comfort is not an issue either, as the inside of the FaceCradle is made of hypoallergenic memory foam, while the covers are made of Brushed Velour, a soft polyester material.
The FaceCradle can also be used without inconveniencing anyone around you. While on an airplane, the seat does not need to be adjusted when attaching the FaceCradle's harness, nor will the comfort of the FaceCradle be affected by the seat in front of the user reclining backwards. This makes the FaceCradle perfect for long flights, as a person can get some sleep without paying extra to get more space in first class, while at the same time also being useful in cars, buses, and trains. It almost looks like an upright, compact message chair type device, doesn't it?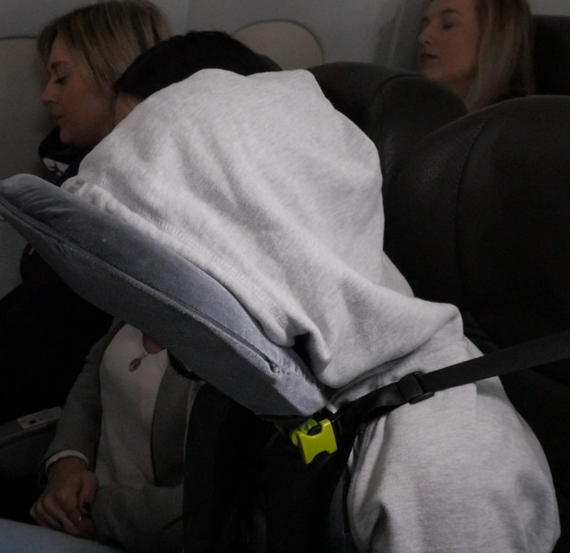 The fact that FaceCradle has already raised more than 20 times its goal via KickStarter speaks for itself. Frequent travelers all over the world can relate to the problem of not being able to sleep on long flights, and FaceCradle has quickly become the best product available that can alleviate that problem. Any traveler who wants to arrive at their destination rested and refreshed is going to want one.
REAL LIFE. REAL NEWS. REAL VOICES.
Help us tell more of the stories that matter from voices that too often remain unheard.