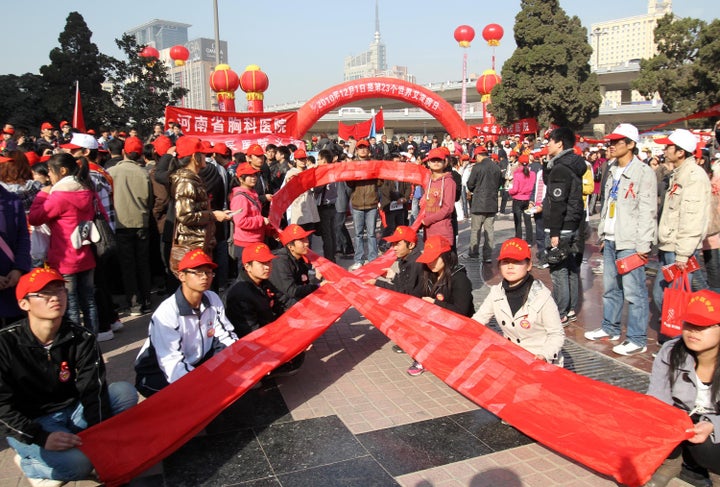 "With regards to emerging HIV research, all bets are off," Jenna* told me over the phone last week. As the director of a multimillion dollar AIDS charity, she should know. "Five years ago, if you would have said that a man could be cured of HIV through an experimental stem cell transplant, and that treatment as prevention would be one of the hottest topics in the field, no one would have believed you."
The scores of university-based scientists creating novel approaches to eliminate HIV are suddenly more attractive after a previously unknown doctor in Berlin cured Timothy Brown of AIDS through a novel bone marrow transplant. What could other nontraditional approaches do for our ability to fight AIDS? What will the next great leap forward be, and how can we make sure it gets tested ASAP?
Until that breakthrough is discovered, 1.7 million people still die worldwide from AIDS each year. The death of these individuals remains a painful challenge of the AIDS pandemic, and research and testing of therapeutic vaccines and cure research leaves much to be desired. International sales of ant-retrovirals in 2011 were over $15 billion, while commercial reinvestment into the testing of therapeutic vaccine and cure approaches was just $30 million, or just 0.2 percent.
So it appears we need more ways to get money flowing into new cure and therapeutic vaccine research.
The last five years have shown the incredible power of crowd-funding to mobilize projects from underground parks in NYC to documentaries on war crimes in Central Africa. Through the power of social media, campaigns can now become as large as the ideas they represent, but can crowdfunding be effectively used to advance HIV vaccine research?
The first obstacle that most people think of is the sheer size and cost of vaccine trials. The prophylactic Thai vaccine trial that made headlines in 2009, involved 16,000 people over three years, and cost approximately $300 million. Not the kind of money that can be raised $10 at a time.
However, therapeutic vaccine and cure approaches aim to suppress or eliminate the virus in people who are already infected. Phase I human trials can consist of a few dozen HIV+ individuals. Besides preliminary safety information these trials provide the most reliable gauge of whether new compounds can effectively defend our precious immune system from HIV.
The hurdle is how can the public responsibly fund research that may one day become a billion-dollar enterprise? For the group that finally cracks the code is sure to make a bundle. The answer, I believe, lies in Program Related Investments.
The concept of Program Related Investments (PRI) has been very popular for years among the large family foundations in the United States. The investment involves a non-profit making an mission related investment with a for-profit partner. In April of 2011, the IRS released a series of new examples to encourage increased PRIs by charity groups. Vaccine research was mentioned explicitly: "Y, a private foundation, enters into an investment agreement with X in order to induce X to develop [a] vaccine... to distribute the vaccine to poor individuals in developing countries at a price that is affordable to the affected population."**
Under the guidance of my board at the Abzyme Research Foundation I launched a crowd-fund to start a new therapeutic vaccine on the FDA approval process on Dec. 1 In two weeks we have raised 50 percent of our initial goal and I believe the project is attractive to donors for two reasons.
First, by supporting a specific approach, donors can track and monitor the progress of their charitable investment. Like a for-profit investment, you want to know how it is performing.
Second, Abzyme Research Foundation is funding this research in exchange for equity in a start-up biotech like any other venture capital firm. Instead of individuals profits, the goal for the Foundation is advancement of research and creation of resources to help with subsidized distribution in underprivileged communities. Investing in research is always a risk, but donors like the the long term financial structures which secure resources for those that have the least.
As an HIV+ person, my desire to end the era of AIDS is not unique. That I work to try and do just that is also not unique. What is unique is the innovative new method to fight AIDS that I have been able to offer the public with the help of my incredible board and leaders in the field of social entrepreneurship. Regardless of whether you think this effort has the potential to change the course of HIV/AIDS, it is essential to keep considering what has that potential, and then identify how you can offer your support. To learn more about our support of the FDA filing for a new HIV vaccine and learn more about Program Related Investments, visit http://endhiv.causevox.com.
*Named changed for anonymity
** Internal Revenue Bulletin: 2012-21 - REG-144267-11
Popular in the Community