Last week I launched a crowdfunding campaign on behalf of the Atlantis Cricket Club-NY women's team heading to the 5th Annual Georgia Women's Cricket Association T20 Tournament in Atlanta, Georgia. The response to our fundraising campaign has been very heartwarming. Within 3 days, we raised over $4,000 and to date, we have raised $4,955 (99%) of our $5,000 goal. This is the first known crowdfunding campaign for women's cricket in the US and by the numbers, it has been a resounding success.
Too often we hear about the things that are wrong about US cricket, but not enough about the good. The support by all participants is very laudable and in my opinion, it signals a fundamental positive step forward for cricket in the US. In this fundraising campaign, we saw an authentic, grassroots-effort by US cricket organizations, and individuals from around the world to donate to a New York-based women's cricket team. This team included players from the US, Canada, and Trinidad & Tobago. We have received donations from as far as Trinidad and Tobago, and India. In this simple act of donating to the campaign, 62 donors broke the barriers of gender, politics, and geography - all in the name of women's cricket.
A significant number of donations came from California and is attributed to the fact that almost half of the team is based in California. Nevertheless, individuals from New York, New Jersey, Georgia and more, have come together for the common good of cricket and for that, we are thankful. I also take this opportunity to acknowledge publicly, the donations of the cricket organizations that have stamped their support for women's cricket. To the following cricket associations, on behalf of the Atlantis Cricket Club, I thank you for your contributions to our cause. You have been supporting women cricketers in the Bay Area in various capacities and your continued support of women's cricket development in the US and by extension in the Americas is very much appreciated:
With your support and that of the other donors, the Atlantis team arrived in Atlanta and finished undefeated in three matches to win the tournament. The tournament featured 4-time champions Atlantis Cricket Club; hosts - Atlanta Pearls; Canam United - a team comprising mostly US and Canadian players with others from Peru, St. Lucia, and Zimbabwe; and Cricket Council of Ontario - a team of current and prospective Canadian national players.
Each year, we are seeing younger players competing in this open women's tournament. This year's top tournament wicket-taker was 9-year old prodigy, Ritu Singh. There were at least six other teenage participants ranging from 12 to 18 years old. This augurs well for the Americas region. Slowly, the landscape of women's cricket in the US is changing in a positive direction - both on the field with the age and caliber of our players; and off the field with the growing support.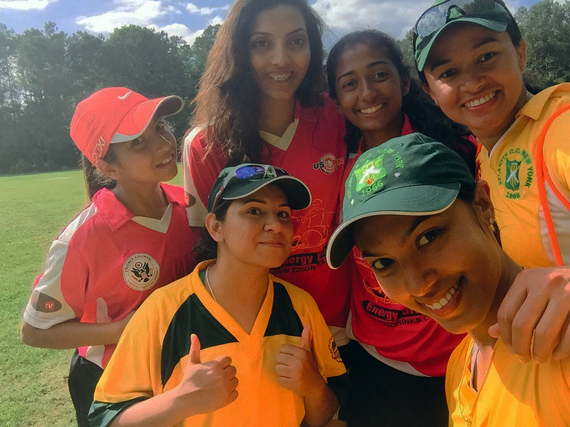 Photo above: Players from Atlantis and Cricket Council of Ontario take a selfie after the final match.
The International Cricket Council (ICC) is yet to reinstate the ICC Americas Women's Championship which would permit a representative from our region to compete in ICC World Cup events; and may not do not so in the foreseeable future. Instead of being left behind, maybe it is time we secure sponsors to organize a Pan-American Cricket Championship for women cricketers in our region.
Calling all HuffPost superfans!
Sign up for membership to become a founding member and help shape HuffPost's next chapter