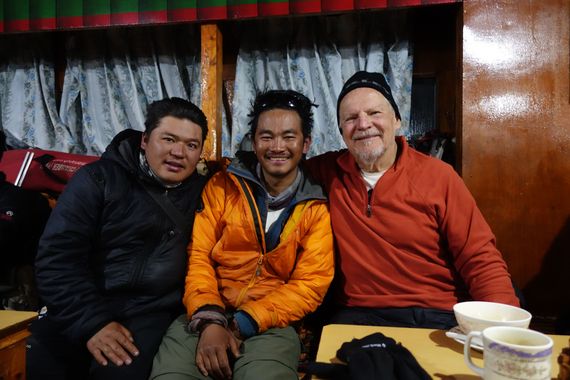 From just 500 feet away, Ed Marzec saw truck-sized sheets of ice slide down Mount Everest and kill 16 Sherpa guides last week. He's since created a relief fund to compensate guides who are fired for refusing to make summit attempts.
The 67-year-old Los Angeles-based conservationist (pictured above, right) hoped to become the oldest American to summit Everest, but now he has launched an avalanche fund to benefit Sherpas. Specifically, those employed by Nepal's government who reject summit assignments, losing their jobs and thousands of dollars in income. The remaining proceeds will go to the families of the 16 guides lost.
Among those buried in a deep glacier crevasse is Ash Gurung, Marzec's close friend. The American has expressed gut-wrenching grief over the deaths, but especially Ash's; his team lost two other guides in the disaster, as well. Last year the 28-year-old saved Marzec's life when he slipped off a trail on Yala Peak, also in Nepal. Later he insisted that Ash join his Everest team, a decision that makes him feel unforgivingly guilty.
To honor Ash (pictured above left, and below) Marzec has started a separate crowdfunding campaign for his friend's wife and two young children.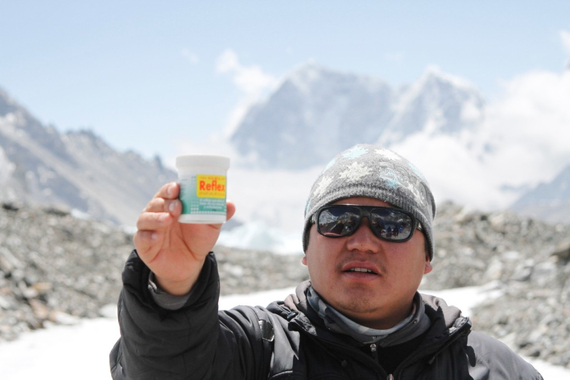 Mukunda Bista of the Nepal Youth Foundation has visited Ash's village, one with a strong mountaineering tradition and many Sherpa guides. Residents there and in similar communities rely on the income brought in by men who work in the trade.
In a phone interview from the capital, Kathmandu, Bista described meeting with relatives, seeing Ash's mother and wife "crying all the time" and an extended family without skills or education, living in the same small room, "totally dependent on Ash" for financial support.
Bista felt devastated watching Ash's nine-month old son "smiling, this small child who didn't know he lost his father. All this made me want to cry, but I did not."
At the time of the avalanche, the Sherpas were working on a notoriously dangerous slope, setting ropes and ladders for hundreds of mostly Western climbers who pay tens of thousands of dollars to attempt an Everest ascent.
Marzec told a BBC radio show that despite his unrecoverable climbing expenses, totaling about $100,000, he's dedicated to helping Nepal's Sherpa community, because "the things I'm sacrificing are so insignificant [compared] to the sacrifices of these 16 men and their families," including financial stability.
On Tuesday hundreds of Sherpas decided to close the 2014 climbing season in memory of the deadliest-ever day on the mountain. The guides could lose the season's pay, about $5,000, in a country where annual per capita income is roughly $750.
Marzec said he felt "extremely responsible" for the wellbeing of Ash's family and promised to help pay for his daughter and son (now three years old and nine months old, respectively) to attend college.
"He was an extremely charismatic young man," Marzec said. "He was fun...He was gentle. And he was a tremendous person. And I feel absolutely responsible for his death...It hurts when I talk about it."
Related