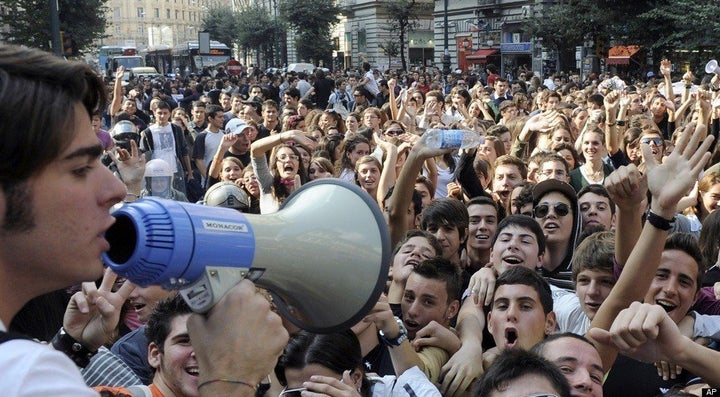 Crowdfunding -- the collective cooperation by people who network and pool their money together -- is here. And the implications, from technology to community-powered renewable energy to political campaigns or to financing the next wave of social enterprises, are immense.
The Obama campaign, through harnessing small contributions from millions of supporters, fueled a funding phenomenon already taking hold in the art and music worlds.
Social entrepreneurs (i.e. entrepreneurs solving social and environmental problems through business practices) are taking notice.
Meet, Katie Meyler. She's starting a social enterprise, More than Me Inc., to employ and provide free education to woman in post-conflict Liberia. The women help design and manufacture smart-phone and laptop cases, initially to be sold at college campus stores. The slum where the women live, called West Point, is infamous for child prostitution and machete-inflicted violence.
Katie recently talked to factory workers in Liberia and asked them to join her in supporting More than Me's mission. "We were ecstatic when they agreed to work with us," she said.
First step accomplished, but when When Katie needed to raise money for raw materials, she decided that tapping her social network for $50,000 in start-up capital via a crowdfunding website, was the only choice.
Why? "Raising money through our awesome community of supporters aligns with what we're about," said Meyler. "I don't have the first clue how to raise money from big-time investors, but I know hundreds of people who believe in us. I know hundreds of people who want to connect -- even in a small way -- to our work in Liberia." She added, "I know how to stay up all night and use Facebook and Twitter to energize people, and that will be the key to our crowdfunding success."
Thousands of social entrepreneurs are in need of a disruptive financial innovation: a way to connect with the with the vast pool of capital in the hands of our friends, our family, and the growing number of people who believe social entrepreneurship allows for a deeper, more sustained impact than traditional models.
For many, "tapping the crowd" is just what they've been waiting for.
Popular in the Community