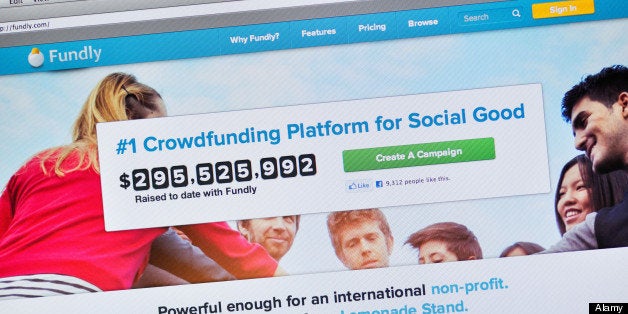 My first experience supporting a cause was "adopting" a Native American boy through Save the Children when I was in college. Barely an adult myself, that transaction made me feel responsible, but it didn't make me feel connected to this boy; letters took months, momentum was lost. There was also a solemnity to the whole affair of writing my little check and inserting it into an envelope stamped with his photo.
Social media has eliminated communication hindrances for everyone, of course, but it's also become a tool that is inextricably linked to fundraising success. Using social media engagingly means cause-driven individuals and groups can connect intimately, effectively and in the most creative ways.
Seth Godin has characterized the era we live in as the "connection economy," birthed, fueled and energized by the Internet: I connect with your cause and, thanks to terrific online tools, I will not only give you money, but I'll ask my tribe to do so, too.
What could be simpler? If you're working in social justice, and you're not seriously exploring crowdfunding as a piece of your fundraising plan, what are you waiting for? Because crowdfunding is hot right now.
According to the Crowdfunding Industry Report, $5.1 billion is expected to be raised using crowdfunding in 2013. That figure includes equity-, debt-, reward- and donation-based models. With popular reward-based sites such as Kickstarter breaking moneymaking records on select projects, you might be surprised to learn that 45 percent of growth was attributed to donation-based projects. Only 11 percent went to projects that offer rewards.
As for 2013, "Social Causes is by far the most popular category and drives close to 30 percent of all crowdfunding activity," the report states.
This prominence means that the media is on high alert, inclined to write about causes that many publications previously relegated to the public service section.
Crowdfunding has shifted the dynamic of giving by injecting a new energy and sense of empowerment into the vein of fundraising. When you click the donate button, your contribution becomes more than the 20 or 200 bucks proffered. You're really giving your social influence. A buzz of excitement is created when you zoom in on an issue that matters deeply to you, share it with likeminded people and receive real-time feedback. It puts you in the middle of the action, no matter how many continents, cultural references or time zones separate you.
Crowdfunding provides a new sense of possibility and passion in a world of adversity that can seem intractable and unsolvable, giving rise to an inspiring assortment of social entrepreneurs who are finding their mojo, unleashing it and watching it ripple through time and space.
Watsi, for example, is a crowdfunding platform that funds medical treatments for the most marginalized people all over the world. The coveted Silicon Valley accelerator Y Combinator, which supplies venture funding and expertise for startups, recently decided to work with Watsi. This is Y Combinator's first partnership with a nonprofit.
Here's what Y Combinator partner Paul Graham had to say about Watsi: "After about 30 seconds of looking at the site, I realized I was looking at one of the more revolutionary things I'd seen the Internet used for. Technology can now put a face on need. The people who need help around the world are individuals, not news photos, and when you see them as individuals, it's hard to ignore them."
Or take Sevenly. No stranger to innovation in its own right, this group creates weekly cause campaigns whereby people can purchase lifestyle products that benefit a partner charity. Sevenly took an already entrepreneurial model for social change and upped the ante by running a crowdfunding campaign on Indiegogo, one of the first and top-rated crowdfunding sites to accept all cause-related projects.
In an inspired "meta" moment, Sevenly cofounder Dale Partridge decided that the world had enough soul-sucking reality television shows. The funds raised for Seven Days of Change: A Reality Show would follow and film Sevenly in its weekly challenge to raise funds. The crowd liked the idea so much it contributed more than double the $25K sought for production costs, for a total of almost $60K.
The ability to reach a mass audience and raise funds is limited only by a social justice entrepreneur's imagination.
Technology empowered Mark Horvath, laid low by his own homelessness, to talk to as mass community of fellow homeless people and share what he learned on Twitter and Facebook -- because those services are free. A Chicago-based film company found Horvath and began following his work. Check out the trailer for an upcoming documentary called @Home (below) to follow the progress of this partnership, and be prepared to hear more about Horvath as a Kickstarter campaign launches to raise production funds.
If you're an existing nonprofit concerned that turning to crowdfunding will make the current fundraising aspects of your organization obsolete, think again. Crowdfunding should not be expected to solve all your funding needs. Because campaigns must be project-based, you can simply use it to fund a particular initiative without dealing with the onerous grant approval process or generating statistical program data that can take years.
Fears that crowdfunding is taking money from traditional nonprofit efforts are unfounded too.
Consider the now iconic story about bus driver Karen Klein, who was bullied. What started as one nice young man who launched a campaign to raise $5K to give Klein a vacation turned into a public mandate to stop bullying, forever. The project raised more than $700K. Not only did Klein get her vacation but, thanks to crowdfunding, more money is being funneled into anti-bullying because of the foundation she created in her name.
Not convinced that crowdfunding rules cool? Using the power of the crowds is a sure way to get the youth demographic behind your cause -- something President Obama knew well, but Mitt Romney did not. We know how that campaign turned out.
Related