WASHINGTON ― CrowdJustice, a prominent British fundraising platform for legal representation, launched in the U.S. Tuesday, accepting donations for its first American case: a complaint in Virginia against President Donald Trump's executive order on refugees and immigration from seven Muslim-majority countries.
British activists used the for-profit company's system to raise over £170,550 (more than $200,000) for a "people's challenge" to their government's decision to withdraw from the European Union following a referendum last summer. Last week, the British supreme court ruled in favor of those activists and other opponents of the government move, setting a historic precedent and forcing Prime Minister Theresa May to take the issue to Parliament.
Now the site is fundraising for the Legal Aid Justice Center, a Virginia-based group that filed suit against Trump's order on Monday.
The order caused homeland security officials to lie to up to 60 individuals who traveled to Dulles International Airport in Virginia after Trump signed his ban, the suit alleges, forcing them to sign away their legally granted right to be in the U.S. under a false threat of a five-year ban on entry. Once they had obtained the travelers' signatures, the border agents were able to deport or detain them. The center's attorneys believe the government violated due process rights specifically because of a desire to discriminate against Muslims, they wrote.
"One can renounce one's legal status. That might be for whatever personal reasons," said Mary Bauer, the center's executive director. "The issue here is that the Department of Homeland Security could not accomplish what they wanted lawfully, so we have reason to believe that they lied."
The suit names two affected individuals, Tareq Aqel Mohammed Aziz and Ammar Aqel Mohammed Aziz, both Yemeni citizens with U.S. visas. They arrived at Dulles on Saturday as part of their journey to reunite with their father, a U.S. citizen. Border agents did not allow them to board their connecting flight. Instead, they handcuffed them and took them to detention, where they made them sign the forms ― which specifically say they are to be used voluntarily. They placed the brothers on a flight back to Addis Ababa, Ethiopia, where they remain, Bauer said, unwilling to return to war-torn Yemen. They do not even have copies of the documents they signed, she continued.
The other approximately 60 individuals who lawyers believe had similar experiences ― holding passports from countries on Trump's list and valid U.S. immigration documents, such as green cards or visas ― are not named in the complaint. The center is working to identify and name those who were affected, Bauer said.
The complaint notes that travelers who had similar documents were permitted to enter the country after some time in detention, citing this as further evidence that border officials lied.
Dulles authorities have defied attorneys and lawmakers for days, even after a federal judge ruled Saturday that detainees with green cards must have access to counsel.
After a trip to the airport Saturday night, Sen. Cory Booker (D-N.J.) said he believed the border agents were defying the court ruling. He provided an affidavit on the events of the night for the complaint and sent a letter to Secretary of Homeland Security John Kelly Monday evening.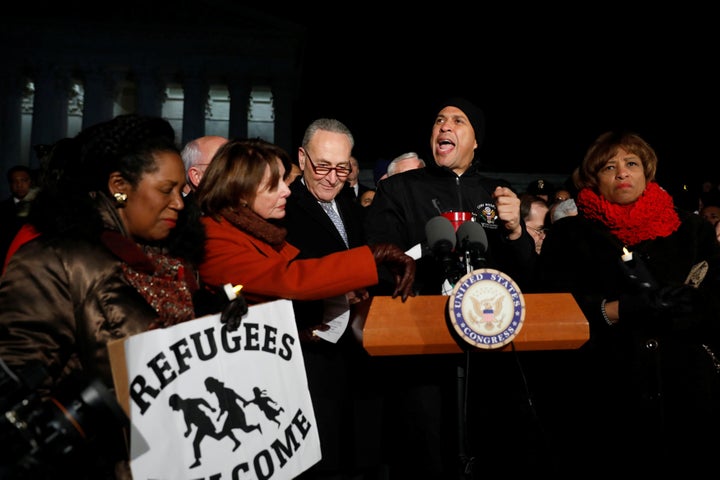 The Virginia suit is one of multiple legal challenges to Trump's order, which the top Justice Department official refused to defend before Trump fired her Monday night. Meanwhile, protests against the administration's actions are ongoing across the country.
CrowdJustice, the platform helping support the case, anticipates strong public backing for multiple suits in the Trump era. "We're really, really excited to launch here in the U.S. ... at a time when the courts are proving a very valuable antidote to executive power," said Julia Salasky, the firm's chief executive.
Launched because of worries about increasingly unequal access to the courts in the United Kingdom and the U.S., the site allows individuals to choose which cases they want to support ― an option not currently available when donating to large organizations such as the American Civil Liberties Union. It hopes to attract activists on the left and right.
"There's not really a political aspect to what we're doing," Salasky said. "There's a huge democratization aspect."
Before You Go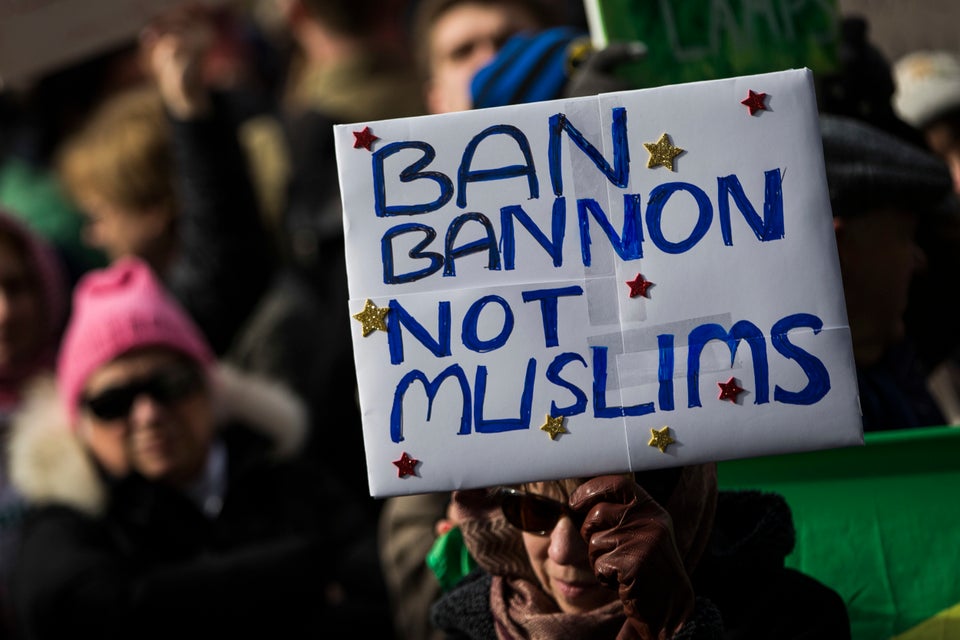 Nationwide Protests Against Trump's Executive Order
Popular in the Community