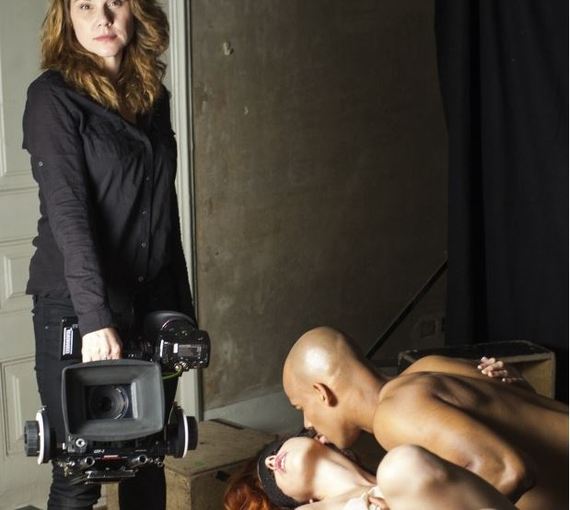 The sharing-economy movement has already shaken up the lodging (Airbnb) and transportation (Uber, Lyft) industries. Could porn be next?
For adult filmmaker Erika Lust, the answer is yes (yes yes). Last year, Lust launched XConfessions, a series of short erotic films based on real-life fantasies submitted by anonymous contributors. The groundbreaking idea, which is helping to democratize porn, will be discussed by Lust on April 15 at the Feminist Porn Awards in Toronto. (And yes, there will be a screening, too.)
"Crowdsourced porn" is not, of course, an entirely new concept. Sites like Make Love Not Sex have been soliciting porn videos from real couples for years, and there are a host of services like Fan Fun XXX that serve as de facto Kickstarters to fund adult entertainment projects. But XConfessions is seemingly the first of its kind to take real-life fantasies and produce high-quality short films, with accomplished performers, using them.
According to Lust, the series began with a simple idea: Offer a portal for people to submit their anonymous sexual confessions. Soon, she realized the fantasies were something else: porn scripts just waiting to be produced in film. "The public's imagination is far beyond that of the mainstream porn industry, so I knew the confessions could make great films with the right screen adaptation and direction," Lust says. "Plus, everyone's a bit of a gossip and an exhibitionist, so being able to confess anonymously gives the notion of power in secrecy."
When deciding which fantasies to commit to celluloid, Lust says she looks for the hallmarks of any great film: "erotic tension between characters, or a very accurate description of a particular atmosphere."
The film "I Found Your Mother On Tinder," for instance, was inspired by this confession:
"Oh, my god, how many times, during my early teenage years, I spent fantasizing about my friend Martin's mother! While my mum is dowdy and boring, and wears ugly cardigans and sensible shoes, every time I went to visit Martin his mum would walk past. She looked like an empress. While at other kid's places the house would be crowded with everyday objects, Martin's home was always orderly and refined. I would go home after doing my homework with Martin and touch myself all night thinking about his mother. Then my father took a new job on the other side of the country and I had to change schools. Ten years went by, I went back to my hometown and, being single, I installed the Tinder app in my mobile phone . . ."
Another recent favorite was a film made from a fan-fiction fantasy about Don Draper's penis. "We decided to make a film with characters that were super-fans of the series, reenacting their fantasy," Lust explains. "My imagination ran wild with the '60s-style costumes and set. I also had the pleasure of filming with the gorgeous and curvaceous Poppy Cox."
XConfessions taps into Lust's commitment -- shared by a growing number of visionaries in the adult film industry -- to produce porn that's, well, real. In addition to drawing from real-life fantasies, "the performers look like and play characters that are like the guy or girl on the street; they are natural, individual and attractive in their own unique way," Lust says. "The settings are places you've been to or could go. The sex is real; you can see the pleasure, the sweat, the touching. You can hear the sounds. The performers caress, enjoy and pleasure one other. You will not find any of these values in mainstream porn, where it's all genitals slapping against each other over and over again; performers in fake pleasure and the money shot."
"Viewers can see themselves in my films," she adds. And sometimes, if they're lucky, they can see their fantasies in her films, too.
This story first appeared at Ravishly, an alternative news+culture women's website. More from Ravishly:
Calling all HuffPost superfans!
Sign up for membership to become a founding member and help shape HuffPost's next chapter