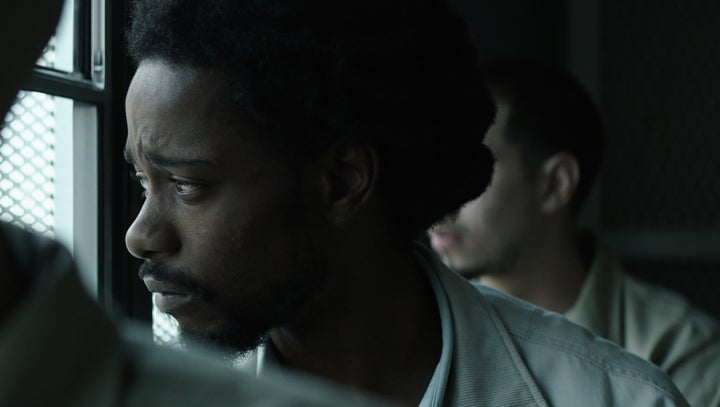 Among the worst tragedies there is often a ray of light because undeterred people are not afraid to fight. These everyday saints are on view in this simple yet heroic story about two friends whose bond is stronger than a crooked Brooklyn District Attorney. In the wake of misguided and somewhat exploitative films like Detroit, Crown Heights is a godsend. It respects the tragedy and its victims, yet it finds hope among the ruins.
Director/writer Matt Ruskin initially became aware of the true story that became the premise of his inspiring film while listening to the This American Life radio program. The show chronicled a miscarriage of justice, which was the fault of devious District Attorneys in the '80s. That was a time when the streets of Brooklyn where riddled with crime and convicting and imprisoning suspects was more important than finding the truth.
Eighteen-year-old Colin Warner (Lakeith Stanfield, Miles Ahead and Get Out), a recent immigrant from Trinidad, lives in Crown Heights, Brooklyn. He wants to be a mechanic, has boosted a couple of cars, had some petty dealings with the law, but nothing serious. He is shocked the day police arrest him. Mortified and angry when he is accused of murdering a teenager in Flatbush, a young man he never met. Colin assumes his problems will be resolved, as he knows nothing about the crime, the victim or Thomas, the 14-year-old witness (Skylan Brooks) who pointed to his photo in a mug shoot book and laid blame.
A trial with a public defender does not go well. Before he can blink, Colin is in prison for a crime he didn't commit and will not plead guilty to. A boyhood friend who grew up with Colin in Trinidad, Carl "KC" King (Nnamdi Asomugha), takes up his legal battle. Days turn into weeks. Weeks into months. Months into years. Years into decades and it's like Colin is stuck in a nightmare that won't end. Steadfastly, KC fights for him, raises legal funds, hires lawyers, visits him in prison and learns more about the legal system. And another old friend, Antoinette (Natalie Paul), re-enters his life and becomes a part of Colin's support team.
There is no debate. The strongest element in this film is not the injustice itself or the perpetrators. It's the normal people who battle a system that blocks the truth and is seemingly impenetrable. That willingness to risk everything to prove innocence is thoroughly compelling. The other great testament to the human spirit is a friendship that withstands the ravages of time and despair.
Press notes reveal that Ruskin talked with Colin Warner and KC before he wrote the script. But it isn't necessary to read a report to know that Ruskin did his homework, re-created real three-dimensional characters and gave them dialogue that reinforced their humanity and courage. The ease of the direction and script makes things happen in ways that seem so authentic you feel like you are living their lives. The protagonists are strong-willed, the system they fight is as fixed and determined. No solution is found in the beginning or middle of the film. There are hopeful moments with appeals and possible paroles, but they are merely rest stops on the way to the final conclusion. This is a battle worth watching until it ends.
Ruskin's deft skill at directing and working with a perceptive cinematographer (Ben Kutchins, Ten Thousand Saints), a prudent editor (Joe Hutshing, JFK) and visually gifted production designer (Kaet McAnneny, Blue Ruin) is on view. His keen ability to flow with the cast and encourage universally strong portrayals that never showboat is obvious. There is a subtlety to every performance in this film that keeps the proceedings feeling genuine.
Watching Lakeith Stanfield age from 18 to his forties as the wary and resolute Colin is a wonder. He never oversells the character. He pulls you into his persona by being casual about his circumstances until he recognizes that a surreal injustice is taking place and it is happening to him. It's like being in a car crash, in slow motion, and all of the sudden—ka-boom. It is a harsh reality.
Nnamdi Asomugha, as the friend whose faith does not wane and is willing to risk his jobs and family, is consistently stoic. His pivotal performance never loses focus. Also magical is Natalie Paul, who finds a way to make Antoinette a pillar of strength. The rest of the supporting cast (Nestor Carbonell, Bill Camp, Adriane Lenox, Brian Tyree Henry, Gbenga Akinnagbe, Skylan Brooks) blend into the scenes, raising up the lead characters' performances. This is the best ensemble acting of the year because each actor helps the director and the film sustain a very believable tone.
There is no sensationalism in this film. No easy answers. No exploitative prison scenes. Everything seems plausible and respectful of a tragic incident that is as astounding 30 years later as the day it happened. Credit goes to the very sensitive director, a smart tech crew and a cast of actors led by Stanfield and Asomugha who were committed to telling this story as truthfully as possible.
Visit NNPA News Wire Film Critic Dwight Brown at DwightBrownInk.com.
Related
Popular in the Community