Imagine, for a second, your favorite public park. Now imagine that park as a temporary home to thousands of people fleeing war, violence and poverty.
That's what's happening today in Serbia. Since mid-June, an estimated 2,000 migrants -- more than half refugees from war-torn Syria -- have been crossing into that country daily, trying to get to the European Union (EU), where they're seeking a better life.
Throughout the country, public parks, forests and abandoned factories have become way stations for thousands of displaced people.
"The parks in Belgrade are full," explains Dino Mujanovic, project manager for Catholic Relief Services (CRS) Serbia. "The situation is very difficult."
In Serbia's capital city, public spaces are littered with tents. Barefoot refugees huddle together, sleeping on cardboard boxes, a public monument providing their pillow. A toddler sleeps on the ground, tucked into a sleeping bag.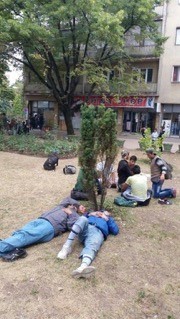 Making the situation worse is the heat. In the summer, temperatures can reach up to 100 degrees Fahrenheit, with high humidity.
"I saw one woman from Syria in a wheelchair. I can't imagine what she's been through," Mujanovic says.
To respond to the crisis, CRS is working with multiple partners to provide relief to migrants in the town of Kanjiza, near the Serbian and Hungarian border, which sees about 1,000 migrants and refugees passing through every day. CRS has rented a facility equipped with beds, bedding, bathrooms and showers to provide people in transit a brief respite. The humanitarian aid agency governed by the United States Conference of Catholic Bishops also is covering the expenses for two interpreters and two doctors. And the organization is providing food and nonfood items -- like shampoo, soap and other necessities -- to migrants in Kanjiza and other locations.
According to Mujanovic, hygiene and shelter are two of the most pressing needs.
And he warns that the situation could worsen in coming months. In September, Hungary is expected to complete a wall along its 115-mile border with Serbia, keeping them from reaching that EU country.
"When the wall is finished, people will be staying here longer ... People will be living harder," Mujanovic says. "They just want to keep going on toward Europe, toward a better life."
Nikki Gamer is covers the Middle East and Europe in the communications department of Catholic Relief Services
Calling all HuffPost superfans!
Sign up for membership to become a founding member and help shape HuffPost's next chapter