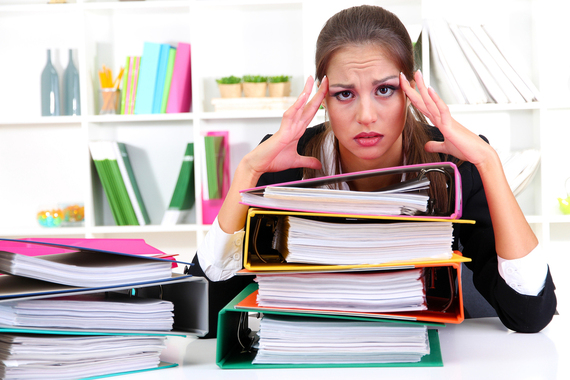 "TAX TIME" and "APRIL 15TH" are phrases that cause accelerated heart beats, cold sweats, and fear in some of us. However, there are ways to change those reactions. STOP, BREATHE, TAKE A MINUTE and read how to make tax time less stressful from Atlanta's go-to Tax Specialist, Vickie Cronan who is an Accountant and Book-keeper with an MBA.
I'm sure no matter where you leave you see the signs from companies who guarantee you refunds asap even though they are not real tax specialists. If you're not careful you can end up in a complete mess with the IRS if you don't know what you are doing. Vickie Cronan is a professional book-keeper and accountant who also specializes in tax preparation. Cronan gave us a breakdown and tips on everything you need to know to get your taxes together.
Cronan: "First, It's all about record-keeping. And before you start the excuses, you don't have to be an accountant, a bookkeeper, or a CPA; find yourself a box. It can be a plastic storage container, a shoe box, or a file storage box all of which can be found at your local dollar store. Label it the current year and put all receipts (especially cash receipts), home improvement (hardware store, etc), bills - utilities, mortgage payments, insurance (car, renters, and home), property tax (vehicle tags, city and/or county property taxes), and bank statements/notices, just to start. Put ALL OF THEM and I mean EVERYTHING in the box. It may seem stupid but IT WORKS to alleviate the anxiety associated with taxes.
Next, bear in mind, filing an extension is possible. For example, when there is expected documentation such as foreign income, retirement income, sale of stock, or cases where the death of a spouse has occurred and you are waiting on a copy of the death certificate to file. Make sure to keep written records of mileage for business, medical, and personal. These can be in a mileage record book you can find at any office supply or dollar store. You can deduct is you are itemizing on a Schedule A, are a small business owner filing a Schedule C, or have rental property and filing a Schedule E. For small business owners, keep personal and business SEPARATE this assists the person filing your taxes to do so more accurately and in a timely fashion.
Lastly, find a bookkeeper. If your current bookkeeper is so big you become nothing more than a number, then it may be time to look elsewhere. Keep in mind, there are changes made by the IRS and the professional preparing your return should know and keep up with these changes. You should be concentrating on what you do best whether it is making pizza's, providing handyman services, or a wife and/or mom that handles the bills. Finding the right person to prepare your taxes and take care of your business and or personal financial information is important. Don't go with the first one you find; ask the following questions and make sure you feel comfortable. What is there background? Have they got a PTIN and EFIN from the IRS? Ask about certifications, degrees, or associations? Ask for examples of savings or how they have helped their current clients? Get references. Make sure there is a confidentiality understanding and they have your BEST interest in mind. As you begin to work with your bookkeeper, ask for an updated checklist of items needed to maintain records. Now that you are comfortable with your bookkeeper talk to them and let them know any concerns, fears, and issues you have had in the past with filing taxes."
for more info connect with Vickie at www.rightonthebooks.com
Calling all HuffPost superfans!
Sign up for membership to become a founding member and help shape HuffPost's next chapter