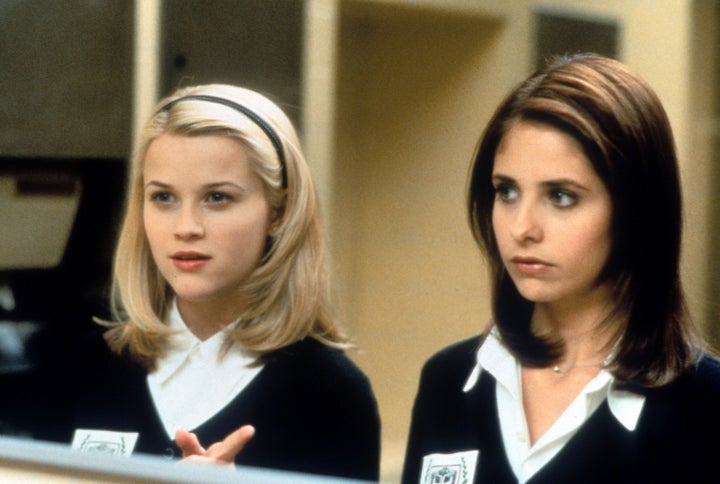 "Cruel Intentions" is the latest piece of '90s popular culture to get the revival treatment. 
According to Variety, a new series based on the teen drama that brought Reese Witherspoon and Ryan Phillippe together (both on- and off-screen), is reportedly in the works at NBC. And to make things more promising, the film's original writer and director, Roger Kumble, is involved. 
Variety also reports that the reboot will be based in the present day and will focus on the 16-year-old son of the late Sebastian Valmont (Phillippe) and Annette Hargrove (Witherspoon) named Bash Casey. That means when Annette drove away in Sebastian's old convertible, she was also pregnant with his baby. (Things are already getting juicy!) 
No word yet on who will be cast in the show, but of course, we're hoping to see Witherspoon reprise her ~*~iconic~*~ role. Maybe her daughter Ava can also get involved, bringing the whole project full circle. A cameo by Sarah Michelle Gellar, aka "The Marcia f**king Brady of the Upper East Side," would also be greatly appreciated. 
But before we get ahead of ourselves, we'd just like to point out that this isn't the first time industry folk have tried to turn the teen drama into a TV show. Remember "Manchester Prep?" 
Back in 1999, Fox picked up the spinoff show (pegged as a prequel to the original) but it was canceled before it even hit the air. There were only three episodes completed, which were then edited together to make the direct-to-video "Cruel Intentions 2." (There was also a third film released, but we won't even go there.) The show was apparently cancelled due to scenes that were just too risqué for the 8 p.m time slot it was meant to occupy. 
There are pretty much only two things that could happen with the reboot: 1. It could turn out to be great. Maybe even as great as "Gossip Girl," since the Upper East Side setting is just one of the many things the two storylines have in common. Or, 2. It could be a total disaster that doesn't last more than a couple episodes (and that's being generous, considering the past). 
We're tempted to lean toward the latter, bringing us to the conclusion that, while we love a good dose of nostalgia, some things are better left untouched. 
PHOTO GALLERY
14 TV Shows Netflix Should Remake
For a constant stream of entertainment news and discussion, follow HuffPost Entertainment on Viber.
Calling all HuffPost superfans!
Sign up for membership to become a founding member and help shape HuffPost's next chapter