For the 50 years leading up to the Civil War, steamboats ruled the Mississippi River and its tributaries to the east and west, carrying passengers, produce, sugar, cotton and livestock while weaving through the nation's heartland and touching the shores of 10 states from Minnesota to Louisiana.
By the time Great American Steamboat Co. took over the 436-passenger American Queen (built in 1995), only a few old steamboats remained on the river, none carrying overnight passengers. The start-up company bought the largest steamboat ever built last year (its previous owners had gone bankrupt) and revitalized it with a $6-million overhaul.
The boat made its inaugural cruise out of its home port in Memphis last month and is making scheduled three- to 10-night, mostly inclusive trips along the river, stopping at historic port towns and cities along the way.
Ambience: We embarked on a four-night Ohio River cruise on the American Queen to and from Cincinnati, with stops in Louisville (for the Kentucky Derby) and Madison, Ohio. Wherever we stopped, eyes of passers-by were drawn to the white gingerbread trim, iron railings adorned with red, white and blue flags and the big red paddle wheel at the rear.
The American Queen doesn't have the sleek feel of modern cruise ships; that's not what it is. The only interior space that might be vaguely familiar to veteran cruisers is the purser's desk in the lobby. We entered the boat through the dimly lit Mark Twain Gallery (on the second of six decks), decorated with elegant wood and upholstered period pieces and mahogany-paneled walls.
Windowed on both sides, the gallery overlooks the two-story J.M. White Dining Room, named and modeled after a boat lost to fire in Louisiana in 1886. Huge globe chandeliers illuminate the gilt- and ecru-painted ceilings, and large windows on both sides with stained-glass transoms above offer unobstructed river views.
There are plenty of places to sit and pass the time: the ladies' parlor (with a fainting couch); the gentlemen's card room (with the head of a boar nicknamed "Killer" jutting from the wall); the painted white, wooden rockers on the front porch; or seats in the book-lined Chart Room. The most relaxing spots are the outdoor decks, where passengers can watch the changing landscape as the boat glides at an average of 8 mph.
Cabins: Our "deluxe outside stateroom" wasn't as stately as the brochure led us to believe, but it grew on us. It had a comfortable queen bed with a fluffy duvet, paisley wallpaper, oak antique furniture and a double-door opening to the deck outside. (One disappointment: There were no windows, and we were unable to open the doors' curtains for natural light without compromising privacy.)
The bathroom had a full tub and shower. The flat-screen TV was the only hint of the 21st century, so don't expect a mini bar or iPod dock.
Food: Offerings were more than ample but not dazzling. Each of the four dining venues reflects the Southern roots of the vessel. Chef Regina Charboneau, who hails from Natchez, Miss., is the culinary director. The main dining room menu includes andouille hash (sausage hash topped with poached egg and cheddar on a corn cake), bananas Foster stuffed French toast, crabmeat beignet with Mornay sauce, grilled catfish and shrimp po' boys and classic bread pudding and pecan pie.
We favored lunch at the informal River Grill at the stern of the boat on the fifth deck. Unza Taylor, a talented and personable cook from Memphis, served smoked chicken and meats, including fresh pork roast, brisket and Italian sausages, along with cole slaw and potato salad. His grill was next to one of five cash bars on the boat. Soft drinks and water are always complimentary; house wines and beers are free only at dinner.
On the Front Porch (at the fore of the third deck), guests can enjoy buffet breakfasts as well as 24-hour snacks, including fresh popcorn, hot dogs, serve-yourself frozen yogurt, bagged chips and cookies.
Entertainment: On river boating days, there are bingo and board games; lectures on rivers, steamboats and ports; period books and magazines; and full-length movies. On port days, passengers can opt for local excursions, included in the price of the journey. For example, we were taken by bus to the Kentucky Derby, where we had infield tickets. Onboard amenities include a newly equipped small gym, spa, beauty shop and self-service laundry.
The two-deck-tall Grand Salon recalls the opulence of steamboats of yesteryear. Modeled after Ford's Theatre, it has plush velvet chairs and overhanging boxes.
Guests can listen to big band, Dixieland, ragtime and rock music during evenings. One night we watched a storyteller perform as Mark Twain recalling travels on the Mississippi.
Service: When the Memphis-based start-up announced it was hiring 300 crew and staffers, more than 3,000 people lined up. Those selected are warm and enthusiastic, displaying the charm and hospitality associated with the South, but they aren't adequately trained. Guests also were frustrated by the lack of clear communications onboard. The company estimates that its impact on the regional economy will be $89 million, so there is a feel-good aspect to being an early pioneer on one of the boat's first voyages even if everything isn't shipshape.
Who should go: On our voyage, the typical guest was 60 or older, and all seemed to enjoy the mix of history and nostalgia. The informal dress code contributes to a relaxed atmosphere.
On river cruises, the water feels placid compared with ocean cruising, so it can be a nice way to test out the waters for those who haven't cruised.
Twain once remarked that stepping aboard an authentic steamboat, you enter "a new and marvelous world." If you haven't had that experience, you might want to put the American Queen on your bucket list.
If you go
Cruises on the Great American Steamboat Company's American Queen range from995 to2,459 for a three-night voyage and2,845 to8,495 for 10 nights. For more information: 888-749-5280.
Two Special Voyages: The American Queen will host a late summer journey featuring President Lincoln historians from August 30 to September 7, 2012. The voyage ports include Vicksburg, Miss., Helena, Ark., Memphis, Tenn., Henderson, Ky. and Louisville, Ky. Fares begin at2,295 per person, based on double occupancy.
From September 28 to October 5, 2012, The American Queen will host PBS' award-winning news and public affairs program "Washington Week" with moderator and managing Editor Gwen Ifill along with a panel of political analysts. Ports include St. Louis, Mo., Hannibal, Mo., Dubuque, Iowa, Red Wing, Minn. and St. Paul, Minn. Fares begin at1,995 per person, based on double occupancy. Both trips include a pre-or-post voyage luxury hotel stay and complimentary shore tours in each port of call.
For more information on the hobby of steamboating.
Irene S. Levine is an award-winning travel writer and member of the Society of American Travel Writers (SATW). Follow Irene's travel writing on twitter @MoreTime2Travel or on the web at www.MoreTimeToTravel.com.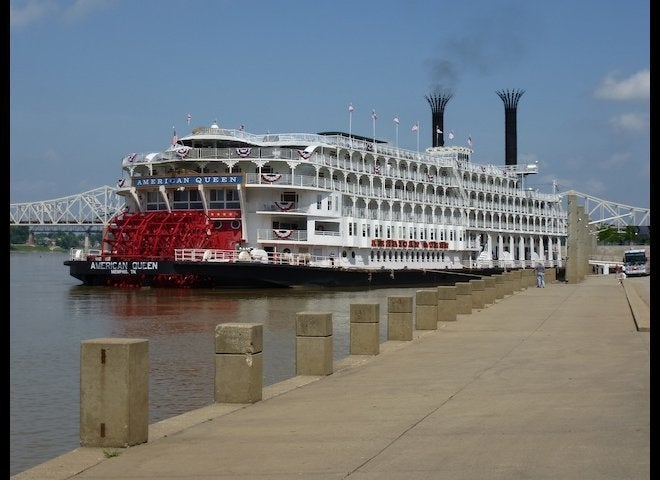 Traveling on the American Queen