Carnival's newest and largest cruise liner, Vista, made monster waves in Italy last month ― just not in the best way.
The 133,500-ton ship was departing northeast Sicily when video shows its powerful wake destroying at least one dock and damaging several boats.
A man who filmed the destruction from atop the passing ship broadcast his astonishment as they inched dangerously closer and closer to the marina before waves started to overtake the docks.
"Oh, my God, the boats are getting crushed! Oh, my God, that really just happened!" he shouts as he watches the scene from above.
"Look at the people running!" a woman beside him says as she points to the ground below.
Carnival blamed rough currents and wind conditions for pushing the vessel off course while departing the harbor city of Messina on Aug. 28.
"The ship's officers were forced to increase the vessel's propulsion motors to control the ship's movement and bring it back on course," they said Sunday in a statement to The Huffington Post. "In the process, the force of the ship's propeller wash in the harbor impacted a nearby floating dock and some small vessels which were damaged. No injuries were reported. The company sincerely apologizes for the matter and has been in close contact with Italian authorities to examine what transpired."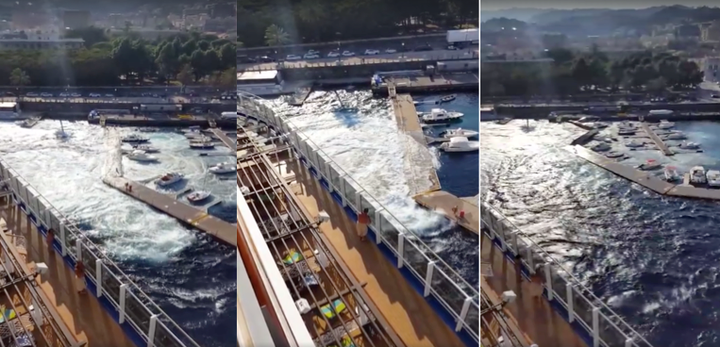 "The cruise ship caused damages at two piers, one beyond repair, a number of ancillary facilities (such as anchor lines of the boats) damaged, a pilot of the mooring sunk and another dozen small boats in poor condition," the statement read. "The estimated amounts of damages are over 250,000 EUR."
Though the Vista is Carnival's largest ship, the cruise line hopes that it won't be for long.
Both new Carnival ships will be powered by liquefied natural gas and are expected to make their debuts in 2020 and 2022.
CORRECTION: Earlier versions of this story incorrectly stated that the three Royal Caribbean ships weighed more than 225,000 tons or could carry that amount. The ships each have a gross tonnage of more than 225,000.
Related