When the news about the Carnival Cruise shipwreck first hit, I didn't pay it much more attention then being as horrified as anyone else about what transpired until my husband Pascal mentioned, "Now might be the best time to book a cruise at a good price." The kids had winter break coming up and we had no specific plans other than doing something fun but also educational and different.
We had never taken a cruise and as novices had many questions, the first of which for me was, "which company has the best food that sails on the dates we are looking to book?" Our travel agent recommended Celebrity Cruise line for the food, service and elegance of the boat. There were plenty of activities for the kids, a spa for the rents and several restaurants to choose from in addition to the buffet and main restaurant. Upon checking in to our suite which had a balcony with an unobstructed view of the open sea and horizon we were greeted by our butler Robert (who came with the suite and became my kids' new BFF), a bottle of champagne, a lovely fresh fruit basket and some canapés. "Not bad," I thought, "this is off to a good start." I felt like I had checked into a very nice hotel and could not get over the amazing architecture and beautiful interior décor of the ship. "It's like a floating Vegas hotel," I said to my husband. "Or a small city!" he replied. We quickly unpacked and dressed for dinner then sat on our balcony and watched the sunset while sipping our perfectly chilled champagne. "I think this may actually be a real vacation," I said to Pascal. "No wifi, no phone, OMG we may actually recharge our overly taxed batteries. Let's eat!"
Our first dinner was in the main restaurant. I was surprised to see escargots on the menu but anyone who knows my life story will know that escargots hold a special place in my tummy and I will almost always order them. As somewhat of a self acclaimed escargots expert, I feel it is my duty. Our waiter, who called himself James Bond to the delight of my children, could not have been more accommodating or friendly. The bread basket was served warm with butter and our order was in. The escargots arrived and while they were not amazing they were certainly passable. Had they had more garlic, butter and thicker parsley pesto they would have been a home run. "What were you expecting?" asked Pascal while sipping on his Lobster Bisque, "Christian Delouvrier's Escargots de Bourgogne from La Mangeoire?" I wish!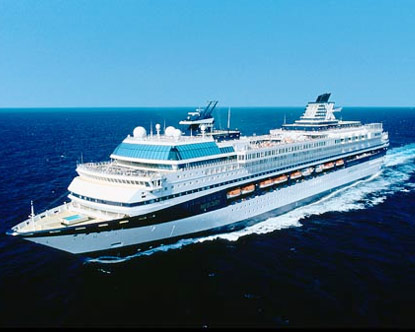 Photo Credit: Celebrity Cruises
Our first day at sea the kids took off to the kids' club and basketball court and we found two sun chairs and set ourselves down ready to roast ourselves like two pale chickens. After about ten minutes we were restless of course, why can't New Yorkers learn to chillax? How about a piña colada, I offered, "When in Rome..." Twenty minutes later we grew restless again and decided it was time for lunch. I had my eye on what looked like a juicy burger served from the outdoor grill café. It seemed everyone had a burger and fries or a hot dog and that got me craving the same thing. I was a bit wary, always disappointed by the burger meat whenever we travelled to the Caribbean wondering what kind of beef this was, if it was indeed beef, but this burger seemed to be pleasing my fellow cruisers who were from different parts of the world including Canada, Dubai, England and Germany to name but a few locations. Pascal looked wary and proposed we go to the buffet but I could not deal with the crowd and wanted to lounge outside and stare at the ocean. I went to the grill counter and ordered two burgers nice and rare but was told that was impossible, all burgers are served well done (yuk); that only means extra ketchup and mayo and it will still be dry in my opinion. "Could we have two of the least well done burgers you can find," I asked, wondering if they were not already pre-cooked before they even got to the grill? The burger certainly looked good when it was handed to me on a burger bun with the cooked onions and lettuce and tomato I asked for. I then dressed it myself with salt and pepper, ketchup and mayo and some pickles to help moisten the well doneness of it all. I brought my husband his first and saw him take a bite and make a face... "It's not like the ones you make at home," he lamented. "It's not very good and neither are the fries. We should have gotten salad at the buffet." I sat myself down with my Stella Artois and took a bite. "Ugh, its that weird grey, unseasoned, mystery meat," I said, "Don't the other people taste that?" I wondered as I saw others gobbling theirs down. I took off the burger patty and ate a meatless burger instead. That was our last trip to the grill. "They should call Meat Man Pat LaFreida in a hurry," I said to Pascal. "There is no reason I can think of for a cruise company of this caliber not to carry top quality burger meat seeing how many burgers they serve a day. Plus we could eat his meat rare without fear of it killing us!"
My 'Cruisine' food aspirations were beginning to dissipate; maybe the specialty restaurants would prove to be better? Stay tuned...
REAL LIFE. REAL NEWS. REAL VOICES.
Help us tell more of the stories that matter from voices that too often remain unheard.