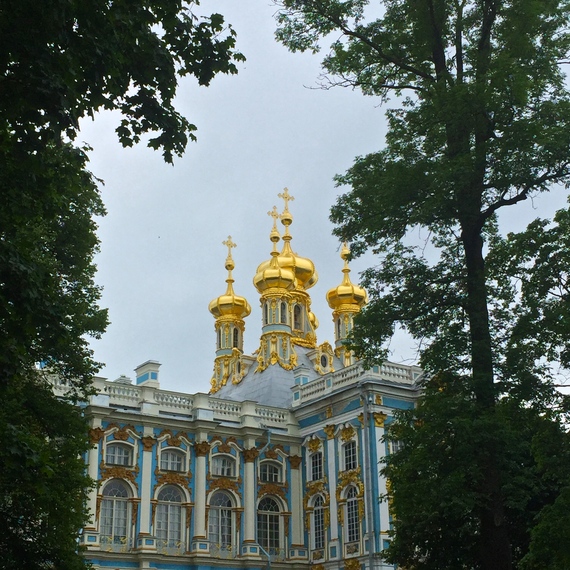 Why not go to some traditionally pretty European country with good food, wine and perhaps a remotely friendly government?
I went because I wanted to see Russia and find out if it seemed to align with what I hear in the press. I was going with Viking River Cruises on the Waterways of the Tsars cruise. Viking River has a longstanding relationship with the Russian government. I knew I would feel confident and safe seeing Russia with them. It wasn't a place I was about to attempt on my own.
But still, why? Well, as a Baby Boomer in grade school in the early 1960s I performed the undoubtedly pointless exercise of hiding under my flimsy desk to survive an atomic attack. I'd seen the Russians put a dog in space, Khruschchev pound his shoe on the podium and lots of pictures of defeated looking people in bread lines. More recently it had been Putin, both shirtless on a horse and wearing a nasty smirk when commenting on a bellicose U.S. presidential aspirant.
It seemed like the time had come to get some sort of realistic view of Russia. To see for myself what the country and the people are like.
The first day, in St. Petersburg, a small group of us had a behind the scenes tour of the Hermitage, one of the world's greatest museums which began its life as an imperial home. It was Catherine the Great's winter palace (with connected private apartments for her lover).
Today's Hermitage has over 3 million works of art and historical artifacts dear to Russia's cultural heritage. We saw priceless masterpieces up close, a sculpture by Michelangelo, amazing spaces and staircases, 19th century frescoes , Romanov furniture and gifts that had been given to Russian royalty from all over the world.
As part of our "privileged access" tour we toured the museum's off-site storage of items not on display and had lunch in the staff canteen.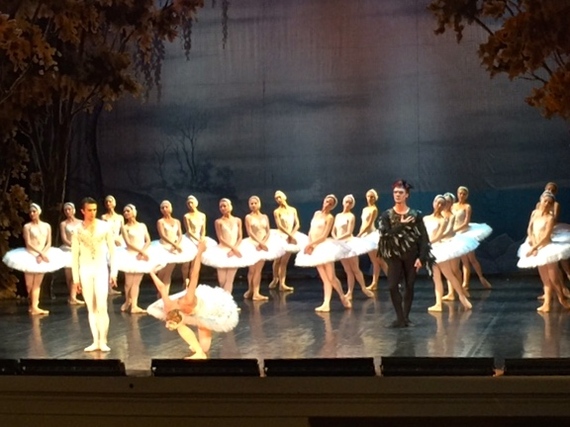 The evening of that same day it was back to the Hermitage to see a private performance of the St. Petersburg Ballet perform Swan Lake in the theater. As someone who was brought up to admire (and fruitlessly attempt) ballet it was wonderful to see a Russian ballet. This was the original choreography of Julius Reisinger from 1877 and it differs from modern day choreography (Spoiler Alert: the swans don't molt).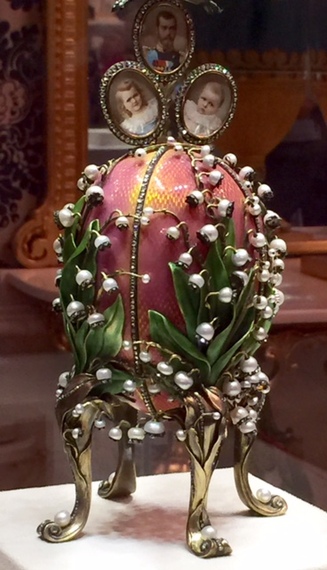 Additional activities in St. Petersburg, including a city walk and a trip to the small but perfect Faberge Museum, brought home to me why the Russian people have such a strong pride in their artistic heritage. It goes beyond the bounds of the political ups and downs of the country. It demonstrates their consistent ability to create beauty and artistry to rival, if not triumph over, that of anywhere else in the world.
After St. Petersburg it was on to places I had not previously heard of; Lake Ladoga (Europe's largest lake), the Svir River, Madrogy, Kizhi , Yaroslavl and Uglich.
On the days we were cruising, the Viking River guides offered talks about Russian life, politics and even language lessons. We learned that Russians divide their lives into winter and summer in terms of residences and even churches.
Most families have been given their apartments by the State. If you got one during the Khruschchev era it was probably a cramped and dreary "Khrushyovka" whereas those in the Stalin era were spacious floor-through units in high-rise buildings.
The majority of families have summer places - dachas - with most of the ones we cruised past on the Svir River being modest, often leaning heavily, cabins. No matter how basic - many lack indoor plumbing - they are popular as places to escape congested cities and grow needed vegetables. With an average income of $550 USD per capita growing food can go a long ways to help people get by.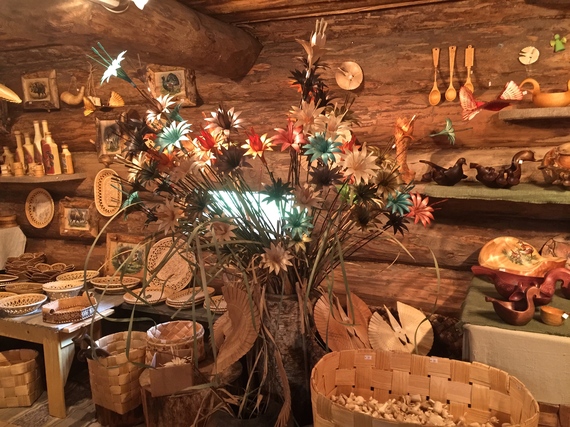 Madrogy is a village that was destroyed in World War II. It has been brought back as a living representation of crafts, foods and museums demonstrating Russian traditions. A class painting Matroyska (nesting) dolls was fun, occasionally hilariously stern and increased our appreciation of the art.
Next up was the island of Kizhi which is known for an open-air collection of traditional wooden structures. The highlights are two 18th century wooden churches and a bell tower dating back to the late 1800s. They are on the list of UNESCO World Heritage sites. You can also see a larger, higher-ceilinged church for summers and a smaller, easier to warm church for winters. Weather is nothing to underestimate in Russia.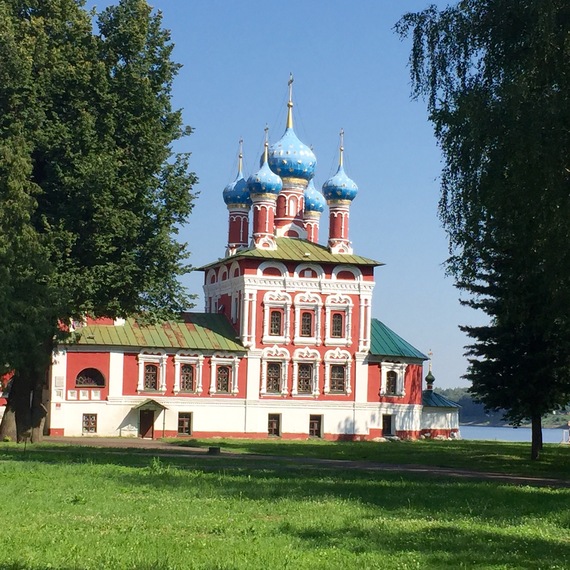 On to Yaroslavl, one of Russia's oldest provincial towns with a strongly European feel, in part because of its promenade along the Volga River. Here too were the striking onion-domed churches of Russian Orthodoxy as well as Russia's first public theater, built in 1750.
Viking River provided a private concert and dancers in period costumes at the Governor's House. The performance was surprisingly effective in giving modern day travelers the sense of what Yaroslavl must have been like in its prime. Quite civilized (at least until the next murder of a tsar).
Uglich, once the domain of the Ivan the Terrible, is now a collection of dramatic churches and the Resurrection Monastery built in 1644-77. It also houses one of Russia's oldest museums.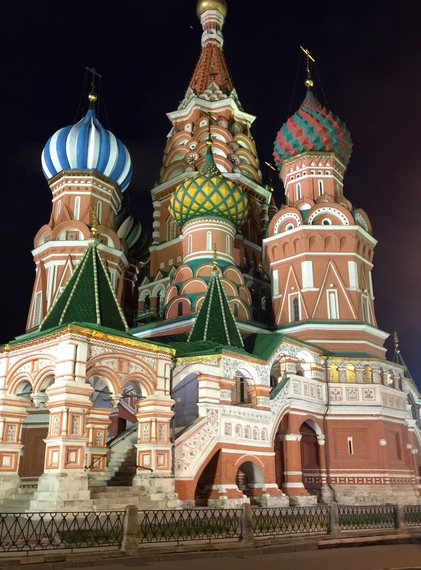 And finally we sailed into Moscow. Truth be told, I had low expectations and thought it would be grim. Although grim certainly exists in Moscow, I was amazed by the beauty of the Kremlin and Red Square. Again the onion-domed churches, collections of antiquities and another charming private concert helped us appreciate the depth of feeling most Russians attach to their culture.
Shopping in Gum's, a collection of over 1,000 boutiques, seemed to be a testament to capitalism across the street from the Kremlin. However, average Russian citizens could certainly not afford to shop there so it was primarily capitalism for visitors.
Moscow does not seem to be trying to save on their electricity bill as much of the city is spectacularly illuminated at night. We admired the sights on a private canal cruise as we huddled under blankets on a chilly June night.
Throughout the river cruise our guides helped us gain an understanding of what one only half-jokingly referred to as "the mysterious Russian soul". It seems that Russians take the long, very long view, of most political matters.
Someone my age would have lived through seven rulers with often dramatically conflicting world views. Russians know that a sudden shift -- regardless of which direction -- will take decades for the economic adjustments to settle into place. They do not expect quick fixes or fast results. They joke about roads being constantly under-repair but never repaired. But there isn't a sense of outrage; more of acceptance.
Russia looked beautiful, worn down, and majestic. Young women in pretty dresses were bright lights across the country. Pensioners working post-retirement jobs were the economic reality. Overall, the people of Russia looked like people the world over; trying to live their lives as best they can.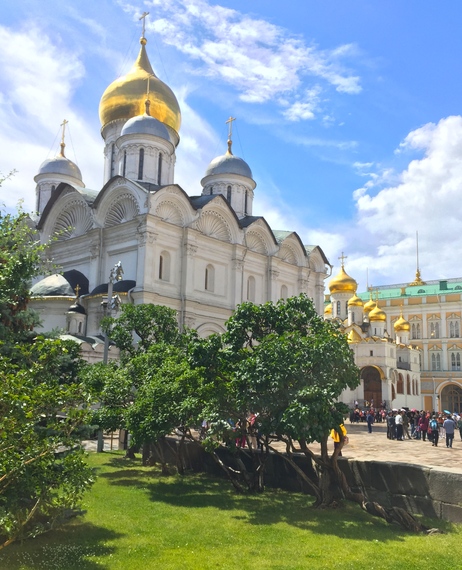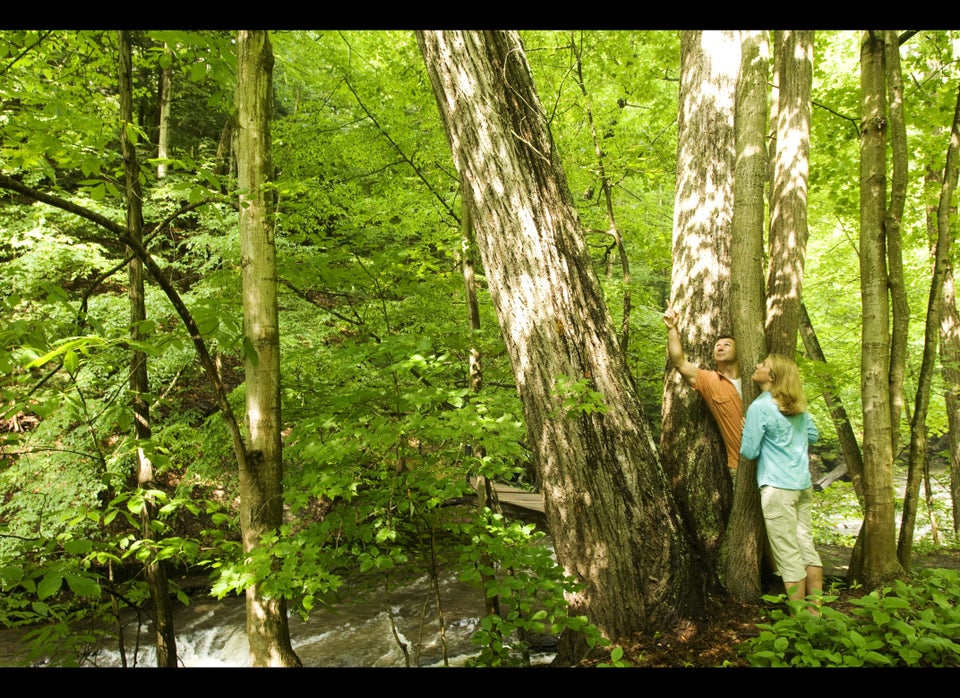 7 Hot Travel Trends For Boomers
Support HuffPost
The Stakes Have Never Been Higher
Related
Popular in the Community