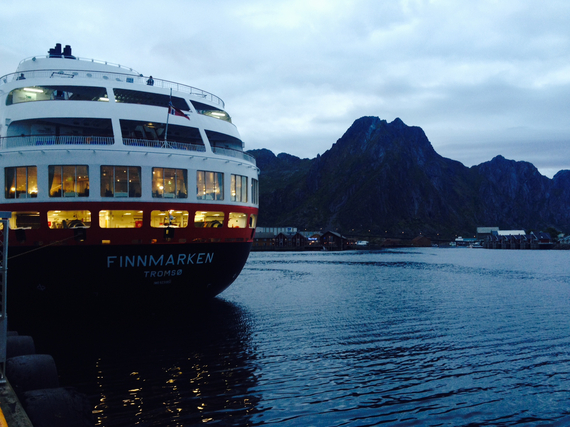 Last year I was walking with a friend along the water in my hometown of San Francisco and I stopped mid-conversation, gobsmacked to see a towering behemoth of a ship docked near Pier 39. At 10 stories high and hundreds of feet long, it looked more like a horizontal skyscraper than a seaworthy vessel. Behind its tiny windows and orange lifeboats that dangled like charms, I imagined travelers ticking off an item on their bucket list: "Do San Francisco."
I'd never been on a cruise, so I have no idea from where this impression was conjured, but because of this I had never considered cruising as a vacation possibility---ever.
"Cruising," I said to my friend, "Is not for me."
"The feeling of being trapped on a boat. The ports of call that are really tourist destinations packaged as 'local experiences.' And the food... I can't imagine the food is very good."
Flash forward a year later and I'm eating my words.
When I told the same friend I was going to go on a cruise up the coast of Norway, he laughed and reminded me of my previous diatribe, "Well, I hope you enjoy eating pickled herring."
I don't really, but an invitation to sail from Bergen to Kirkenes piqued my interest.
Mother nature did Norway a solid when she handed out gorgeous scenery, bestowing upon this Scandinavian jewel some of the deepest and longest fjords in the world, thousands of islands, glaciers and alpine scenery, and seaside villages whose true quaintness can't seemed to be captured in photographs. Truth be told, I had my own bucket list and Norway's coastline was on it. What better way than via the sea, I thought. But then there was the cruise part of the deal.
Typically six-nights, summer and winter, Hurtigruten cruises start in the lovely city of Bergen and sail north, passing the Arctic Circle (awesome photo opp), to Kirkenes at the Russian border.
There is a longer 11-night cruise, which turns around and takes the southbound route, returning to Bergen with some different stops and excursions along the way. I was ready to get off the ship by day six, but am intrigued by the southbound route and am actually dying to go during winter when the Northern Lights are said to be ablaze.
By the time I got back to the U.S.A., I was left with great photos, fond memories, and a desire to do it all again (I know, right?!). I'm not going to admit just yet that I'm a converted cruiser---but these five things surprised me on my maiden voyage and gave me hope that not all cruises are created equal.
Hurtigruten cruise ships are nowhere near the hulks-of-the-sea that float around these days. The Finnmarken was built in 2002 and is the newest member of the Hurtigruten fleet. The ship has eight passenger decks and can carry up to 1,000 passengers. It sounds like a lot, but given that some hold up to 4,000, this is petite in comparison. The only time I ever felt there were too many folks was when people queued up to leave the ship for excursions. There are roughly 780 cabins that vary in size from get-me-the-f*ck-out-of-here small (100 square feet with foldable beds) to light and airy balcony-adorned suites (only 12 available). My cabin was hyperbolically called a Mini Suite (only 18 available) and fell somewhere in the middle. It felt comfortable, even with the tiny window blocked by a lifeboat, and a shower the size of a phone booth (remember those?). I'm not complaining. I expect ship cabins to be small. It's not the Four Seasons, after all. The Finnmarken was easy to get around and kitted with a bar and two cafes, a pool and jacuzzi, a gym, sun chairs (sun is not guaranteed), and one main restaurant. Also aboard was a large lounge area with floor-to-ceiling windows designed to take in the stunning scenery that seemed to float by at all hours of the day and night. There was always room to sit, always.
As a traveler, I enjoy meeting local people. Why go all the way to (fill in the blank) only to surround yourself with fellow Americans? No offense to my compatriots at all, but I see you all the time! The fact that all Hurtigruten ships, including the Finnmarken, are working cargo vessels that transports people and goods up and down the coast year round meant that I had the chance to meet real live Norwegians, and I did. I feel (unsubstantiated) that on a monster Caribbean cruise I'd never come in contact with say a local chef from the Dominican Republic or fisherman from the Bahamas. Am I wrong?
The Finnmarken made stops at 34 ports of call, some during the middle of the night (it's so smooth you never hear a thing) and people and cargo load on and off at each stop. I sat in the café one afternoon with a couple traveling home after spending a few days with their daughter and grandchildren (aged 2 and 5). I was told we were having excellent weather (true) and that the only place they'd visited in the U.S.A. was New York, but they were curious about Las Vegas because the recently saw the movie The Hangover. Oh dear.
I'm just going to get this off my chest---I'm a food snob and by that I don't mean I have to have Michelin-star meals all the time, or ever. I do, however, expect food to be flavorful, fresh, and the color its meant to be, whether it comes from a 30-person kitchen or a food truck. Buffets generally scare me and I always envisioned cruise ship buffets to be the worst offenders. Places I was sure had piles of grey meat awaited next to bowls of ketchup. Or maybe it would be Chinese cuisine, theme nights being de rigueur on cruise ships, right? I'm happy to report that while there was a buffet from time to time on the Finnmarken, the food was exceptional thanks to the cruise line's newly implemented dining concept called "Norway's Coastal Kitchen" that brings seasonal and locally sourced ingredients from small independent farms to passengers via delicious dishes that nod to local history and tradition.
Each night a menu on the table described the ingredients and the farm from which they hailed. I had salted lamb from Geiranger
Hurtigruten is called the world's most beautiful voyage with good reason, and there's no better way to enrich the visual pleasures of this cruise than by getting off the ship and exploring them up close. Hurtigruten offers a slew of enlightening and thoughtful adventures that get you off the ship. Nothing is too hardcore so for adventurous types like me, you might be disappointed to learn that sweating or pulling a muscle is likely not going to happen. The ship is on a schedule so at times the excursions felt rushed, but all that being said, there were dozens to choose from---from birding and gentle hiking to city tours and playing with huskies (book them ahead to avoid disappointment), and they are worth it.
Activities vary based on the northbound and southbound journey and the time of year. On the Northbound trek, I enjoyed the stop in Alesund, one of the country's most beautiful towns since it was rebuilt after a fire in 1904, in Art Nouveau style, filled with great restaurants and some interesting museums. Trondheim, with its Crayola-colored buildings in the old town, a breathtaking cathedral, and Rockheim, Norway's national museum of pop and rock music, is a memorable day out. The trip to the North Cape is a must if only for a picture beneath the globe that marks the northernmost point in continental Europe. I kayaked one day, and visited a glacier another in the blazing hot sun. One evening I just meandered around a small village (and into an Ice Bar) for an hour while the ship was docked, just to walk on solid ground, and of course to visit an Ice Bar. When in Norway.
I don't get seasick but I was a little worried I'd feel uneasy after being on the sea for six days and nights. Maybe it was the gentle rocking that had me subconsciously feeling like I was back in the nursery, but I slept like a baby. At home, I sleep on average 4-5 hours a night, and wake up at least once each night. On board the Finnmarken, I slept solidly for at least 7-8 hours at a time; a slumber miracle in my fatigued, bags-under-the-eyes world. I'd go back just to slumber beneath the Northern Lights. Surely that has to be next on my bucket list.