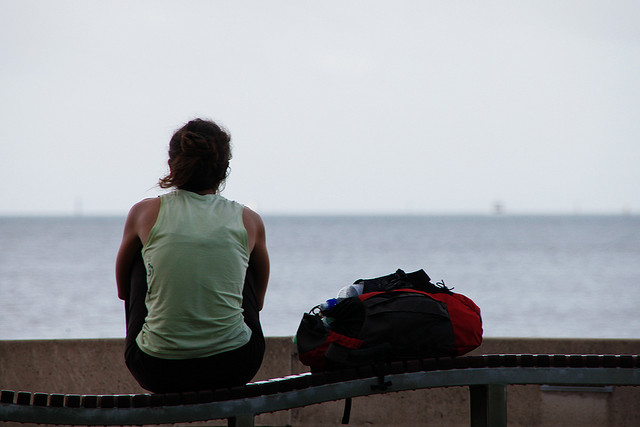 image by jcoterhals
That feels a bit like writing "war for the pacifist" or "ice cream for the anorexic".
I'd been traveling in Central America and Mexico for five months, teaching English, working at hostel receptions, cutting the sleeves off my long sleeved tops rather than buying new ones, and generally trying not to spend any money ever.
Then a Portuguese friend sent me a message saying,
"I'm thinking of heading to Europe on a transatlantic cruise from Puerto Rico to Southampton, stopping at Caribbean islands and the Azores. Do you want to join me?"
I clicked on the link. It was $449. A price about the same as a flight. All food included. Well, what do could I say to an offer like that?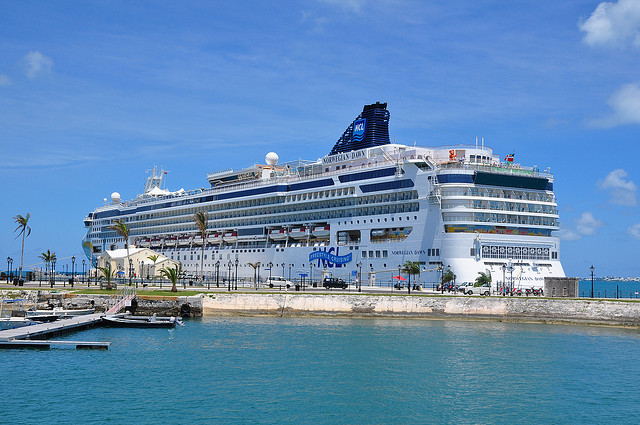 image by kansasphoto
2 months later, I arrived on board shoeless, with hair I'd been cutting myself, and some pearl earrings for class. I ran around the ship like a... well, like a backpacker on a cruise ship. I ran from my room with its double bed and en suite, up to the swimming pool on the deck, back inside to the gym, back out to the Jacuzzi, back down to the promenade, back up to the rock climbing wall, mini golf, roller blading and basketball court, back down to the restaurant, and back to the room.
My fellow adventurer was there, with his shoulder length hair and fast dry clothing, a Portuguese man who'd spent his last 6 years on the road, couchsurfing (once sleeping in a dominatrix's cupboard), hitchhiking, and self professedly capable of dealing with all travel discomforts except for a lack of loo roll.
I put on shoes to go to the restaurant, ours was named Vivaldi. Sitting in velvet chairs and chandeliers and being served by waitors in suits, I said,
"This doesn't seem right."
He said, "Wait for the lobsters and the midnight buffet."
So how do they make money? I imagine from people buying tours, diamonds, watches, and lots and lots of alcohol. I didn't buy anything, except a few bus tickets on the islands. And some sunglasses. And the bottom half a bikini. João replied to shopkeepers trying to get him to buy me diamonds that I was his sister (which didn't deter them).
The first two islands left a blurred impression in my mind. St Thomas, in the US Virgin Islands with its 99 steps and many diamond shops. St Maarten where rich people lay on their yachts, planes flew incredibly low over the beach, and I tried to get my head around the Caribbean style of French.
On St Lucia our plan was to hike. We listened to a conversation on the bus on the way over between two cruisers talking about some mud springs, and we pitied the tourists. When we arrived at the base of what looked like a vertical rock, we walked around a bit, then João said,
"Shall we just swim in the sea?"
And we did. We'd failed. By quite a lot. I mean, the sea is as low from the bottom of a mountain as you can get. I think it was a case of restoring pride. As we walked along the road, João stuck out his thumb. The first car stopped and we got in, beginning a conversation about cricket.
In the centre we kept hearing country and western music, apparently all the rage. We chose to continue our renewed sense of backpackerness and hitch a ride back to the boat. We put out our thumb, got a few confused smiles from St Lucians, a few lines from passers-by about how we were walking away from the bus, and then a car pulled over into a aide road a little in front. A man appeared on the pavement with long hair tied back and sunglasses on.
We both looked at each other, confused, but nodded, following him around to the car. There was a man with blonde dreads and a woman with dark curls smiling at us from the back. Two couchsurfers João had contacted. The only people anywhere in the Carribean we knew.
They opened the door, and so began our friendship with probably the only other backpackers on the cruise, Tom and Luna.
I asked. "So have you been on a boat before?"
Tom replied in an accent flavoured by his time in Australia, "We met this guy," he indicated the driver, a Lucian called Martin who'd spent 20 years in London, "when our last boat was marooned. We'd made it from scraps of an old boat and sailed it up from Venezuala. It capsized around here, and went on the news, then we became local celebrities."
Luna, Tom's Guatemalan girlfriend, turned around, "Really pushing ourselves and taking it to the edge... that's the essence of our travel." She smiled, as I tried to say something sensible and instead started talking about tipping on board, to which they passed on their advice. They'd cancelled the automatic tipping on their account and were planning on paying with some change, as well as jewellery they'd made.
Luna said, "We've put the do not disturb sign on their door so they don't clean it, and that way, we don't have to tip!"
While me and João had bought cheap shirts and dresses for the formal nights, they borrowed from other people. They were paying for the cruise off the back of money they'd made selling bracelets in the Caribbean. With their style of travel they figured after two months of bulk sales to shops, they'd made enough for two years of travel. Hippie entrepreneurship.
We pulled over in the car for a brief roadside stop, where in a small wooden shop I was told to try the cassava bread. I'd had cassava before and remembered it being flavourless. But the breads came in ginger, apple, blueberry and chocolate flavours. It turned out I liked cassava.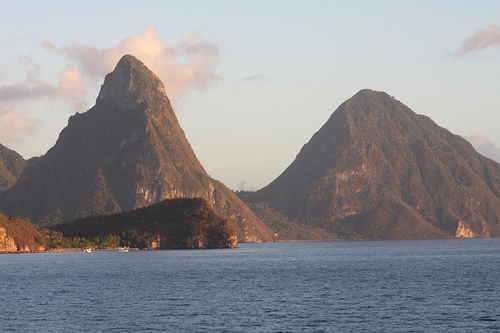 image by Loimere
As we reached traffic, Tom began telling us,
"The roads are crazy in Haiti. I think the phrase 'catching the bus' was invented in Haiti. It doesn't stop for anyone."
Our last island stop was Saint Kitts, where we visited a castle fort, swam in the Caribbean Sea, and somehow hitched a lift in a police car. I didn't feel like I'd understood any of what I'd seen. There were the traces of colonies, the queen's head appearing on notes, hints of poverty near the beach in St Lucia where the houses were in such contrast to those of the rich. And I was just another person breezing through for the beaches, back on the boat for 5 o'clock.
Then began the days between - the week at sea before we reached the Azores, with her lagoons and green and waterfalls and Portuguese pastries 890 nautical miles away from the mainland.
I wondered how I would cope being at sea. I imagined myself being rocked around staring out at a grey Atlantic, bored out of my mind, testing the limits of my sanity with the awareness that there was me and the ocean and water water everywhere.
It was almost disappointingly cozy. There was pretty much a small city on board, only we were too poor to buy drinks in the bars. There was an ice rink, an art show, gym classes, hypnosis, belly dancing, jazz, and oh god, the hours we spent doing trivia.
I think about the only time I actually realized I was in the middle of the ocean was when, during of a game of ping pong, João shouted,
We ran up to look over the side. I was mesmerized. I'd kind of imagined that if whales passed the ship there'd be some kind of announcement and everyone would rush to the side. But there were just a handful of us. And as everyone else got bored, I kept staring until the whales disappeared. And then as they disappeared I kept staring at the Atlantic, which I realized wasn't grey. No, it was an almost purplish blue. It was a small epiphany which quite literally changed my world view, before I returned to playing ping pong.
When to Cruise
Transatlantic cruises are cheapest when the seasons change: March-May, and October-November, as Caribbean ships switch to South America and Europe, and vice versa.
Related