Go-for-launch and lift-off!
Unfortunately, we won't be hearing those famous words associated with the space shuttle program as the remaining fleet of three space craft are now officially retired. Last week, I was one of seven lucky people that toured Space Shuttle Atlantis at Kennedy Space Center in Florida. Atlantis is in final preparations in the Orbiter Processing Facility for the 34th and final time as she prepares to become the prized museum piece at the Kennedy Space Center Visitor complex. Atlantis, a priceless national treasure, will be the main attraction to celebrate the past while inspiring the future.
My excitement level to see Atlantis, up close and personal, ranked up there with my anticipation to see the Pyramids in Egypt for the first time. It took my breath away as I first saw her nose and then body from the second floor of the Orbiter Processing Facility -- a.k.a. world's most expensive garage. Upon entering the jet-way, I was prepared to dive through the narrow, round opening, but the stairway leading from the crew deck to the flight deck created a small hazard.
You'd have to consider the space shuttles as the most expensive cruise ships ever built. Space Shuttle Endeavour, which replaced Challenger, cost about $1.6 billion. I normally talk about cruise ships that sail on the high seas not in outer space. But many people don't realize how close to greatness they come when they sail from or visit Port Canaveral, (near Orlando), Florida. As cruise ships enter or leave the port, passengers can see several towers lining the beach, beginning at the port's northeastern shoreline. What they don't realize is those structures are the beginning of Kennedy Space Center -- and that those towers have launched many rockets and people into the history books.
On November 2, 2012, Space Shuttle Atlantis will make her final 10 mile trip from the Vehicle Assembly Building to its new home at Kennedy Space Center Visitor Complex. The mammoth event is being called "Atlantis - Celebrate the Journey." The new building housing Atlantis will open in July 2013. Consider being part of history and witness the final voyage of Atlantis. Special VIP packages are available, which include areas off-limits to the public for over 30 years. This includes the Vehicle Assembly Building and shuttle launch pad.
Don't miss the space shuttle program's last adventure. In addition to Atlantis viewing opportunities, there will be an astronaut autograph and memorabilia show benefitting the Astronaut Scholarship Foundation. There will be more than 40 astronauts and other special guests who will sign autographs for additional fees. Guests can bring their own memorabilia or purchase on-site.
There are many cruise options available from Port Canaveral, the world's third-largest cruise port and home to Disney Cruise Line, Carnival Cruise Lines and Royal Caribbean International. Choose sailings from three, four, five and seven nights to the Bahamas and Caribbean. 3, 4 and 5-night cruises start from $189 per person and 7-night cruises start from $399 per person. Ships from New York, New Jersey and Baltimore visit Port Canaveral several times each week.
The big allure to Port Canaveral is its geographic location, nearby Orlando International Airport, and close proximity to Orlando area attractions like Walt Disney World, Universal Studios and Sea World, which are about an hour away. It's also the northern most cruise port in the United States that can reach the Bahamas and both the Eastern and Western Caribbean during a seven-night sailing.
With so many nearby options, the most out-of-this-world attraction is "next door" to Kennedy Space Center Visitor Complex, a 70-acre space enthusiast's extravaganza. Highlights include tours of the 144,000 acre Kennedy Space Center, Shuttle Launch Experience, which simulates a real space shuttle launch, 3D IMAX space films, astronaut encounters and more. This is where the sky is not the limit!
It's no wonder that Port Canaveral has evolved so rapidly over the years especially with its important connection to the U.S. space program. In 1965, the Canaveral Lock was opened, which connects the Atlantic Ocean to the Banana River. This lock was needed to transport Saturn rockets for the Apollo moon program and later retrieved solid rocket boosters from space shuttle launches. Today, the port is a thriving cruise and cargo business, responsible for millions in revenues and thousands of jobs.
The next time you're in Orlando or taking a cruise from Port Canaveral, check-out Kennedy Space Center Visitor Complex, you won't be disappointed. You'll be amazed at what you discover!
As I would say on TV... from aboard Space Shuttle Atlantis, I'm Stewart Chiron, The Cruise Guy®, and I approve your vacation!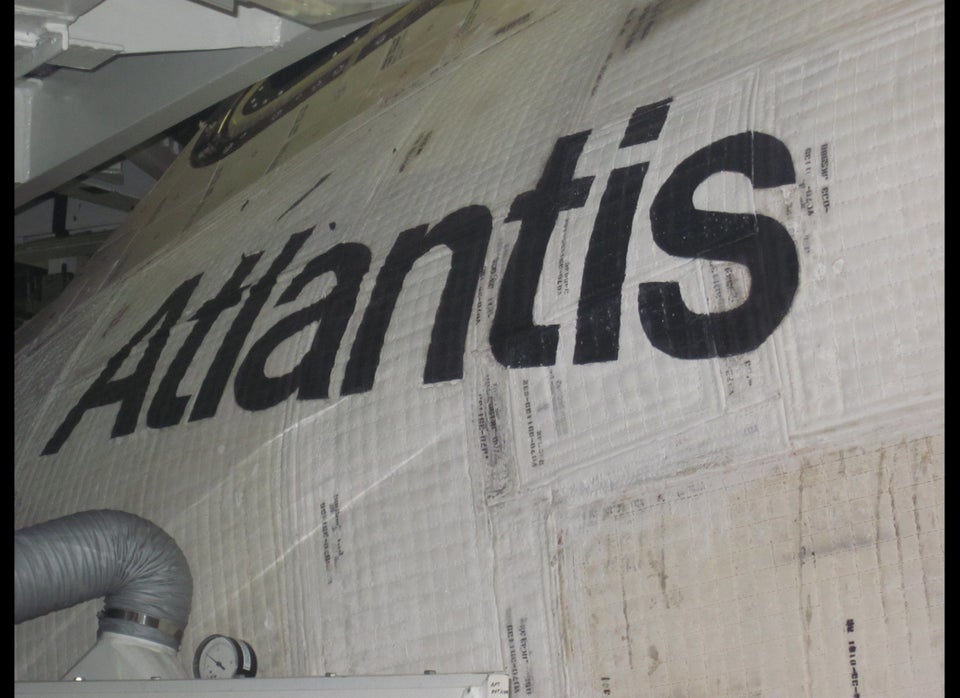 Space Shuttle Atlantis - Final Views