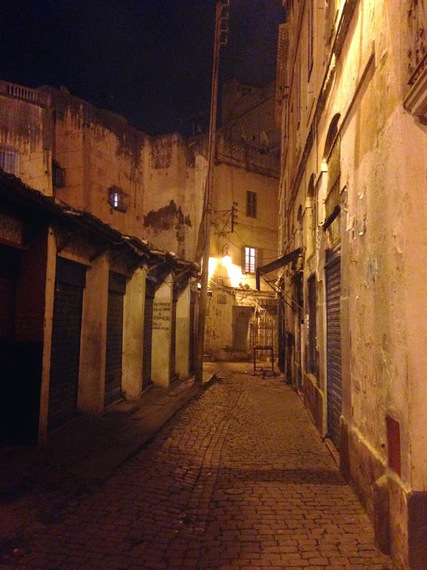 Picking up men in Algiers, Algeria is easy, if you know how to read the signs in their eyes along the Ave Didouche Mourad, the main thoroughfare running through the heart of the city. On a Friday evening it takes less than 30 minutes. The streets teem with men well after the shops shutter, the lack of late-night entertainment means the sidewalks are the only space for conversing. The city sprawls across hilltops in an endless cluster of white and blue buildings. Wide French boulevards of the colonial center disappear into the narrow winding staircases of the Kasbah district.
In the various Arab cities I've visited over the years, the saying, "We don't have a problem with men who have sex with men, but we don't accept the gay life," is common. This is a somewhat clearly drawn line, since the vestiges of what many would consider a gay lifestyle -- clubs, bars, bathhouses and theatrical parades filled with costumed go-go dancers -- are non-existent from Rabat to Beirut, save in Tel Aviv. Yet, walking down the streets in Algiers provided me endless opportunities to engage with horny young men.
However, these young men do not identify with an organized or vocal gay community, simply for the fact that such a faction does not exist. This is due largely to the laws of the deep state, le pouvior, which condemn and punish homosexuality in Articles 333 and 338 of the Penal Code, with violators subject to fines and imprisonment. Though persecution occurs, it is generally understood to be a familial and not legal matter. Moreover, the importance of family, marriage, and children remain the largest obstacle to openness in the African city. These foundational elements reinforce the marginalization of the queer community by casting them as outsiders bent on disrupting and destroying society. Algeria's queer scene is certainly alive, but is muted and suppressed. There are no civil rights or legal protections and little-to-no safe private space for meeting. Therefore, gay men occupy the only place where they can find other like-minded men: the street.
So how does one go about cruising in Algiers? There are no bars, as alcohol is expensive and socially disagreeable. Hook-up apps are sparsely used here due to the high price of smartphones. One is about as likely to see someone 180 miles away in Ibiza pop up on Grindr as you are a local Algerian. Instead, the street offers the illusion of freedom, where the rules and obligations of home do not apply, even if only for a few hours.
Start at Place Audin where the Universite d'Alger is located, and walk along Ave Didouche Mourad past the Grande Post, the heart of the city, all the way to the Kasbah; this two mile long stretch is the most prime section for finding a sampling of everything the city has to offer. It is here that the art of cruising is alive and booming. An endless parade of 20-something men strut past, often grouped together in sets of three and fives, dressed in fake Puma and Adidas track suits; their pant legs bunched up to the knees, exposing taunt calves and showing off the latest Chinese Air Force One knock-offs.
Though groups may seem the most enticing, it is easier to meet the lone stranger. Gay singles tend to linger alone near the metro and bus stops, as well as the numerous gated parks that are scattered across the hilltops. They're easy to spot in this city: the leather jacket fits a little too tight, the facial hair is exceptionally well groomed, and the hair is a little too perfect. The poorer districts, near the Beaux Arts Museum, are where the cutest boys live, according to my friend Bilal, who was born and raised in Algiers. He's unafraid to explore them late at night, and I am his willing accomplice.
My first night in Algiers, Bilal drives me up to the Martyrs' Monument, which can be seen from all across the city perched atop a mountain. We stand silently together as he squeezes my hand, only letting go as a group of boys comes running past. I never meet his family. He tells me they do not accept his sexuality, but they have come to tolerate it. As I grow to appreciate him, I understand that behind the wide smile there's a longing for genuine love. He says sex is easy to come by in Algiers, but love remains elusive. Even if there is a robust gay population looking to thrive in this city, it remains difficult to meet outside of darkened parks at night and far off bathhouses.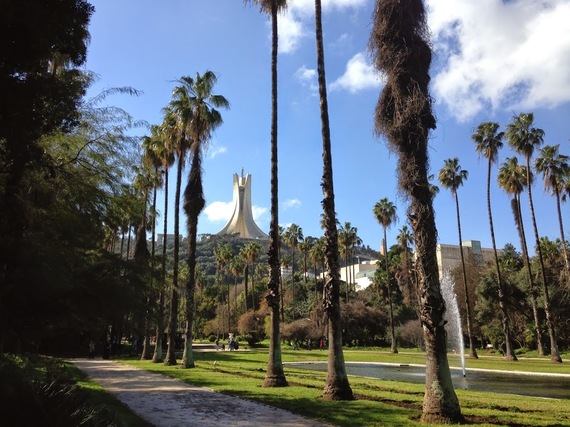 Yet there are caveats for meeting, such as the male-only hammam, where men can enjoy one another in privacy. These establishments are privately owned, all with different policies, which attract various clientele. There's no guarantee that a particular hammam, even if it caters only to men, will have guys who are looking to get their dick sucked.
Bilal took me to one in an outlying district of the capital. Two dozen eyes fall on us as we enter the boiling hot central domed room, the bathing hub that's surrounded by six smaller rooms filled with marble wash basins. In one of the rooms, the head masseuse, a tough and strong figure with lusting eyes, is soaping up a 20-something with calves like a soccer player. The sound of running water echoes off the blue and green tiles as the men pour bowls of freezing cold water down their glistening bodies. A tense atmosphere of desire hangs in the room, almost as thick as the humid air. As it drew nearer to closing time, the men begin to thin out until there are finally just four of us left.
We gather in a side room. I bend Bilal over and begin fucking him. The two other men shove their dicks in his mouth as he moans with pleasure. I can barely catch my breath as Bilal turns around panting, his white teeth sparkling in a broad smile. Part of the thrill of hooking up with someone at a hammam is the risk that you'll be caught as the space offers no privacy. There are no doors, curtains, or walls to hide behind. As I enjoyed my foreign foursome, I constantly looked around and listened for footsteps. When another guy walks in on us, my pulse quickens, but he watches innocuously before jerking off.
So what does this mean for the future of gays in Algeria? Though homosexuality is alive, it remains concealed. Interestingly, straight men do enjoy an intimacy with one another that resemble gay relationships, holding hands on the street, affectionate bodily contact, cheek kissing. There is, however, a distinction between close male friendship and the actual intimacy of a gay relationship, due in part to men and women being segregated from one another until marriage. Men in Algiers play vital roles in the lives of other men, business, personal, sexual, emotional; all intersections of one's self is informed by the actions and influence of other men. In Algiers, the love between two straight men can flourish with an emotional tenderness we would all recognize.
On my last night before flying home, I pick up a guy steps from my apartment -- we had seen each other a few times throughout the day, but there wasn't a right moment until now. As he puts his clothes back on after fucking me, he asks what I thought about Algiers. I mention how easy it was to find guys on the street and how welcoming everyone had been. He pauses for a moment before replying. Yes, of course it was easy for me because I didn't live here, so I couldn't possibly understand how difficult it was to meet someone. I was not part of their community. I did not know their friends or family, and so I could do no harm to their lives by possibly exposing their secret. Algiers is small, too small, and everyone knows each other, or at least some member of your family. A romantic relationship, let alone a sexual one, would be unthinkable to expose publicly. Sex will stay the domain of the sidewalk, while love remains cloistered in the shadows of a park at night, fearfully hushed and hidden.
"You have a kind face," he says while leaving my room. "That's why I trusted you. It is hard to find someone you can trust. Be careful, because most guys aren't kind and will take advantage of you, or worse." The street, being open to all, remains a blessing and a curse.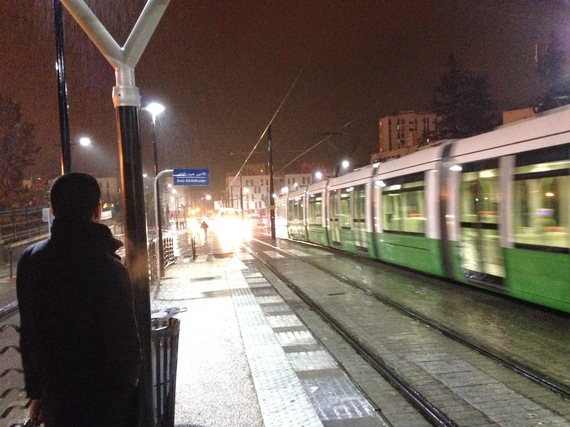 Calling all HuffPost superfans!
Sign up for membership to become a founding member and help shape HuffPost's next chapter