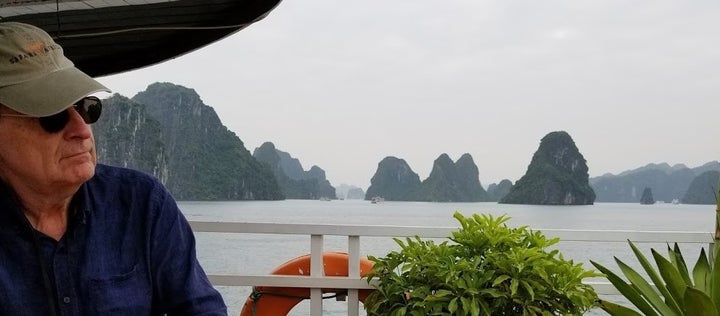 Saigon. November 8, 2017.
I have always been a skeptic about group tours and have participated in very few of them. It always seemed a lazy way of exploring the world.
Then recently, I was invited to speak: to recall my Vietnam "war stories" to passengers on a ship as it made its way from Hong Kong to Haiphong and on down the Vietnamese coast to the river port of Saigon.
Onboard I found a highly engaging group of some 200 passengers and crew as well as other "presenters:" specialists in Asian art, antiquities and history. Call it a floating University; the experience was worthy of at least three credit hours at any institution of higher learning.
While I have visited Vietnam more than 20 times since I first lived here as a reporter in 1970, this was my first group tour and first arrival by ship.
I have had three previous experiences at sea off Southeast Asian coastlines. In the early seventies I spent a few nights aboard a U.S. aircraft carrier off Vietnam's coast. On April 12 1975, I was airlifted from Phnom Penh by Marine helicopter to the USS Okinawa in the Gulf of Thailand. In 1980, I boarded a freighter off the coast of Malaysia chartered by the charity World Vision's "Operation Sea Sweep" to rescue boat people fleeing Vietnam. None of those experiences could be described as cruising.
Tourism has exploded in Vietnam as the economy has developed over the past 30 years. I reported on the first American tourists visiting the country in 1987 at a time when most visitors here were from the Soviet Union.
Today the tourism industry represents nearly 7 percent of Vietnam's Gross Domestic Product, generates 34 billion dollars in earnings, and employs two million people.
China with more than 3.3 million visitors this year accounts for most of the activity. Half a million Americans visit each year. They are outnumbered by those from South Korea, Japan, and Taiwan.
The state controlled "Vietnam National Administration of Tourism," licenses all tour operators and trains guides at state schools.
Through the tour guides, you get a glimpse of changing attitudes. For one thing, their view of history has changed.
The "American War Crimes Museum" in Saigon which I visited in the 1980's is now the more neutral "War Remnants" museum.
Guides no longer refer to the defeated South Vietnam government as the "American puppet regime."
In April 2000, a "minder" from the Ministry of Foreign Affairs chastised me for referring to the 30 year conflict as a "civil war."
Two guides I met last month did not feel compelled to following the party 'war of liberation" line. Civil War was fine by them, so long as the tourists were happy.
More remarkably the guides described the immediate postwar period from 1975 to 1986 as a "disaster." They cited "poor leadership" in Hanoi for holding the nation back for more than ten years. Condemnation of one hard line Hanoi leader is widespread. For most people, the nation's postwar recovery dates from 1986 and the death of Le Duan.
Le Duan's passing permitted the beginnings of "Doi Moi" (economic renovation). Later in 1999 the implementation of a private enterprise law unleashed market forces further.
The late 1970's and 80's were truly dismal years. I arrived back in Vietnam four years after I covered the 1975 "thống nhất" or "Reunification."
I found a broken nation then, poorer than it had been during the war years. A communist led collectivization drive, meeting with strong resistance in the south, had stalled. Rice production had dropped below subsistence levels.
I visited so called rural "new economic zones"; little more than work camps, where unemployed city people tried to grow pineapples and then drifted back to Saigon to beg on the streets.
As I travelled northward to Quang Tri Province, thousands of young men were eking out a living digging up American artillery shells and other war ordinance to sell for scrap metal: a highly dangerous way of earning money.
In Saigon – all the familiar hotels and restaurants I frequented in the early 1970's had either been boarded up or communized; assigned numbers instead of names.
The old Hôtel Continental opened on the Rue Catinat by the French in 1880 had been renamed "Khach San 132" which was its address on the renamed "general uprising" - Dong Khoi Street.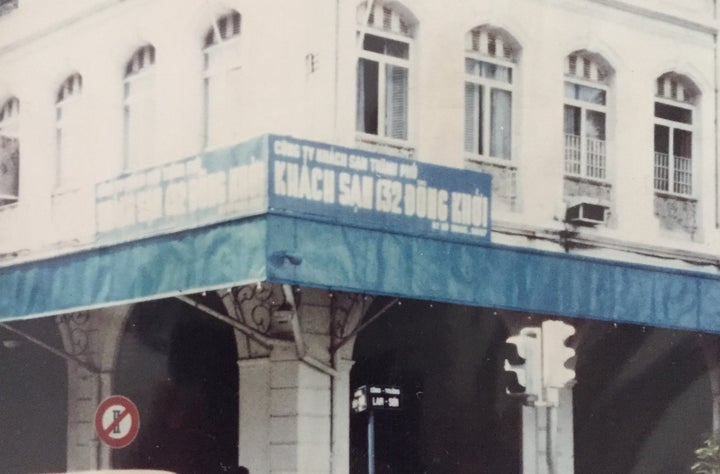 The Saigon of 2017 is virtually unrecognizable from that of the 1970's. It has been modernized in so many ways even since my last visit two years ago. A skyscraper city has arisen leaving behind few traces of the French Colonial or American past. Vietnam's growth from 2000 onward galloped along at 6.5 percent or more and Saigon led the way.
Other parts of the country too are galloping along at a frenetic pace.
On October 25th I visited in the coastal city of Da Nang.
The city was vigorously preparing for the arrival November 9-11 of twenty one leaders of the nations of the Asia Pacific Economic Cooperation grouping. Security forces were in rehearsal mode. A lavish welcome was planned.
Among the leaders to be welcomed to is Donald J. Trump. The Vietnamese seem puzzled over this President. There was widespread excitement about Obama. When I was here with Clinton in November 2000, he drew tremendous crowds. Public opinion surveys say Trump polls well in Vietnam. People here seem to favor "strong leaders" or at least the perception of authoritarian strength. On the other hand people I spoke to on the streets of Da Nang and Saigon laughed at Trump's name. They said the President is widely known here as "điên Trump"; điên can be translated as demented or crazy.
Vietnamese President Trần Đại Quang will host Trump – along with China's Xi Jinping, Russia's Vladimir Putin and other world leaders at an extraordinary resort. North of Da Nang, high on a bluff known as "Monkey Mountain" rests a resort built about five years ago. I visited the property two years ago.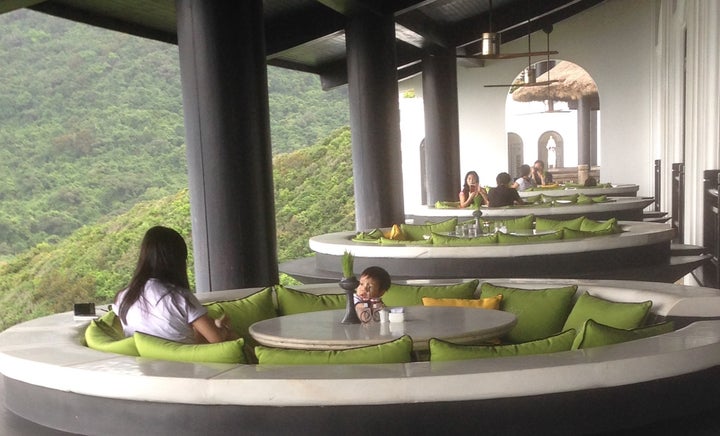 The Intercontinental Hotel property is over-the-top luxury in many ways: from its sprawling health center, to its plush individual bungalows, to its unique restaurant seating perched above Da Nang's Son Tra Peninsula.
The Vietnamese see Da Nang - their third largest city as a model of development. The visitor is left with the impression that the city is soon to be the Miami Beach of Vietnam. Skyscrapers line what Americans used to call "China Beach." Resorts are spring up everywhere.
Beyond is a sparkling, planned city which Vietnamese say is the nation's most livable metropolis.
Credit for development goes to Da Nang's reformist Communist Party boss Nguyễn Bá Thanh. Local residents I talked to spoke of him almost reverentially. Thanh died of cancer two years ago. Da Nang's reputation as a "smartly governed city" has fallen since Thanh's death. Two top Da Nang party leaders were ousted earlier this year on charges of corruption and nepotism.
Hanoi's Communist party leaders seem sometimes conflicted in their effort to keep this nation of 92 million people under a single-party authoritarian umbrella. They have unleashed the forces of market capitalism. Party members are the greatest beneficiaries. Reports of job creation, growth targets, budget estimates, boosts to the private sector dominate the news in the state owned media.
Hanoi struggles to balance the conflicting interests of the nation with those of provincial and city "Revolutionary Committees." While control of the means of production has slipped from the Party's grip, political control and suppression of opposition while not consistent remain effective.
Nearly every day Party publicity organs pay tribute to the nation's first Leninist - founding father or rather Uncle – Ho Chi Minh.
This week, Vietnam marked the Bolshevik Revolution.
I watched a few days ago as Communist Party leaders gathered at the old French built Opera House for a gala celebration: 100 years since Vladimir Lenin put the finishing touches on his "proletariat revolution" in Russia.
A day later an audience of several hundred including a collection of passerby sitting on motorcycles watched a variety show.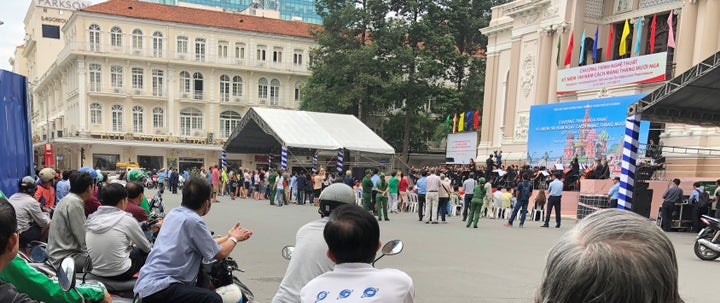 Young Vietnamese dancers marched around with red banners. A young Vietnamese singer struggled with Russian to sing "Katyusha" (1938) and her love for those protecting the "motherland."
The audience seemed less than impressed with the performance and drifted away quickly to the strains of the "Internationale."
Along Nguyen Hue's pedestrian mall and Dong Khoi, the city's main street, exhibits were erected showing a young Ho Chi Minh and his love of Moscow where he lived twice – from 1923-25 and 1933-38.
As the story goes: 32 year old Ho Chi Minh, well read in Marxist-Leninist thought, arrived in Moscow in late 1923 seeking a meeting with the great revolutionary. By the time Ho got there, Lenin had been struck down by a stroke. Lenin's death in January 1924 deprived Comrade Ho of his much sought meeting.
Ho returned to Vietnam in 1941. He had been away travelling the world for 30 years. He came home not only a dedicated nationalist and independence fighter, but a confirmed "Comintern" member determined on a Leninist revolution with Vietnamese characteristics.
In 1985, I stood in line to see the leader (who died in 1969) in his Mausoleum in Ba Dinh Square where Ho somewhat prematurely declared Vietnam independence in 1945.

On October 21st, I stopped by again to see how Uncle Ho was doing. I was told he away. Seems he had been sent off to Moscow for restoration. Ho and Lenin (resting in his Red Square edifice) both share the same embalmer: Moscow's Center for Scientific Research and Teaching Methods in Biochemical Technologies.
The Russians have assisted in preserving a number of world leaders for public view.
Ho and Lenin have been well treated. There is one probably apocryphal story that China's Chairman Mao may not have been treated as well.
When I visited Mao (who the late NBC anchor man John Chancellor once dubbed "the peasant under glass") in 1979, I was surprised to see the right side of his face had turned blue.
Why? I asked. Well – I was told, when Mao died in 1976 Soviet- Chinese relations were not so good. China turned to Hanoi instead of Moscow for embalming methods. The Vietnamese (possibly out of revenge for some ancient người Việt defeat) gave the Chinese the wrong formula.
It is a not a story told by tour guides to the millions of Chinese tourists who each year visit Vietnam, buy Vietnamese goods, gamble in Vietnamese casinos, and otherwise dominate the scene at popular tourist destinations like Da Nang - the Miami Beach of Vietnam.
Follow Jim Laurie on Twitter
Popular in the Community