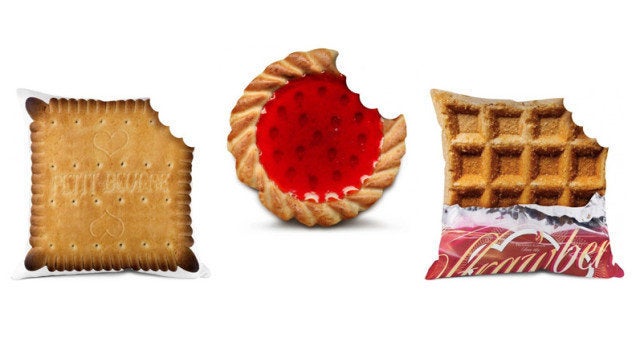 There are pillows for sleeping and then pillows for eating. Wait. That's not right. (Not unless you have pica disorder, which we truly hope you don't). But when we saw the "Crunch Pillows" made by French company Bonjour Mon Coussin, they looked so realistic -- and so good! -- that we were almost tempted to take a bite. Almost.
The Crunch Pillows are modeled after the most common and loved cookies in France -- Petit Beurre (a butter cookie), Gauffre (a sweet store-bought waffle) and a Tartelette (a jam filled cookie tart). They're the equivalent of the Oreo, Keebler chocolate chip cookies, and Twinkies for U.S. cookie-lovers. And even though we didn't grow up eating these cookies, we'd still love to see them on our couch -- in pillow form, of course.
You can get yours for 39 euros, plus the cost of shipping overseas.
Check out all of our favorite food-themed home gear.