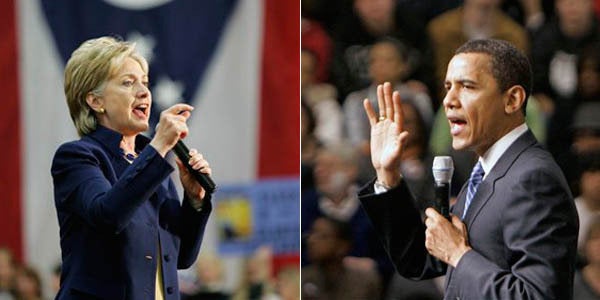 The LA Times is reporting that it is crunch time for Clinton ahead of Tuesday's crucial primaries in Texas and Ohio:
In a campaign that has frequently defied expectations, a consensus emerged as the candidates caromed across the country: Clinton must win Texas and Ohio to have any serious hope of sustaining her bid to become the nation's first female president. A split decision would not suffice, analysts said, and winning narrowly may not help.

"We're reaching a point where -- not all voters, but lots of voters -- are starting to feel it's time for the party to coalesce around a candidate," said Geoffrey D. Garin, a veteran Democratic pollster who is nonaligned in the contest. "The Clinton campaign has to have a compelling and persuasive reason to go on. . . . She's got to come out of Tuesday with people believing that she has a realistic path to the nomination."

The political math seems to work against the former front-runner. Obama has opened a small-but-growing lead of delegates to the Democratic National Convention. Unless Clinton starts winning big -- and polling in Texas and Ohio suggests that will be difficult -- she could have a tough time overtaking Obama.

The AP is reporting that Obama slammed Clinton heading into the homestretch ahead of Texas and Ohio:

Democrat Barack Obama worked to fend off an intensified attack on his foreign policy credentials from rival Hillary Rodham Clinton on Sunday as their paths crossed two days ahead of a potentially race-ending showdown in Ohio and Texas.

"What precise foreign-policy experience is she claiming that makes her qualified to answer that telephone call at 3 a.m. in the morning?" Obama asked of the former first lady at a town-hall meeting. It was a reference to dueling television ads over who would exercise superior judgment in responding to a national emergency in the middle of the night.

The Illinois senator also sought to ease lingering Internet-fed concerns about his religion, in particular whether he was a closet Muslim.

"I am a devout Christian. I have been a member of the same church for 20 years. I pray to Jesus every night," he declared at an earlier appearance in the rural southern Ohio town of Nelsonville. He said he wanted to halt "confusion that has been deliberately perpetrated."
Hillary Clinton threw herself into what could be her final weekend of campaigning for the Democratic nomination with an energy and drive unseen since the opening of the contest two months ago. She poured millions of dollars into campaign ads in Texas and Ohio, two huge states that hold their primaries tomorrow, to try to keep alive her White House dream.

Her re-energised campaign team battered her Democratic party opponent Barack Obama on issues ranging from his lack of foreign affairs experience through to dealings with a dubious Chicago property developer. The view inside her camp was that if she is going down, she will go down fighting. They refused to speculate on whether she will quit if she lost either Texas or Ohio.
The LA Times is looks past Tuesday's primaries at the landscape that awaits Clinton and Obama:
After Tuesday, the race shifts to Wyoming, which holds caucuses Saturday. Obama has posted some of his biggest victory margins in caucus states. Then comes Mississippi, on March 11, with a large black electorate; Obama is expected to win in a landslide, further padding his delegate total.

Clinton is counting on victories in Texas and Ohio -- by any margin -- to upend Obama and set off her own winning streak, thereby impressing the uncommitted superdelegates, or party leaders, she needs to win the nomination.

The next big-state contest is April 22 in Pennsylvania. A Clinton win there could bolster her claim that she is better able to compete in November, following earlier victories in California, New York and New Jersey. The Democrats will likely need to carry all those states to win the general election.
On the GOP side, prohibitive nominee John McCain took time out Sunday to play host in Sedona:
John McCain opened up his Sedona cabin to a few dozen reporters Sunday afternoon, working the grill and showing off the picturesque property he and his wife, Cindy, use as their get-away.

As with all McCain events, it was entirely on the record. But McCain did his best to divert reporters from their notebooks and tape recorders by keeping their fingers amply greased with samples of the delectable ribs he was cooking.

When he wasn't focused on the flame, McCain proudly pointed out different parts of the ranch, nestled amid the red rocks region of his state, he has owned since 1984. Just across a swollen Mill Creek (due to run-off from the mountains in Flagstaff, he said) was an area they've developed into a prime birding zone. And while the creek has trout, the mill pond closer to the house is where the real action lies. Five times, McCain said, he's hooked the same lunker catfish and five times it's gotten off the hook.

McCain, sporting jeans and a sleeveless denim jacket over a sweatshirt with a silkscreened family picture, was plainly in his element, happy to be off the trail for a weekend and enjoying one of his favorite past times (grilling, not schmoozing with the press).
Popular in the Community