In a room full with coffee lovers, everybody is slurring. It is cupping time at Indonesian's consulate spacious rooftop. During this event to raise awareness about Indonesian coffee and promote it to coffee buyers and the media, attendees taste different coffees from Indonesia's islands of Sumatra and Java. I grab a spoon and do my fair share of tasting only to find out that deciding on my favorite is rather a difficult task.
Leading the cupping, is Mira Yudhawati, a licensed Q-grader, a SCAA star cupper and a certified WBC judge. Her titles are a proof that she knows her coffee well. I want to find out who a coffee judge is and what her job description is so I ask her. "There are two types of judges," she says, "the technical judge and the sensory. I am a sensory judge and that means that I just relax, see and drink coffee. I evaluate espresso, cappuccino and signature drink, so I overview what the barista is doing, customer service skills and the taste of coffee above all." It seems that she has the perfect job for a coffee addict. Mira remembers that the first time she judged on a world level, she was nervous but excited. "I was almost crying." This year she would be a judge at the World Barista Championship during the SCAA event in Seattle.
Java may be an Indonesian island but the word is synonymous to coffee. I often wonder why we say a cup of Java not a cup of Brazil or a cup of Colombia. Budi Kurniawan, the young Indonesian film director has the answer. In his recent movie Aroma of Heaven (Biji Kopi Indonesia), there is a scene on the same topic. After watching it, I know why. The island of Java was the first where the coffee plantation was developed by the Dutch, then the coffee was exported everywhere in the world. Although coffee was first found in Ethiopia, it's the Java Island that lends its name to the world's favorite drink.
I ask Budi Kurniawan about the intriguing title of his movie. "The smells, the aromas, are like heaven to me", he says smiling. I wouldn't agree more. Brought up in a culture that coffee is a quintessential part of daily social life, I started to drink it at an early age. Despite the bitterness, it tasted too good. Today I take my coffee mostly black but I buy beans and I have my grinder together with a Moka maker. I ask him if coffee is a universal drink and he says that it is mostly a universal language. He is right. In a way, it is also democratic. We can afford it no matter what, from the 1 dollar a cup to the 4 dollars. And each cup of coffee makes us humble because we all are the same when we smell and drink it. No exceptions.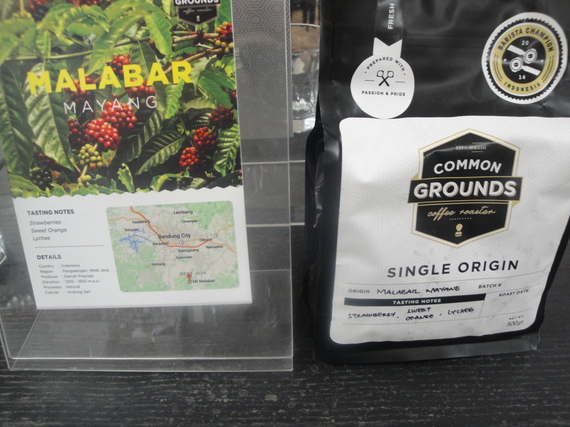 According to Budi Kurniawan's movie, when Dutch introduced the plantations three centuries ago, the best coffee beans were graded and sent to Europe leaving the locals drinking the unsavory mixed with corn. Today things have changed. Umar Hadi, the newly appointed Consul General of Indonesian in Los Angeles is welcoming guests during the event and I steal some of his time to get insights about coffee in Indonesia. "Almost half of the coffee we produce, we consume," he tells me. "We import a sizable number of coffee. We are big domestic consumers". According to the Foreign Agricultural Service of USDA, Brazil is the number one country in terms of production of Arabica beans (with 51,200 60-kilograms bags, followed by Vietnam with 29,350, Colombia with 12,500 and Indonesia with 8,800 60-kilogram bags).
But what is the coffee culture today in Indonesia? Does it have a social dimension or is it a private habit?
"It is a normal daily habit," says the consular. "You have to have it every day." He also confesses: "I had my first cup of coffee when I think I was six or seven, because in the morning, I always saw my dad and asked what he was drinking. You know, as a child you have to try it. Of course, the first try was bitter."
Everybody agreed about the change in Indonesian's coffee drinking habits. The Warung Kopi used to be the traditional coffee shop where only men could go. With the rise of middle-class coffee shops everywhere, everybody seems to enjoy a cup of Java, including women. Budi Kurniawan tells me that the younger generations in urban areas like to drink coffee together and to connect in a coffee shop. "It is not very expensive, same price as buying something small," he says.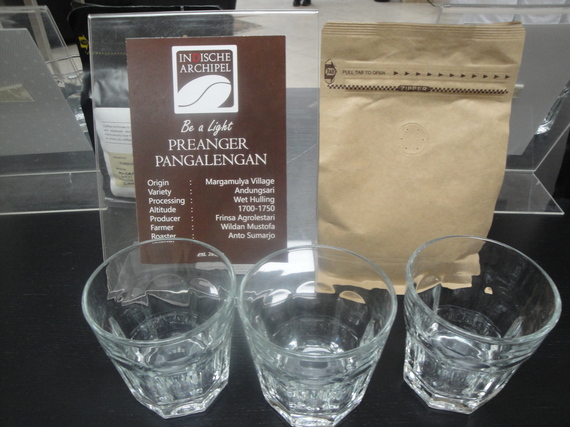 Before leaving, I am also curious about their coffee drinking preferences.
Mira likes a nice cappuccino for breakfast even if she goes for black coffee most of the time.
Mr. Umar Hadi likes his coffee kopi tubruk which is just coarsely or finely grounded coffee mixed with a spoon. "You only have to boil the water, pour it in a glass and then add the coffee and mix them together. It is easy. Handmade, no machines." Budi Kurniawan has his own theory about kopi tobruk. In his opinion, it means "true-brew." "It's like brewing with the true. When Indonesian people say tobruk, they mean the true and brew."
Inspired by the conversation, I am convinced that tobruk will be my next cup of Java. True brew. Just water and crushed beans. Simple. Smell it. The aroma of heaven.
How to make tobruk coffee
1. To make a cup add two teaspoons of fine or medium ground coffee (sugar is optional) into a cup
2. Boil the water and then add it to the cup at the boiling temperature
3. Stir so the water and the coffee grounds mix well
4. Let it stay and cook with the coffee for a few minutes until most of the ground coffee has settled in the bottom
5. Enjoy your coffee but leave the "mud" at the bottom alone. Don't drink it.
You can add sweetened condensed milk if you wish for a milky and sweet taste -- this is called kopi susu. Some prefer their beans coarsely ground rather than fine.