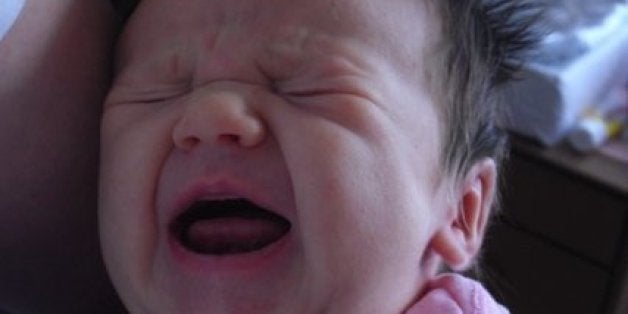 I love pictures of babies crying.
It's not that I revel in an innocent person's anguish (although, when I was a teenager, I did used to make weird faces at babies to see how they'd respond).
It's the beautiful rawness. The truth. Babies don't yet know how to hide their hearts and concoct masks. They are not afraid of looking stupid. They don't know judgment. What you see on a baby's face is the closest glimpse inside the human soul as possible. They hold nothing back -- and that's exactly what makes babies so perfect.
Especially when they cry.
One of my favorite photographers wasn't famous or fancy. In fact, Vivian Maier (vivianmaier.com) kept her "street photography" a secret, until a historian bid on her mountains of undeveloped rolls of film at an auction in Chicago, where she used to live. Word is, the film was in a storage locker that was sold due to delinquent payments.
Her photos, taken on the streets of Chicago, New York and elsewhere from the '50s to '90s, span plenty of wailing babies, as well as some of my favorites: a young girl covered in ice cream, a boy looking terrified on a bicycle inches from his mom's smoking cigarette and a girl with a dirty face in her swimsuit holding onto a swing.
These kids aren't primped and plastered with forced smiles. They look like, well, real kids.
Which brings us to Darcy Sherman.
Sherman, of Superior, Colorado, is one of my favorite local photographers. She's also not famous or fancy, and she refers to herself humbly as "photographer" in quotes. Sherman is a teacher and a mother of three who takes pictures of kids in their natural, perfect, sticky, running, sometimes crying state.
"I try to capture kids with dirt on their faces and mud in their toes, instead of hideously coifed children, stuffed into weird pots or ugly wicker chairs," she writes.
Often, the children in her photos are holding frogs and bugs, with messy hair, diving in piles of leaves and with chocolate on their mouths. One blonde girl is hiding her head in her knees, her shoes untied, throwing a fit. Sherman says when her mom saw the picture, she loved it because it was the first picture that captured the girl's true spirit -- fire and all.
Sherman runs the photography business Sassafraspics.com. The name ironically came from Sherman's childhood dream to start a children's etiquette training school and call it Sassafras.
"As soon as they were born and total savage creatures, I realized who's going to pay me money when my own kids are, like, feral?" Sherman says.
But she means it as the highest form of compliment.
Her kids have taught her so much and evolved her dream into something more profound; now it's about immortalizing the anti-etiquette, so to speak. Behind the mask. She has learned to stop and look deeply into the eyes of children, and capture angles and details of their little lives that are often overlooked. To her, those details are the essence of what makes us all unique and beautiful.
She has learned that some things are perfectly imperfect, exactly as they really are.
And sometimes a good cry is necessary to bring great happiness.

This article originally appeared in the Boulder Daily Camera. Read more stories from the weirdest city in America, Boulder, Colorado, here: Only In Boulder.