Crystal Bridges Curator Mindy Besaw has been busy since joining the Museum late 2014. Mindy came from the Buffalo Bill Center of the West's Whitney Western Art Museum in Cody, Wyoming, and in just a few short months, she has jumped into curatorial planning for Picturing the Americas: Landscape Painting from Tierra Del Fuego to the Arctic, which opens in November, and has curated several focused exhibitions including Georgia O'Keeffe: See What I See. Mindy offers insight on the recent announcement that Crystal Bridges acquired Jimson Weed/ White Flower No. 1, (1932, oil on canvas) by Georgia O'Keeffe. The signature painting debuts as part of the See What I See exhibition on March 28.
The newest addition to the Crystal Bridges collection is a tour de force, certain to become a new favorite among visitors. Several O'Keeffe paintings already in the Museum's collection will be featured in See What I See, including Small Purple Hills (1934, oil on board), and Feather and Brown Leaf (1935, oil on canvas). A rare sculpture by O'Keeffe, Abstraction (modeled in 1946, cast circa 1979-80; white-lacquered bronze), will also be included in the exhibition.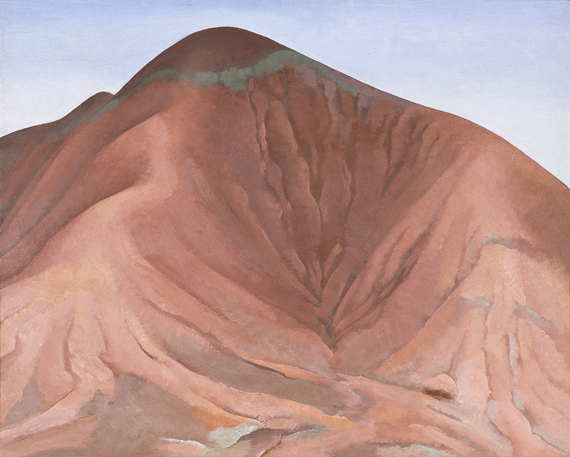 Georgia O'Keeffe (1887 - 1986)
Small Purple Hills, 1934
Oil on board
16 x 19 3/4 in. (40.6 x 50.2 cm)
Courtesy Crystal Bridges Museum of American Art, Bentonville, Arkansas. Photography by Amon Carter Museum of American Art.
O'Keeffe began to make flower paintings in 1924, the same year she married photographer Alfred Stieglitz. The extreme close-up view and cropped composition of Jimson Weed reflects the influence of photography on O'Keeffe's vision. Though she based the paintings on a close look at nature, she did not replicate every detail; instead, the meaning of the painting resides in shape, color, and the emotional reaction it evokes. Exact realism, O'Keeffe believed, could not hope to elicit the same awestruck reaction.
Jimson Weed is monumental, which may seem like a paradoxical description for something so delicate and temporal as a flower. O'Keeffe's flowers have become so familiar in American culture (featured on postage stamps, coffee mugs, and notecards), that the true innovation and intent of her painting may be hard to grasp today.
"A flower is relatively small. Everyone has many associations with a flower -- the idea of flowers. You put out your hand to touch the flower -- lean forward to smell it -- maybe touch it with your lips almost without thinking -- or give it to someone to please them. Still -- in a way -- nobody sees a flower -- really -- it is so small -- we haven't time -- and to see it takes time like to have a friend takes time. If I could paint the flower exactly as I see it no one would see what I see because I would paint it small like the flower is small.

So I said to myself -- I'll paint what I see -- what the flower is to me but I'll paint it big and they will be surprised into taking time to look at it. " - Georgia O'Keeffe, "About Myself," 1939
In addition to the works featured in the focused exhibition, two other works by O'Keeffe -- Radiator BuildingandFlying Backbonefrom the Stieglitz Collection -- are also on view thanks to a partnership forged with Fisk University.
Abstractions, still life, flowers, landscapes, structures, New York cityscapes, and New Mexican hills -- and the innumerable variations within those themes -- all combine to tell the multifaceted story of O'Keeffe's work in the context of 20th century American art.
Mindy is looking forward to new opportunities to interpret the collection, develop exhibitions and scholarship, and contribute in a meaningful way to the national and international conversations related to American art. Read more about Mindy and the curatorial team here.
Calling all HuffPost superfans!
Sign up for membership to become a founding member and help shape HuffPost's next chapter