This story is one in a series of four profiles on unknown American artists, selected for an exhibit at the Crystal Bridges Museum of American Art (click here to explore the full series). Crystal Bridges president Don Bacigalupi and curator Chad Alligood split a map of the U.S. into four regions before setting off on a journey to find the best artists currently working in America. Each artist profiled here hails from one of the following regions:

A piñata is a singular party prop, made to be beaten into shreds. Its complex character — both celebratory and suggestive of violence — is what drew Justin Favela to push the bounds of the form, to figure out what happens to a viewer when you festoon unlikely plaster shapes (say, a life-size lowrider car) with ribbons.
Favela, a Las Vegas-based artist, is one of the subjects we picked from State of the Art, an unprecedented exhibit featuring contemporary art from across the country. For nearly a year, two staffers of the Crystal Bridges museum in Bentonville, Arkansas — president Don Bacigalupi and curator Chad Alligood — traveled thousands of miles in search of great American artists based outside of New York City's art-world epicenter. It was a curatorial adventure unlike any that's come before, and Favela was one of 102 people to make the final cut. His "Lowrider piñata" is currently on display.
Last week, Favela ducked into a storage closet in Caesars Palace — where he works as an administrator at an art gallery — just long enough to share his recipe for making a giant piñata.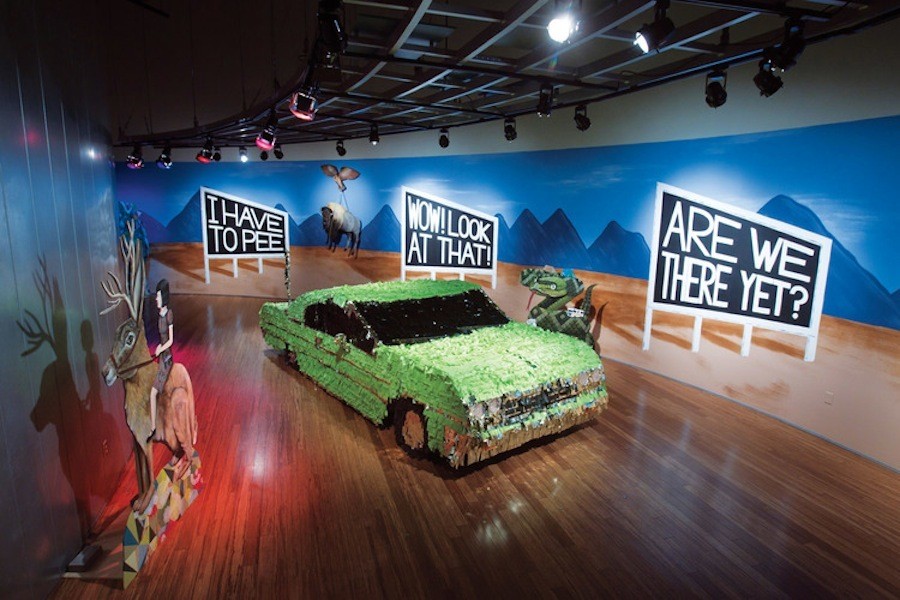 Calling all HuffPost superfans!
Sign up for membership to become a founding member and help shape HuffPost's next chapter