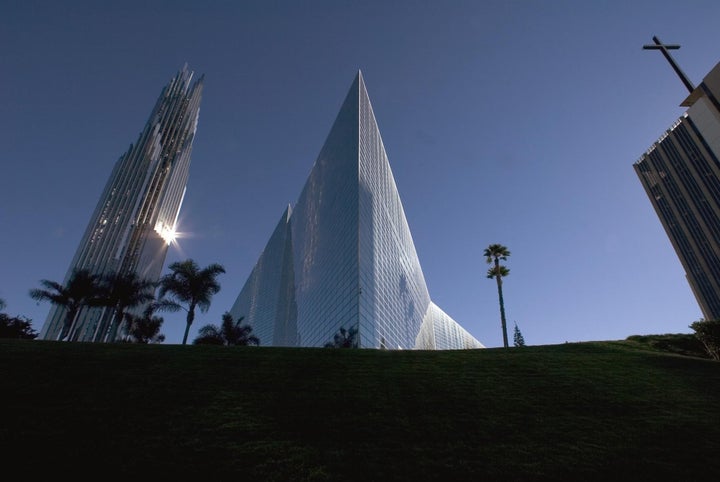 NEW YORK -- Crystal Cathedral, one of the nation's first modern megachurches and one that had come to define the movement's opulent strain with its towering glass structures, elaborate stage productions and far-reaching "Hour of Power" television ministry, is up for sale.
A financial reorganization plan, which was submitted to court on Friday, would sell the 40-acre church campus for $46 million to Greenlaw Partners, a real estate investment group. The sale would allow the church to pay off a $36-million mortgage and pay back almost all the money its owes to 550 creditors over the next 3-and-a-half years.
The church's board would have the option of leasing back the property for 15 years. After four years, the church would also have the option to buy back its most prized buildings, such as its $18 million 10,664-window glass sanctuary that was designed by famed architect Philip Johnson, a 13-story structure called the "Tower of Hope," its welcome center and its cemetery.
"Under this plan, the ministry of the Crystal Cathedral will continue its local worship services and community outreach programs," church spokesman John Charles said in a statement. The church would also continue its "Hour of Power" television show, he said.
Charles did not return a phone call and an email requesting comments on Friday.
The sale, which would need to be approved at a June 1 bankruptcy court hearing, is the latest in a troubled history for a church that was once seen as the shining example of megachurch success in the United States.
Schuller, a minister in the Reformed Church of America, founded the church in 1955 in a converted drive-in movie theater in Garden Grove, a suburb south of Los Angeles. He was quickly able to grow membership with his popular sermons and upbeat, positive brand of Christianity. He largely stayed away from political and polarizing issues.
The church moved to a formal space in 1961 and in 1970, at the encouragement of the Rev. Billy Graham, Schuller began broadcasting his sermons as the "Hour of Power" on television. He quickly became a national figure, pulling in donations from millions of viewers as membership skyrocketed. By 1980, the church had opened its iconic multimillion-dollar glass worship hall, and it continued to finance elaborate construction, such as a 236-foot tall bell tower and spire a decade later. In the 1990s, membership topped 10,000.
But in more recent years, the church has run into trouble. After Schuller, 84, stepped down five years ago, he put his son, the Rev. Robert A. Schuller, in charge. The younger Schuller, an experienced 54-year-old preacher, used a more corporate management style and struck a relatively contemporary tone during worship. He inherited debt from various construction projects, and under his watch, membership dwindled to around 1,000.
Randall Balmer, a professor of American religious history at Columbia University and Barnard College, says troubles at Crystal Cathedral point to the larger challenges megachurches, which soared in popularity from the 1970s to the 1990s, now face.
"On one hand, it's a leadership issue. You can't simply pass along charismatic authority from one generation to the next. It never works," Balmer said. "And there's a moving away from big megachurches, a moving away from the big Billy Graham stadium crusades of mass appeal to more targeted approaches. You have all this niche marketing within Christian evangelism. I mean, you have Christian evangelical tattoos."
To be sure, there are still dozens of popular and growing megachurches in the U.S, such as Rick Warren's Saddleback Church, also in Southern California, and Joel Osteen's Lakewood Church in Houston, Texas. Lakewood, with 40,000 members, is the biggest church in the country.
Scott Thumma, a professor at Hartford Seminary who studies megachurches, said troubles at Crystal Cathedral don't necessarily "foreshadow doom and gloom for the megachurch phenomenon. Schuller and the Crystal Cathedral have always been outliers," Thumma said, though "his ideas and innovations propelled several prominent mega-pastors."
"This announcement ought to teach astute large church leadership teams [to] not to over-build, especially monuments to architectural and ministerial hubris ... to make sure to have a reasonable plan of succession, and above all, to engage in wise fiscal policies," Thumma added.
At Crystal Cathedral, the younger Schuller was removed within two years of his appointment as senior pastor after his father said on the "Hour of Power" that the two men had "a lack of shared vision." Today, the elder Schuller's daughter, Sheila Schuller Coleman, is senior pastor.
Under Coleman, the church has gone through layoffs and cancelled a popular Easter production. It also faced scrutiny after October bankruptcy filings showed that the church owed $50 million to investors and vendors, such as an organ player who is still waiting for a $1,500 payment. Creditors also objected to what they saw as over-the-top payouts and benefits to church employees and members of the Schuller family.
In March, Coleman also came under fire from some of her congregation for requesting that church choir members sign pledges that affirm the "model Biblical view" of "sexual intimacy is intended by God to only be within the bonds of marriage, between one man and one woman." Members said the request was anti-gay. It was also a step away from the style of her father, who later said he didn't approve of the pledge.
On Friday, a church statement said that the sale will allow Coleman to achieve a "bold new vision" to be a "hands-on outreach of hope for both the local and global community."
"We are thankful to the vendors for their patience and we are so sorry for any pain that they have incurred," Coleman said in the statement. "To pay them back 100% has always been a top priority and we are grateful to God for providing the resources to be able to do just that."

Related
Popular in the Community