A year ago this month, as the United States Women's National Team demolished Japan to win their third Women's World Cup title, Crystal Dunn watched the same way 25 million other Americans did: from home.
Dunn, the diminutive 24-year-old star of the National Women's Soccer League's Washington Spirit, was by most accounts the 24th player on the 23-person World Cup roster ― manager Jill Ellis' final cut before the team traveled to Canada. It caught her by surprise.
"I wasn't really anticipating not being a part of the World Cup," Dunn said after a training session with the Spirit in early July. "I was upset and pissed."
But when the Americans head to Rio de Janeiro in August to pursue an unprecedented fourth consecutive Olympic gold medal, the heartache that came with missing out on the World Cup can finally go away. After a year in which she broke out as the top goal-scorer in the NWSL, Dunn has also emerged as one of the USWNT's most versatile, and potentially most important, young players.
"She's good enough to help you however she's needed.""
"One thing that Crystal has proven is that she's been a winner at every single level," said former USWNT defender Kate Markgraf, now a broadcast analyst for ESPN. "I first saw her at the U-20 World Cup, and she was the MVP for me. You watch her in college and she's dominating at forward. She's a match winner, at every single level she's played at."
"She's good enough," Markgraf added, "to help you however she's needed."
Dunn played right back in the early stages of her national team career, both for the youth side that won the under-20 World Cup in 2012 and in her first matches for the senior team. It was a more defensive role than she'd played for the Spirit and, before that, at the University of North Carolina, where she led the Tar Heels to the 2012 national title and won the Hermann Trophy as collegiate soccer's top player.
In Rio, Dunn will return to her natural attacking role as part of a revamped American front line that, for the first time in more than a decade, will be without Abby Wambach, the world's all-time leading goal-scorer who retired after the World Cup. Two other forwards ― Sydney Leroux and Amy Rodriguez ― will miss the Olympics due to pregnancy.
Their absences have created an opportunity for Dunn, but she began to prove she belonged as an attacker almost immediately after missing out on the World Cup. National team stars like Carli Lloyd and Alex Morgan might have been the names drawing huge crowds to NWSL matches in the month after they won the Cup, but it was Dunn who was busy setting the league ablaze.
She scored six times last August, including a first-half hat trick against the Houston Dash ― a team anchored by Lloyd, the world player of the year. Dunn finished the season with 15 goals, earning NWSL's Golden Boot award as its top scorer and MVP honors.
"The freedom of being able to be thrown in an attacking position, it's given me that feeling of, this is where I'm naturally comfortable," Dunn said. "For the first two and a half years, if I'd played outside mid, maybe I could've shown some people what I could really do."
Dunn's form carried over to the USWNT's World Cup victory tour last fall. She scored her first international goal against Haiti in September, then notched another against the Haitians three days later. She put home five goals in a February Olympic qualifier against Puerto Rico. In early March, she scored a stunning game-winner against England ― the World Cup's third-place finisher ― in the SheBelieves Cup.
Dunn hasn't yet found her scoring touch for the Spirit this season. Even still, she has bolstered her case for a prominent role on the national team. Her four assists rank second in NWSL, and highlight her evolution into a versatile, creative player who doesn't have to score to wreak havoc on opposing defenses.
Wambach was a big, physical striker whose legendary heading ability made her a target in the USWNT's assault on opposing goals for years. But without a similar option to replace her, Ellis has crafted a pacier front line built around creative combination play and speedy forwards like Dunn, Morgan, Christen Press and 18-year-old Mallory Pugh.
That's a style that better suits Dunn's abilities, and she's visibly excited at the prospect of catching opponents used to a more physical American attack off-guard.
"It creates something other countries don't really know what to deal with," Dunn said. "Now we're one-two, givin' and goin', and everybody's like 'What's going on?'"
Dunn's triumph could be seen, too, as one for the NWSL, the upstart women's league now in its fourth season. For a player who once worried that she would have to go overseas once her collegiate career ended (the NWSL's predecessor league, Women's Professional Soccer, folded during her junior year at UNC) the league provided a landing spot ― and a launch pad ― for her run to Rio.
"The NWSL gave me a huge stage to play on and to make a name for myself," Dunn said. "It's something I'm always going to hold dear to my heart that this league was around and allowed me to be seen, and for people to be aware of who I was."
She'll have to leave the Spirit at a crucial time to go to Rio. The team is currently in second place in the NWSL, with a chance to go to the top of the league's table Saturday night even while playing without five Olympians. (Defender Ali Krieger will join Dunn on the USWNT; three Spirit players made Canada's team.) For now, though, Dunn is only focused on helping the USWNT win gold.
"I had to beat out a lot of great players, and it wasn't easy," Dunn said. "I suffered through a whole year, and eventually got back to where I wanted to be."
For more Olympic coverage:
Related
Before You Go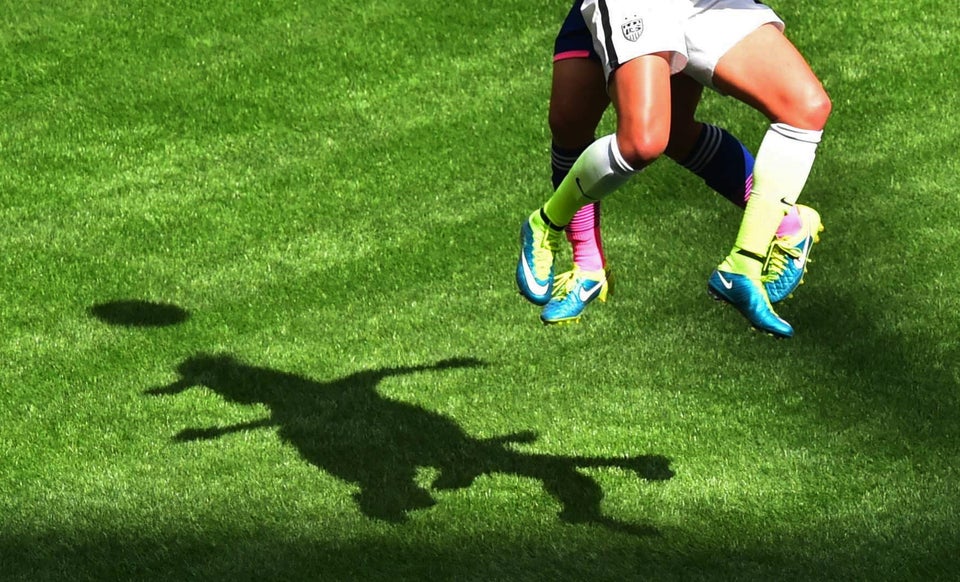 The Most Badass Photos From The Women's World Cup Final
Popular in the Community