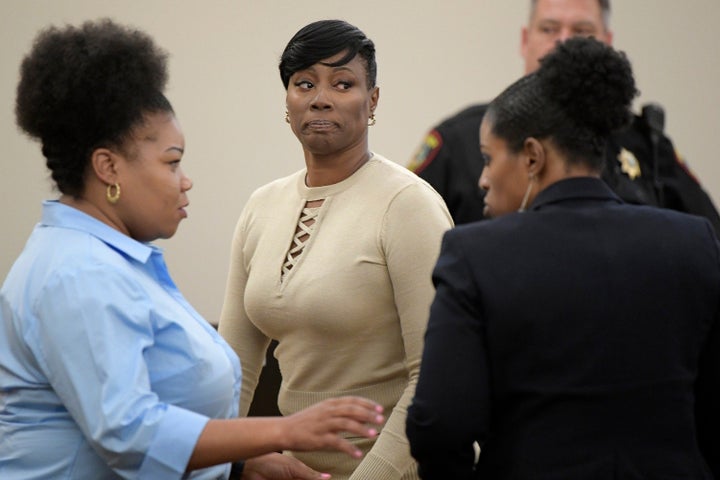 A Texas woman who says she unintentionally voted illegally was sentenced Thursday to 10 months in prison for violating the terms of her release for a felony conviction. In March, she had been sentenced to five years for the actual voting.
The federal judge's ruling comes after Crystal Mason voted with a provisional ballot in the 2016 election at the urging of her mother. Mason had been sentenced to five years in prison in 2011 after pleading guilty to tax fraud, and at the time of the election she was on supervised release. She said she was unaware that Texas law prohibited felons on supervised release from voting and that no one at the polling place tried to stop her. But state prosecutors said that Mason had signed a provisional ballot affirming her eligibility to vote, and a Texas judge separately found her guilty in March of violating state law and sentenced her to five years in prison.
Mason's 10-month sentence Thursday stemmed from federal charges that she had violated the terms of her supervised release, which included not committing another federal, state or local crime. Tacked on to that 10-month sentence is 26 more months of supervised release.
"This is a gross miscarriage of justice. The entire state prosecution was designed to suppress minority votes in Tarrant County," Kim Cole, an attorney representing Mason, said in an email. Cole also told the Fort Worth Star-Telegram that she had heard from people who were aware of Mason's case and were afraid to vote.
Mason's case attracted national attention because of the harsh punishment for an act she and her lawyers said was driven by confusion. Mason's attorney told HuffPost in March that no one had told her she couldn't vote when she was released from prison and that it didn't make sense why she would take the risk of voting. Since being released from prison, Mason had gotten a job with the state of Texas and attended beauty school.
"I was happy enough to come home and see my daughter graduate. My son is about to graduate. Why would I jeopardize that? Not to vote.... I didn't even want to go vote," Mason said in March, according to the Star-Telegram.
Mason is scheduled to surrender to custody on Sept. 13.
Alison Grinter, another attorney representing Mason, told HuffPost in June that cases like Mason's could be used to exaggerate the prevalence of voter fraud.
"There are going to be Crystal Masons in the world. There are going to be people who cast a provisional ballot because they're not sure or they mistakenly believe that they are qualified," Grinter said. "If you round up every single Crystal Mason that there is, you might be able to patchwork together a fraud on the populace, which is that in-person voter fraud is a real thing. Once you do that, you give a lot of fertile ground to lawmakers who want to pass voter intimidation laws."
Popular in the Community