This year as I come back to Huffington Post Black Voices with a regular monthly posting, I took time off to conceive a project, The Creative Side Fashion and Design Incubator, and return to blogging to look at pioneers in the design industry and emerging designers across the African Disapora. The Design Talks of the African Disapora is a series of talks and conversations I am having to educate, inform and acknowledge the path designers are taking across the globe. The first designer is New York-based Crystal McKenzie.
How does one really write about a black woman designer who has quietly since 1980 built and kept a robust practice, stayed essentially humble and focused like a radar in her field of practice? It begins, I would say, with her upbringing and her education at Cooper Union, New York University and Università Cattolica del Sacro Cuore (Milano). And it emanates from her choice to start in environmental design and graphics while her counterparts headed to the ever popular arena of corporate design work.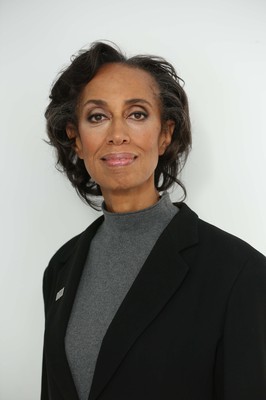 Above: Photo of Crystal Mckenzie, photo courtesy Crystal Mckenzie.
Most importantly, she says it is a testament to the mentorship of Edgar A. Fitt, a pioneer African-American designer who worked for IBM in the late '60s (see here) and John Morning, a graphic designer in since 1960 specializing in publications and materials for leading arts, cultural and philanthropic institutions, now an active philanthropist; both guided her well (see here). From both of them, she learned the lessons of having a broad perspective, success and failure.
"Driven" is an understatement to describe Crystal McKenzie. She has built a firm from herself to a range of 14-25 people in an industry where the average firm size is 1-2 people including the owner. As a multimillion dollar business providing three distinctive services that are equally divided in the work her company does: communications and marketing; web and interactive design, and environmental graphics, Crystal McKenzie, Inc. has an evenly distributed list of government, private sector and non-profit clientele. She prides herself with working with like-minded people, focused on team building and skill sets and has a long standing relationship with consultants and strategic partners.
McKenzie is also very cognitive of what is happening in her industry down to the details that most overlook. She is one of the few firms that have survived the 2008 financial crisis and she credits that and her stay in business by understanding the paradigm shifts in technology, being an early adopter of the internet and of mobile which is dominating the work opportunities in the creative design industry.
She was well prepared for the 2008 crisis because she had reserves to ride the wave, stayed the course of her master plan and had the speed to quickly adapt to system changes around her. She was decisive, had the proper reserves in place to re-invent her service offerings and as a corporate citizen, she maintains a modest lifestyle. She is forward thinking. In the last few years, she has set her sights on doing work across the Middle East, after visiting Dubai for a convention and finding little or no wayfinding and navigational systems, thus, opportunity revealed in a world-class city.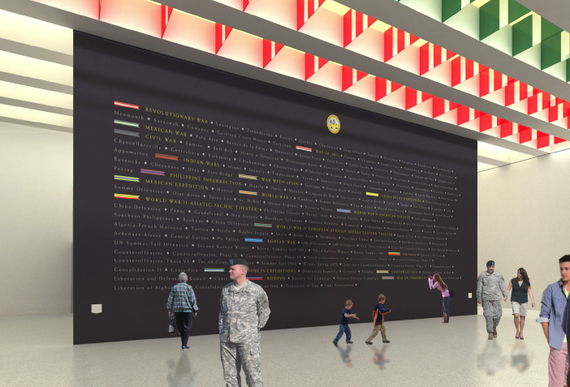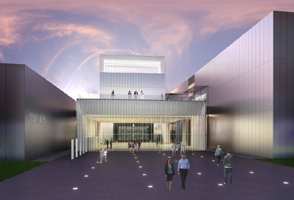 Images Above: Rendering of the National Museum of the United States Army, photo courtesy: Crystal McKenzie Inc.
One of her most significant projects to date is the National Museum of the United States Army, designed by Skidmore Owings and Merrill. Her firm provided "Master Wayfinding and Signage design for the architectural components of the museum; Exterior and interior design development, Monumental Entry, vehicular traffic and pedestrian control, donor walls, retail signage, donor pavers, directories, and specialty signs to bring the graphic communication into a compelling visitor experience."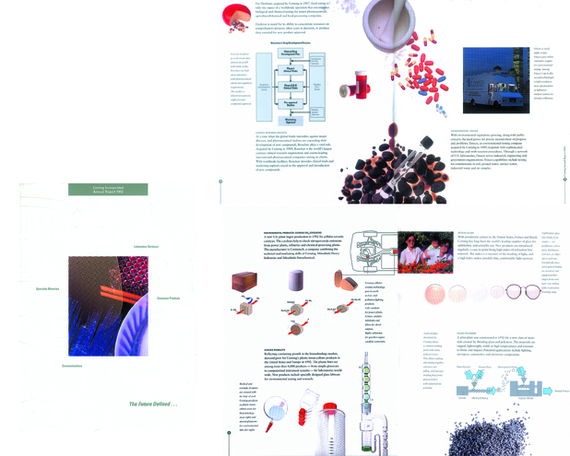 Above: Corning, Inc. Annual Report, photo courtesy: Crystal McKenzie Inc.
Another project, Corning, Inc. Annual Report, showcases the challenge embarked on a 2-year-long global headquarters construction program that would impact the local community and tourism in the area. Crystal McKenzie Inc. (CMI)'s "design strategy and communications program create a cohesive look that culminated in commemorative events and communications for VIPs, employees, contractors, tourists to the area, and the surrounding community." It was part of "ushering the corporation into the 21st century and become the main stage for a 150th anniversary celebration."
CMI's solution "applied strategic thinking to help the client determine what mix of communication vehicles would help management express and model new values and initiatives while building key stakeholder loyalty and employee esprit de corps. The Corning Incorporated Annual Report was designed working in concert with staff writer Kathy Littleton. Corning is a Fortune 200 Company, so it is very prestigious to be responsible for strategy, creative concept and design for a Fortune 500 company's Annual Report much less a Fortune 200 Company.
On February 27, 2014, Crystal McKenzie, along with 8 other business women and 6 business men, will be given an award from the National Minority Business Council at the 34th Annual Awards Luncheon to be held at the Marriott Marquis Hotel in midtown New York. Columbia University notes that the theme "is 'Financial Strategies for Business Growth' celebrating the great strides women and people of color have made in private and public sector industries."
The Award is from the National Minority Business Council, which was founded in 1972 as a full-service, non-profit (501)(c)(3) corporation dedicated to providing business assistance, educational programs, advocacy, procurement opportunities, listings and related services to hundreds of businesses throughout the U.S. and overseas. NMBC has the continuing goal of expanding opportunities available to small, minority and women business owners. NMBC has considerable experience working with major corporations, city, state and federal government agencies to promote the interests of small, minority, women and veteran-owned businesses. Crystal McKenzie has been involved in the organization since its inception. More information can be found about the event here.
One of my last questions to Crystal McKenzie was "what advice did she have for the next generation of designers?" She adamantly said: "Do as much professional work while in school, those internships and experiences shape your future and build relationships that you will need." And as a designer and a forward thinker, she has a succession plan in place for her company. Brian Jones is Crystal Mckenzie Inc's Chief Operating Officer and Crystal's brother and niece both work in the firm. Crystal McKenzie's company can be found here.
Popular in the Community