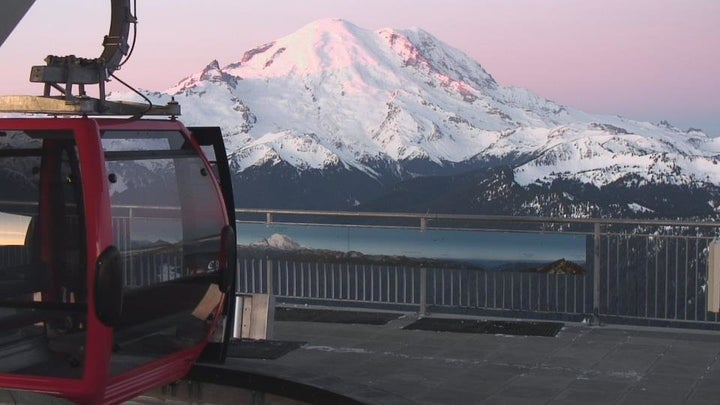 Crystal Mountain Resort in Washington is a popular destination for skiers and snowboarders. As part of a series on ski resorts, Huffington Post Travel offers our guide to Crystal Mountain, featuring all the key information snow lovers need to know before they hit the slopes.
The Basics
, nestled next to the scenic Mount Rainier, gives guests breathtaking views of the mountains and provides scenic skiing for all levels of enthusiasts. The deep snow and rugged terrain attract advanced skiers, but beginners and children have slopes and classes designed just for them as well. Crystal Mountain is located in the northwest corner of beautiful Mount Rainier National Park, about 105 minutes southeast of Seattle and 90 minutes southeast of Tacoma.
The Mountain
Crystal Mountain offers a wide range of
conditions on one mountain, with plenty of rugged terrain, deep snow and back-country exploring in the 2,600-acre resort, as well as some well-groomed slopes for beginners. An average of 367 inches of snow falls annually at Crystal Mountain, and for backup the resort has snow-making capabilities. The winter season runs from November to April or later and the summer season, which offers scenic Mount Rainier Gondola rides, horseback riding and hiking, goes from June to September. The mountain's vertical drop hits 3,100 feet, and the longest run -- Northway -- is 2.5 miles.
Trails And Lifts
The skiing choices include
at Crystal Mountain, with 11 percent for beginners, 54 percent for intermediate skiers and 35 percent for advanced and expert skiers. Forest Queen offers gradual slopes for beginners and families, while signature trails like Braindamaged, Hourglass and Pinball are popular runs for advanced skiers. Crystal Mountain also offers back-country skiing for the truly adventurous who want to strike out on their own. The resort includes 11 lifts to transport guests, with one eight-passenger gondola, two high-speed six-passenger lifts, two high-speed quads, two triple chairs, three double chairs and one children's surface lift.
In The News
Crystal Mountain has a rich
that goes back to the gold-mining days of the 1800s, when prospectors flocked to the area after gold was found in the Cascades. Crystal Mountain opened in 1962, and just three years later it hosted the National Alpine Championships, followed by the Rainier World Cup in 1972. In 1997, Boyne USA purchased Crystal Mountain and invested more than $25 million in capital improvements, adding high-speed chairlifts, the Mount Rainier Gondola and upgraded facilities, which helped elevate the resort to become one of the premier ski destinations on the West Coast. Crystal Mountain continues a long tradition of serving all levels of skiers, even offering
programs, which teach people with developmental disabilities how to safely enjoy winter sports.
Cost
cost from $599 to $999 for adults, depending on the season and level of access, with discounts available for seniors ages 70 and older, children and teens up to age 17.
cost $65 for chairs only and $73 for chairs and gondola rides for adults. A five-day GO Card package of unlimited lifts for five days costs $275 for chairs only and $315 for chairs and the gondola. Ski and snowboard equipment rental prices range from $20 to $37, depending on the type of equipment you rent. Crystal Springs offers safety gear rentals with helmets and rental equipment brands include Head skis, Rossignol snowboards and MRS snowshoes. Group beginner ski or snowboard lessons cost from $79 to $99 for five hours and private
cost $109 for an hour.
Apres-Ski
Crystal Springs Resort gives guests plenty of options for relaxing or recreation in addition to skiing, with scenic
that provide breathtaking views of Mount Rainier and the Cascades. For even more stunning views, check out the resort's Summit House, the highest restaurant in Washington, at 6,872 feet. The sky-high alpine dining establishment serves up fresh fare with a menu of Northwest cuisine. If you're still looking for something to do, take a scenic drive or hike through Mount Rainier National Park, saddle up for a horseback ride with
or play disc golf at Crystal Mountain.
WATCH: Crystal Mountain Resort
Skiers at Crystal Mountain enjoy breathtaking views of Mount Rainier.