Gorgeous, opinionated and wise beyond her years, plus-size model Crystal Renn is shaking some sense into the fashion industry and showing everyone that bigger is indeed beautiful. Having overcome an eating disorder that left her sample sized but starving, Renn is now on a mission to foster self-esteem in young women of all sizes and to change perceptions that thin is in. Refreshingly honest and undeniably passionate, Renn is a real force to be reckoned with and an inspiration to women everywhere.
We all loved you on the Joe Fresh runway! What was walking that show like?
I was only there for one day but it was a fantastic experience, really amazing. I was walking back on the runway and I literally had to suppress this major, major smile! I was not aware of the prices of the clothes, they told me there. That they're for everyone! I was just shocked. The quality is amazing.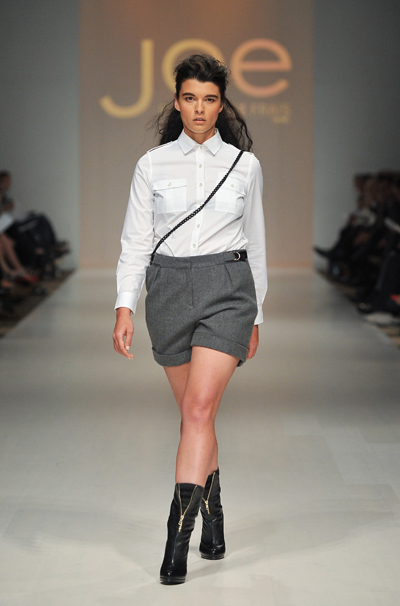 Crystal Renn walking the Joe Fresh Style show. Photo courtesy of George Pimentel.
You're famous for being a plus-sized model at size 12 but on the runway you looked much slimmer!
I heard that, so I went online and looked at the picures and im about 60 pounds heavier then the averge model. When I do editorial shoots of course the camera adds the weight. What does a 12 look like in person? It's really completely normal and healthy and a lot of people are this size. You notice everything on the camera, you can't hide!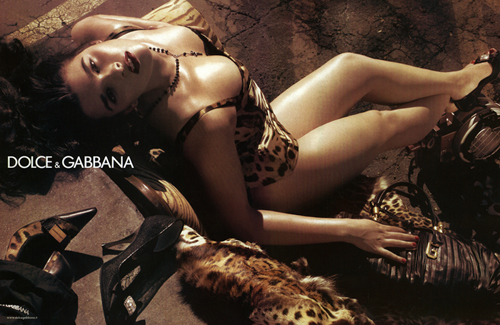 Photo courtesy of Ford Models
Recently magazines have been featuring bigger models and we've seen more variety on the catwalks - what do you think of this trend and will it continue?
I hope it's not a trend! It shouldn't be a trend, it should be the norm! I think that what designers are doing is extremely positive. I think the catwalk is probably the last place that will catch up to the editorials and the ads that I'm sure are going to come. What Prada did, was amazing! Yes, the girls are still thin but it's a step in the right direction. I remember screaming from my computer looking at Style.com - I thought that was so positive. I also covered fashion week in NYC with Glamour magazine and even though the girls were of course so thin, you didn't see fur all over the bodies of every single girl walking down. You saw different body types. Even if it's slight, it's a change and I was pleased by that. Any step is one worth noting.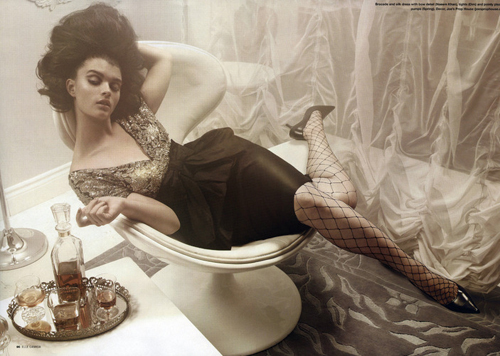 Photo courtesy of Ford Models
A lot of people know about your before and after modeling careers, which are obviously very different and you've talked a lot about that - what do you like about modeling at your current size?
I definitely get all of the benefits of this job! I travel, I've had social experiences I never would had in my small town if I had stayed there, I know how to handle business situations, this job has brought about challenges that I've had to overcome. And its made me stronger for that. Something I didn't do as a kid that I'm doing now is writing, its shown me my talents and my weaknesses. Believe it or not, even though I do interviews and I'm on TV, pubic speaking makes me quite nervous and I didn't even realize that about myself until I was put on the spot with it. And then you realize you must overcome it and it think that's extremely powerful, at 23 to know what your strong points are and what the things that are holding you back are, that's a great thing to keep going with my life and to learn from.
I don't have to worry about my weight. I'm not someone who says everyone should be plus or everyone should be thin. I fluctuate. I am what I am. And I don't think I should gain weight for people and I don't think I should lose weight for people. To be comfortable with that? That's pretty amazing. I would never take back my experiences because I learned that at a very young age and that's helped me in all areas of my life. I think this job has the potential to change young girls and to make them into well-rounded human beings if it's done right. I'm a perfect example of when that pressure is taken off.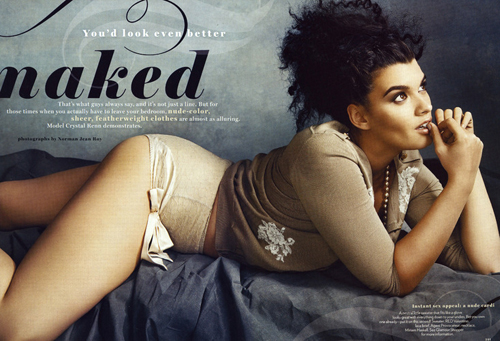 Photo courtesy of Ford Models
What do you think about the new authority of bloggers?
I think people should have a voice. You could say I got my GED when I was 15. I don't have a PhD in nutrition or psychology for anorexia but through life experience I'm able to speak about what I know. It's a good outlet for people to speak what's on their mind ...but it can cause a lot of hurt and probably ruin careers, if the info is false. It can be devastating to the people who they talk about.
The internet has revolutionized the world of fashion, from editors tweeting in the front row to shows being streamed live online. What kinds of changes do you think fashion will see in the future due to the Internet?
Whatever's trendy will become known quite quickly to the public, you'll see people wearing things quite quickly after seeing a runway show, fashion will change at a more rapid rate because they can see things quick. People know what's going on in fashion because all you have to do - whether you're living in London, Paris, Milan or even Kentucky - you can Google it and see what's going on. It can change fashion quite quickly and I think people will have a lot more say. They're going to offer their opinions because they're going to feel a part of the runway show that's just been tweeted about.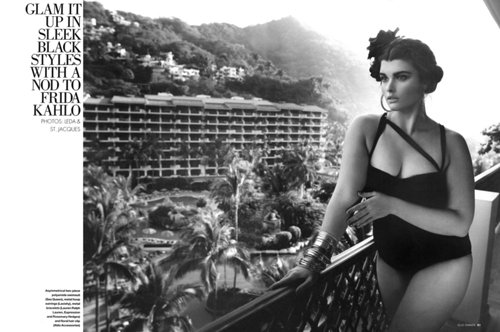 Photo courtesy of Ford Models
The Internet is definitely changing things financially in the industry however...
What I think would be great for the industry would be using a variety of models to represent these designers. I think that would get women excited about shopping again. I think that's a way to save the industry financially. It's proven that women above a certain size don't leave their house to go shopping. They shop online, always. On Sex and the City they go out shopping with their friends and it's a big social moment - girls above a certain size, they don't do that. It's a private thing, something that brings upon embarrassment. If we started showcasing all different types, it makes it about the clothes and takes the focus off the size and who's skinny and who's fat and how do I feel about what I see? It's just there. And you can get inspiration from whichever type you see. From me doing shoots and seeing the response that the editors get at the magazines - people are really hungry for this. People want to see change. People are open to something new.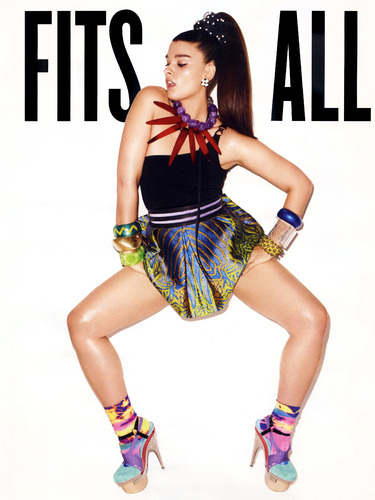 Photo courtesy of Ford Models
Fashion is supposed to make women feel good, it's their moment to show what they're made of. When they wake up and want to put on an outfit they should feel beautiful. That's our job in the fashion industry, to help them feel that way.
Also, if we did allow having all these different sizes - let's say a girl who has been modeling for 5 years and started out as a size 2 but is gaining weight now and freaking out about it because this is her job, what is she going to do? She doesn't have to worry now, because there are 8s, girls bigger than her... it takes the focus off the size and weight obsession and most importantly number obsession - straight sized models have to be a 34 inch hip.
I have a problem with number obsession that's why I choose for the most part never to go to gyms and do stuff like that because I haven't felt ready. I get obsessed with numbers, as well as other anorexics and other people. I have the freedom to be whatever size and I don't have to worry because there's work! If I was a straight-sized model, one inch would make the difference between a designer hiring me or not. I fluctuate all the time. We're women, it happens!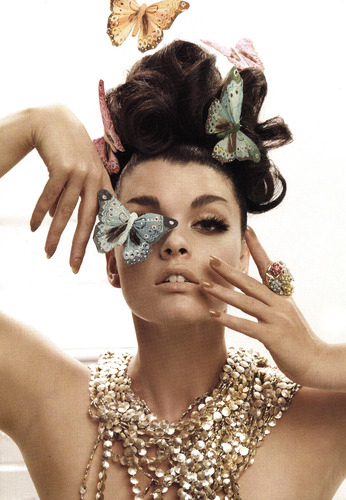 Photo courtesy of Ford Models
What do you see for yourself in the next 10 years?
Many, many things! I'd really like to design a line for fuller figured women. I think it would extremely positive for them because I probably have a different taste in clothes than most of the plus-sized clothes that have been put out there and I'd like to offer that to them in some way.
Secondly, I'd like to break into the beauty industry and represent a makeup brand and send the message that you can beautiful no matter what size you are. Women should be able to see a beauty brand that sets the standards for beauty and see a size that's bigger and not the norm from the past. Something new, something they can relate to. It'd be very positive.
I want to keep speaking about all of the things I do on weight issues, healthy mindsets. I work with Fuel Relief Fund, which donates fuel to disaster areas. That's a major charity to me. I want to keep writing. Keep learning. And travel as much as possible!
I just went to Patagonia and it was life-changing. It was nice because I was being active. I have not yet been able to find a workout regimen that works for me because gyms have freaked me out in the past. Eventually I'm sure I'll be able to establish something. But another goal is to find a way to incorporate activity into my life in a way that I don't become obsessive. In a way, to control the control. Moderation is something I work every day for, it's not something that's natural for me. It takes a lot of self-awareness.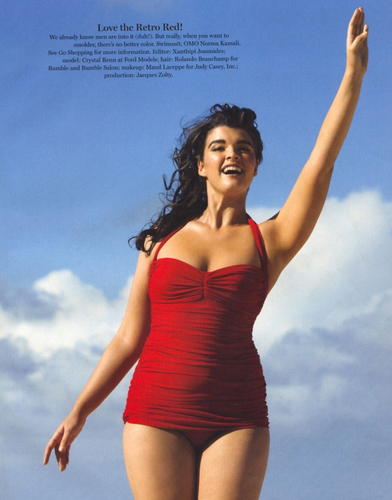 Photo courtesy of Ford Models
Related