The search for a missing mother in Kentucky is eerily similar to the disappearance of her aunt, who vanished nearly 40 years ago.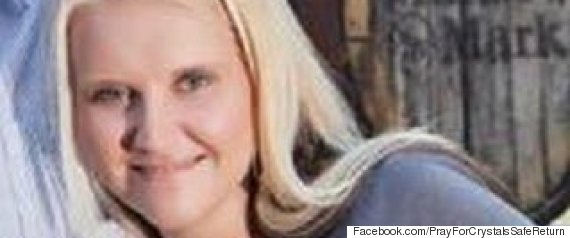 Crystal Rogers
Crystal Rogers, a 35-year-old mother of five, was last seen at her Bardstown home on July 3 by her live-in boyfriend, Brooks Houck. Bardstown is a small city located roughly 60 miles southwest of Lexington.
According to Nelson County Sheriff Ed Mattingly, Houck told police Rogers had stayed up late on the night of her disappearance and was gone when he woke up the following morning.
Houck waited two days to report Rogers missing, police said.
Rogers' vehicle, a maroon 2007 Chevy Impala, was found abandoned with a flat tire along Kentucky's Bluegrass Parkway two days after she disappeared. Rogers' keys, purse and cell phone were reportedly found inside the car.
Authorities have conducted multiple searches of the area where the vehicle was discovered, but have yet to find any evidence connected to the case.
Rogers' disappearance is not the first time her family has had to search for a missing loved one. In 1979, her aunt, Sherry Ballard Barnes, 19, disappeared from Bardstown. Her vehicle was found submerged in the Ohio River, but investigators found no sign of the teen.
"They searched for years," Rogers' cousin, Andrew Ballard, told The Kentucky Standard. "She was pregnant."
Barnes' remains, along with those of her unborn child, were found buried in a rural area three years after her disappearance.
According to The Associated Press, Barnes' husband, Edsel "Eddie" Barnes, was arrested and ultimately convicted in 1984 of hiring a man to kill his estranged wife so he would not have to pay child support. Barnes was sentenced to life in prison.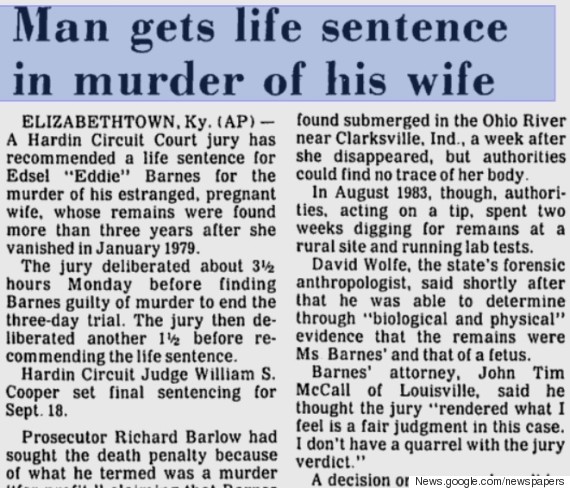 1984 News Article
Similar to her aunt, family members have said it is out of character for Rogers not to be in touch with them and it would be unusual for her to travel in the area where her vehicle was found.
It remains unclear if authorities have ruled out Houck -- who has a 2-year-old son with Rogers -- in connection with her disappearance.
"I'm 100 percent completely innocent in this," he said. "I want the emphasis to remain on Crystal's safe return."
"He's had no emotion," Ballard said. "It's like nothing has changed for him. And to us, our whole world has changed."
Investigators have not named any suspects or persons of interest in Rogers' disappearance and Mattingly described Houck during a recent press conference as "completely cooperative."
However, on Friday, authorities reportedly executed a search warrant at Houck's family farm. What, if anything, they found is not yet known.
The sheriff's office did not immediately return a call from The Huffington Post on Tuesday requesting comment on the case.
Meanwhile, friends and family of Rogers are participating in community searches for her and are updating the "Pray for Crystal's Safe Return" Facebook page with information about the case.
Crystal Rogers is described as a white female, 5 feet 9 inches tall, 150 pounds, with shoulder-length blonde hair and blue eyes. A $71,000 reward is offered for her return. Anyone with information in the case is asked to contact the Nelson County Sheriff's Office at 502-348-1840.
Like Us On Facebook |

Follow Us On Twitter |

Contact The Author
Related
Before You Go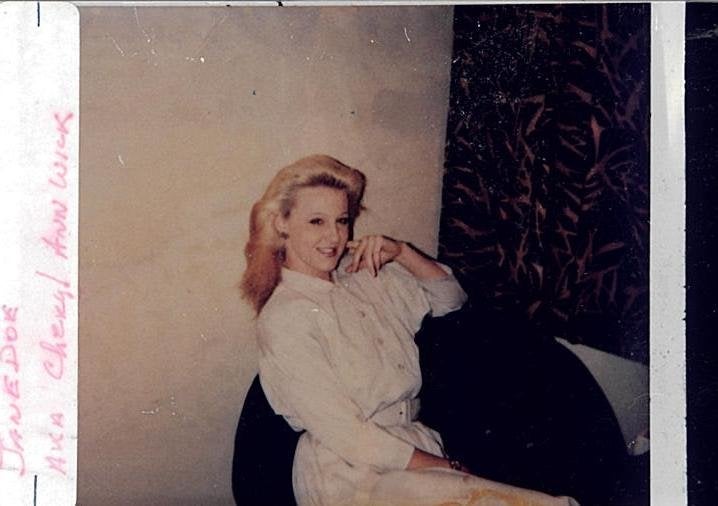 Cold Cases