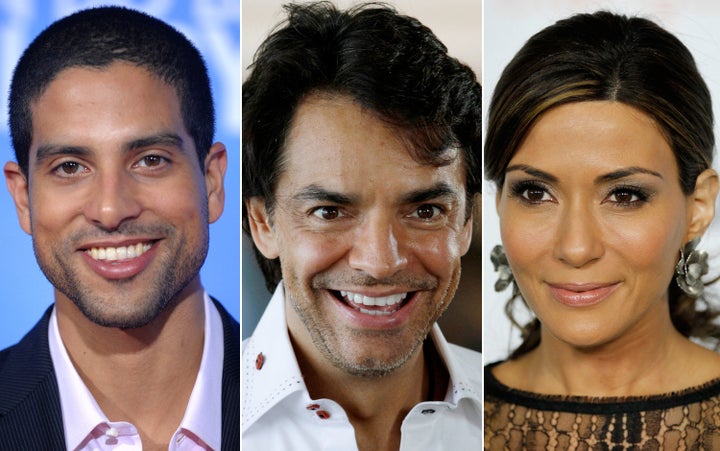 What do Adam Rodriguez, Eva La Rue, Wilmer Valderrama, Marisol Nichols, Cheech Marin, Jorge Garcia and Nestor Carbonell all have in common? Well, aside from the fact that they're all Latin — they all lost their jobs on TV this week.
Over the weekend, CBS announced that it was pulling the plug on the long-running drama "CSI: Miami," which stars Puerto Rican actors Adam Rodriguez and Eva La Rue in the lead roles of Eric Delko and Natalia Boa Vista, respectively.
On Sunday, the network also canceled the freshman comedy "Rob," which centered on an architect (Rob Schneider) who marries into a tight-knit Mexican family. The show featured several Latino actors in lead roles, including Cheech Marin, Diana Maria Riva, Lupe Ontiveros and Eugenio Derbez.
And CBS wasn't the only network to cancel Latino-friendly shows this week -- the three other major networks ended shows starring Latinos as well.
ABC decided not to renew the dramedy "GCB," starring Mexican-American actress Marisol Nichols; NBC put an end to the thriller "Awake," starring Wilmer Valderrama; and FOX pulled the plug on the sci-fi series "Alcatraz," starring Jorge Garcia. The CW also canceled "Ringer," which co-starred Cuban actor Nestor Carbonnel.
So why are so many shows starring Latinos getting canceled?
Often, the decision to cancel or renew a show is based purely on the number of people watching it. But Entertainment Weekly reports that "the survival of shows this season did not hinge on ratings." Instead, important determining factors this season were "the show's cost -- which usually rises along with its age -- along with the difficulty of a time period, who owns the program, how intensely critics and fans feel about the series and, believe it or not, whether a network's executives like the show."
Robert Thompson, professor of television and popular culture at the S.I. Newhouse School of Public Communications at Syracuse University, said that "CSI: Miami," for one, likely got too expensive for CBS.
"I think with 'CSI: Miami,' it was 10 years old, which means they had plenty of episodes to go for a syndication package," he said. "The older the shows get, the more expensive they get. Paying producers and actors and all the rest of it."
Thompson said CBS' decision to renew "CSI: NY" over "CSI: Miami" didn't surprise him. "I think part of it had to do with the fact that "CSI: NY" was performing pretty well in its time slot on Friday -- which is kind of a deadly time slot -- whereas "CSI: Miami" was struggling in its time slot on Sunday," he said.
Nina Tassler, President of CBS Entertainment, told members of the press in New York on Wednesday that choosing between the two CSI shows wasn't easy. "It was a very tough choice," said Tassler, who is herself a Latina and half-Puerto Rican. "It was almost a jump ball. It was just about where, and what fit on the schedule."
Tassler said when she looked at the numbers for both shows, they were very close. "Looking at them forensically, they were very close. It was an indiscernible difference," she said. "It was just a matter of looking at the schedule and what looked better."
According to Zap2it.com, "CSI: NY" won in the end because it's based in New York City, which enables CBS to create a New York-focused Friday night, with the new show "Made In Jersey," about a young lawyer who lands a job at a high-powered Manhattan Law firm, airing at 9:00 p.m., and the cop drama "Blue Bloods" airing at 10:00 p.m.
Thompson also said he wasn't shocked by the cancellation of another CBS show -- the family comedy "Rob."
"Rob is an interesting case in that its ratings were probably on a par with what scripted shows on CBS get," Thompson said. "However, [CBS] has a lot of strong sitcoms and it was one of the lowest-performing of their sitcoms. They've got new sitcoms in development that they want to introduce. So I think to some extent, Rob was sacrificed to make room for those others."
The Latino community's reaction to the show may have played a role in CBS' decision not to keep it on the air, Thompson added.
"A lot of people found a lot of what was going on in "Rob" to be kind of offensive, with the stereotypes and all the rest of it," he explained. "So there may be some people who are advocating that we get more Latino characters on television, to get the percentage [of Latinos on TV] closer to what it is in the actual population, but there are also people that were advocating that 'Rob' go away."
Thompson said the fact that so many shows starring Latinos are getting canceled has nothing to do with a lack of tolerance and everything to do with numbers. "I think these shows that have been canceled this season are not themselves indicative of a lack of tolerance, or of a deliberate attempt not to give a chance to these kinds of programs," he said. "But they are indicative of the fact that there is a bad success rate for any new show, and unless you've got a lot of programs out there, you run the risk of losing all of the few that got introduced."
And even with these recent cancellations, some say there's reason to be optimistic about the state of Latinos in primetime.
"What's refreshing is that, unlike in years past, the cancellation of a handful of series that had Latino actors doesn't mean the loss of a Latino presence on TV," said media consultant Galina Espinoza, the former editorial director of Latina Magazine.
"With the recent success of shows that feature Latinos in smart ways, most notably with Naya Rivera on 'Glee' and Sofia Vergara on 'Modern Family,' Hollywood seems to be looking for more and more ways to integrate Latinos into their programming, attracting Hispanic and mainstream audiences alike," she added.
Calling all HuffPost superfans!
Sign up for membership to become a founding member and help shape HuffPost's next chapter
BEFORE YOU GO