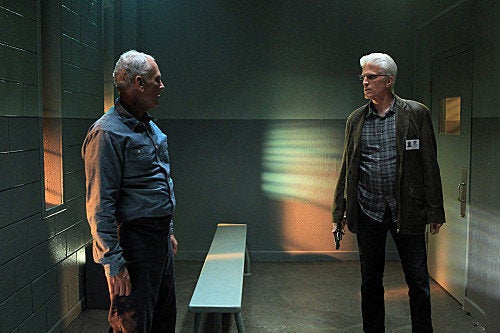 CBS is the undisputed king of the ratings hill, thanks in large part to its stable of fan-favorite procedurals including "CSI" (Wed., Sept. 26 at 10 p.m. ET), "Criminal Minds" (Wed., Sept. 26 at 9 p.m. ET), "Hawaii Five-0" (Mon., Sept. 24 at 10 p.m. ET) and "NCIS" (Tues., Sept. 25 at 8 p.m. ET).
To celebrate the official launch of its fall line-up, CBS hosted a premiere party for its new and returning shows, and HuffPost TV was on hand to catch up with some of the stars on the red carpet to find out what was ahead for their new seasons. Read on to discover what Ted Danson, Joe Mantegna, Michael Weatherly, Pauley Perrette and Christine Lahti could reveal about their characters ahead of their official premieres.
Ted Danson: D.B. Russell on "CSI."
On how his character will react to his granddaughter's kidnapping at the hands of McKeen (Conor O'Farrell): "In the premiere episode, he's decidedly un-even-keeled. It's a great premiere; he gets pushed way over the edge. You still have someone who's capable of leading CSI, but he's challenged. I shouldn't say he doesn't cross any lines ..."
On what's ahead for Russell after the premiere: "They set my character up as a guy who prides himself on keeping his work and his family separate. And that's pretty rare, for a CSI to be able to drop the darkness and come home. Now, the darkness gets pulled into my family life and starts to tear away at my relationship a little bit. We're shooting an episode now where my son unwittingly gets involved in the middle of a murder and a triangle that he didn't realize he was [in] -- which is another example of my family getting pulled into the darkness of my work, which doesn't sit well with my wife. So I think they want to have fun with the zen-like perfect leader all of a sudden getting challenged and being a little more human. "
Joe Mantegna: David Rossi on "Criminal Minds"
On what's ahead this season: "We've got a new character with Jeanne Tripplehorn [joining the team as linguistics expert Alex Blake]. I think we've got one storyline that's going to dart in and out for the length of the season, just a little anecdote sort of thing that will thread through -- ultimately, I think it will involve all of us. I think there are going to be a lot more personal sides to our characters in the sense that we're delving into our characters' lives, so it's not just always about the crime but also about what we're about. I think after eight seasons, fans like that -- they want to know more about us as people."
On whether there will be growing pains with Blake joining the team: "I think we've always been good about that in the sense that we don't just pretend it never happened, so there will always be a little period of adjustment. I think we're handling that very well, we're on Episode 7 now so we're adjusted."
On what's coming up for his character: "I'm excited about the episode I'm doing right now, because the story is one I've been a proponent of for a couple of years, which deals with my character's past in the military. We actually see flashbacks that will take my character back to when he was 19 years old, so I'm very excited for that because it's a story I feel very passionate about. I'm very passionate about our military anyway, so I always wanted to do an episode that kind of highlighted them."
Pauley Perrette: Abby Sciuto on "NCIS"
On how the team copes in the aftermath of the bombing in the Season 9 finale: "What's so interesting about the opening of Season 10 is after our explosive season finale, we bring the audience in right after that. So they get to come through this experience with the characters -- the feelings and the fear and how shaken up everything is, and having to put everything back together, not just the physical building but ourselves. Abby's always the heart and the emotional one who worries about everyone else, so she's certainly extremely shaken up."
On the season's guest stars: "Steve Valentine comes in and plays the psychiatrist since we're all in mandatory therapy, so there's some really great stuff with him. We've got some great guest stars, Billy Dee Williams [as a friend of the Gibbs family]. Michael Des Barres is on our show this year. It's just been a fantastic season."
Michael Weatherly: Tony DiNozzo on "NCIS"
On his will they/won't they chemistry with Ziva (Cote de Pablo) -- and how being stuck in an elevator together in the season premiere changes them: "Knowing now what's actually going to be revealed, I like to think that there may be some things we didn't show, other things you may be able to glean, but right from the start, it tees up this relationship in a sliver of light that's very direct and very hard, and it's basically saying, 'Pay attention this year, because I think this is gonna be the year of the Tiva, the Tony/Ziva.' And we've done, now, multiple episodes where there's been stuff going on and I think it all starts in that elevator, and it all starts with them repairing some of the damage that they did to each other over the years."
On what effect the bombing will continue to have on the team going forward: "I think any time you have that near-death experience, it sort of redefines your existence for a while, but then it's amazing how quickly things snap back into the baseline behavior. I think we all get back to baseline pretty quickly, but with some new pieces of information about each other. So we all get back to normal, but we kind of know some different stuff. Ultimately, it becomes clear as we're moving through the season that Gary Glasberg, genius showrunner that he is, has in mind something very specific for the end of the year, and he's moving us all towards that door. And I do think it's the best season ever, because I think there's a concerted effort to stick to a plan. There's something very natural about it that we're getting to that's gonna make this one the one to watch."
Christine Lahti: Doris McGarrett on "Hawaii Five-0"
On Doris' new relationship with son Steve, after she faked her death 20 years prior: "Steve should be [mistrustful] and my character knows that, and would be surprised if he wasn't, because he thought I was dead and she caused a lot of hurt. I think my character has a lot of guilt but no regrets because she did what she had to do -- from her point of view -- to protect her family. If given another chance, she would do the same thing. I guess you don't quit the CIA once you're in it -- you're a lifer. She has a lot of guilt about how much hurt she caused her children and her husband, so her job is really to get [Steve] to understand and hopefully someday, forgive and to make up for lost time. There's a lot of stuff she needs to do and from his point of view, I think there's so much hurt and anger and distrust and rage and love. It's so complicated for him and Alex is such a good actor that he's covering all those bases."
On whether she's telling the truth about who she is: "She's layered. Her love for her children is not to be questioned. There are other questions surrounding this character, like is she still with the CIA? Who has she really been working for? What's really been going on for her in the last 20 years since she faked her death? So there's definitely some complicated back stuff that will hopefully be explained or at least hinted at. "
On which episodes she can confirm she's in: "The premiere and I believe it's two, four and six, or something like that [if they don't switch the order]."
Which show are you most excited to see return? Weigh in below!
PHOTO GALLERY
Hawaii Five-0 Season 3
Calling all HuffPost superfans!
Sign up for membership to become a founding member and help shape HuffPost's next chapter
BEFORE YOU GO