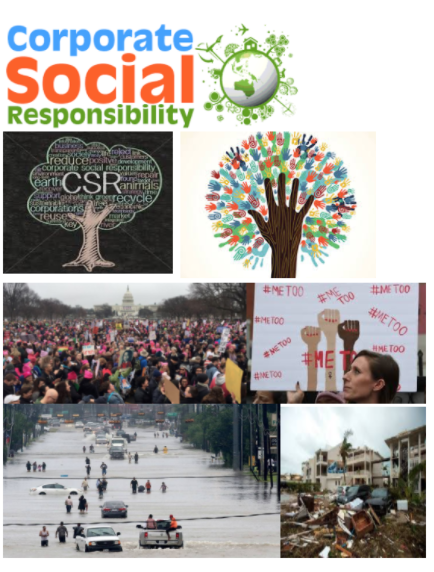 From record-breaking marches and protests to devastating generational weather events, to the strength of "The Silence Breakers" who spawned the #MeToo movement, 2017 in many ways transformed how our society works and lives.
These and other compelling events have also written new chapters in the evolution of corporate social responsibility in 2017. We have seen customers make it increasingly clear through social media as well as their wallets that companies perceived to be on the wrong side of key issues today can expect significant backlash. This is consistent with the most authoritative research available that shows the public has come to expect businesses to take stands on hot button issues, "walk their talk," and be proactive about solving society's most pressing social and environmental challenges. Whether it's because businesses are mindful of losing talent, incurring consumer backlash, or simply because it's the right thing to do, it's worth watching the extent to which such advocacy becomes a business imperative in 2018.
With the stakes higher than ever (along with the opportunity for businesses to rise to the occasion), I decided to reach out to some of America's leading CSR practitioners and ask them what they consider to be the biggest CSR lessons learned in 2017. Their comments are eye-opening and instructive. This is the first in a two-part series. Next week, I will post what many of these same leading CSR practitioners and others predict will be hot trends to watch for in 2018.
WHEN REFLECTING ON YOUR COMPANY'S CSR WORK, WHAT IS YOUR BIGGEST LESSON LEARNED IN 2017 IN THE SOCIAL IMPACT ARENA?
Scott Beaudoin, Group President of ACTIO, Fenton's new corporate and brand company: "We saw the movement rising in 2017 of people demanding better from the powers that be and a call for participation—even resistance. Brands who supported the change people were seeking were rewarded with expressions of solidarity. With possible sweeping changes in social programs and governmental subsidies in many countries, companies will increasingly be expected to take positions on social issues and to make their collective voices heard. Gone are the days that companies can hide from controversial issues in their markets. Someone is going to ask and everyone is going to watch."
Graham McLaughlin, Managing Director, Corporate Responsibility, Advisory Board Company: "My biggest lesson this year was to remember the importance of allowing staff to pursue their passions instead of boxing them into the corporate signature focus areas. When people can pursue their passions, whether as volunteers or in their business roles, they will give everything they have to their work; when they are asked to work towards valuable goals that they are not passionate about, they will never work as hard or with such focus."
Alison DaSilva, Executive Vice President of Cone Communications: "I like to think of 2017 as a big year in the world of corporate social responsibility because until now, companies focused on business practices and being a good citizen. The stakes are so much higher, and all the stakeholders are looking for companies to go beyond their transactional footprint and play a deeper role in society.
Companies are expected to have an opinion, a voice, and to stand up for things not central to their responsibility efforts.
This was also the year of women. Female empowerment has shifted from one of building confidence and esteem, to one of equity. We're bound to see much more movement in this direction.
We saw companies standing for social justice and gender equality—there was a lot of good, but plenty of companies got it completely wrong as well...There was a disconnect between these companies, their significant marketing campaigns and investments centered on gender equality, and their actual business practices across the management and executive levels."
Max Skolnik, Founding Partner, Generation Titans: "As we reflect on the mammoth challenges to our bedrock institutions, whether corporate, government, or media, I see a big opportunity in the coming year to establish a once critical social compact. Back in the day, companies offered deeper connections with their employees in exchange for loyalty and hard work. I see corporate social responsibility and diversity & inclusion as places to explore more authentic, meaningful, and sustained employee engagement efforts. This is how we can fire up employees and keep them committed, while breaking down systemic barriers in the process. Let employees be themselves and connect with others; let them have raw, honest conversations about the world around them; let them infuse passion and purpose into their work. No one wants to work for a soulless corporation. We have heard the mandate before that the social sector should adopt more corporate practices. Well, the reverse is true as well. A real commitment to social good, not just for the purposes of brand enhancement or crisis mitigation, will pay dividends for the bottom line, employee productivity, and true community impact."
Joan Bryna Michelson, Host of Green Connections Radio: "We need more diversity of experience at the table - and to broaden the reach beyond the 'converted. We need people who are new to the space, or work in other functions or industries, as well as a blend of genders and ethnicities. We need non-engineers and non-scientists to feel welcome and that their input is valid and welcome. We need to embrace new voices, new perspectives and people who come from other careers and experiences so we get new ideas and help spread the message to 'the unconverted' and have sustainable practices included at the C-level and board tables."
Read deButts, President, OTM Partners: "We've learned that many organizations are doing fantastic things from the top on down. And we've seen an increase in organizations seeking measurable outcomes for their CSR efforts. Furthermore, employees and consumers are driving demand for greater responsibility at all levels. With this increasing demand, management is responding and supporting individual and collective responsibility efforts within their organizations. The future is bright for CSR as it takes hold and drives significant market changes."
Clifford Yee, Managing Director, CSR Services, Raffa: "Not just at Raffa per se, but I believe the biggest thing I've observed in 2017 has actually been the shift from talking about CSR and instead talking about social impact in multiple sectors. In particular, more of our clients and ourselves are seeking ways to leverage their social impact program investments to generate more business value. CSR programs are not just limited to improving public relations and brand reputation or to fostering deeper employee engagement or to ensuring resilient supply chains, but rather it's evolved into being an important part of many company's corporate strategy as a way to protect and generate long term value. The millennial generation in the workforce has certainly helped amplify expectations around CSR, but the transparency and speed at which information can be shared via social media is pushing the accountability and transparency of company actions and corporate cultures."
Shannon Alston, Diversity, Inclusion & CSR Project Manager, Sodexo: "Looking back on 2017, this was the year of storytelling. More than ever, it's important to translate the many initiatives into stories that create impact and have data points that anyone, not just those in the field of CSR, can latch onto, helping to highlight shared value creation. Businesses have to include forward-thinking trajectories and realize the lasting impact initiatives can have over their lifespan. This mindset encourages employees to be engaged with opportunities to use storytelling to their company's advantage. Employees play an important role in spreading the narrative of impact, but in order for them to do that, they must be set up for success and included in the process."
Mark Sadovnick, Managing Director, Stanton Chase: "As an executive search firm, we apply a servant focus for our clients all year round, not just when they have a position to fill. We work with 'Leaders Who Care,' about Wellbeing, Workplace Environment, Nonflict, Life Coaching, Veterans and more, and will be highlighting during 2018 their CSR accomplishments in making social and economic difference for their employees and thus their communities."
Marc DeCourcey, Senior Vice President, U.S. Chamber of Commerce Foundation: "This year we were reminded that when disasters strike, businesses step up. The private sector played—and is still playing—a vital role in the relief and recovery efforts following Hurricanes Harvey, Irma, and Maria, as well as the earthquake in Mexico City and the wildfires in California. By investing their time, talent, and treasure, businesses of all sizes are helping ensure these communities rebuild to become stronger and more resilient. To date, the private sector has contributed more than $383 million in cash and quantifiable in-kind goods in response to Hurricanes Harvey, Irma, and Maria."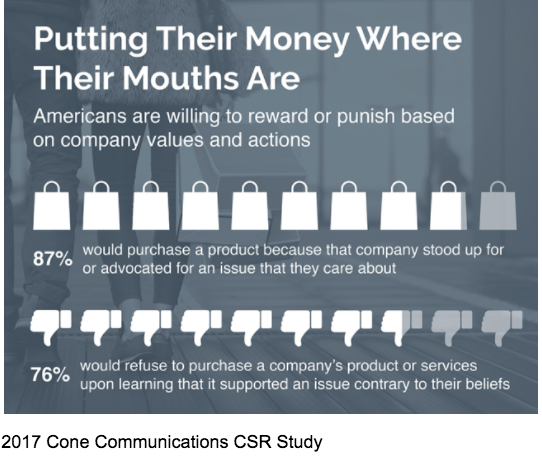 Ryan Rudominer is a communications strategist with fifteen years of experience designing campaigns that break through the noise to engage, educate, and empower target audiences. Ryan excels at using storytelling to connect people to causes and purpose-driven brands and organizations. He also writes for several media outlets about emerging priorities in corporate social responsibility.
Calling all HuffPost superfans!
Sign up for membership to become a founding member and help shape HuffPost's next chapter
This post was published on the now-closed HuffPost Contributor platform. Contributors control their own work and posted freely to our site. If you need to flag this entry as abusive,
send us an email
.