Here's a challenge for you: ask five close friends or associates in your social network to list five ideal places to work if someone you know were trying to work for an organization committed to environmental justice and social well-being. For most of you, chances are that for-profit businesses would not score very high on your lists. What if I were to tell you that there's a growing movement of socially-conscious businesses attempting to change that?
Recently, I attended an inspiring panel discussion in Washington, DC on Certified B Corporations® sponsored by Net Impact and B Local Mid-Atlantic. Certified B Corps are for-profit companies certified by the nonprofit B Lab® to meet rigorous standards of social and environmental performance, accountability, and transparency.
If you believe that combining corporate self-interest with support for social and environmental issues is nothing more than a costly distraction, I can assure you that these aren't the people for you. Of course, I'd also tell you that your head is currently stuck in the sand!
As I've previously written, "Consumers are demanding more from the brands they buy —and increasingly are rewarding companies whose services and products are both good for them and good for society."
Throughout the event, the panelists provided a thorough overview of B Corporations and the various benefits, opportunities, and challenges associated with this approach.
"At AE Works, we want to create a world where everyone is relevant by designing beautiful, functional and safe spaces for everyone," noted Khanna. "In our approach to business and the services we provide, we consider both the environmental and social impact of our projects. Profits are a byproduct. What a wonderful world this would be if this was the norm."
Added Chmael, Founder and CEO of Council Fire, which has been designated and honored as a "Best For The World" company three times: "Our higher purpose at Council Fire is to redefine profit and success in business by helping organizations 'operationalize' sustainability and apply innovative solutions to the most pressing economic, environmental, and social issues of our time."
Chmael also pointed to a July 2016 report Council Fire prepared in collaboration with the Abell Foundation entitled "Bringing the B to Baltimore: Using B Corporations as a New Tool for Economic Development." The report profiles five leading B Corps and makes the case for how economic developers, politicians, and policy-makers can stabilize and enhance local economies by investing in the growth and success of B Corps and benefit corporations in their business sector.
Added Frieden, "My consulting practice helps for-profit businesses increase their value, as well as their positive impact on the community and the environment. I've always been interested in the triple bottom line, which is why the B Corp certification resonated with me. Certified B Corp companies are held accountable to what they say they're doing in terms of treating their employees and customers well, respecting the environment, sourcing from responsible suppliers, and giving back to their communities."

Wegner also brought up an important point about his desire to find work that's meaningful, mission-driven, and in alignment with his values, which is a trait he shares with many in the space. Wegner noted, "When I first started grad school, I envisioned myself working for an organization whose mission and values aligned with my own, thinking I would most likely only find this at a non-profit organization. However, I started to learn more about the ethos and values of the growing B Corp community and started to see the positive impact that for-profit companies can have, filling voids that government and NGOs may not be able to fill. When I started the job search, one of the reasons I was attracted to Laureate was because of its B Corp Certification and Public Benefit Corporation (PBC) status."
B Corp and Benefit Corporation are not synonymous terms
Though the terms are often used interchangeably, there is an important distinction between B Corps and benefit corporations. A B Corp is a business that has successfully completed the B Lab's independently-administered certification process. This is achieved by scoring at least 80 points out of a possible 200 in its Assessment (53 is the median score for a typical business). A benefit corporation is a for-profit company required by law to create general benefit, such as reducing carbon emissions, for society, as well as for employees and shareholders. In 2010, Maryland became the first state in the US to pass a statute creating "benefit corporations" as a result of legislation introduced by then-Senator Jamie Raskin (who's featured in the Raffa video). Groups such as B Lab and the American Sustainable Business Council have been instrumental in championing legislation for benefit corporations in 30 states as well as the District of Columbia.
Chmael reflected on whether he sees this as a trend, noting, "With growing attention being paid to longer term sustainability and strengthening local economies, I think more and more organizations will turn to this format. Programs like B Corps certifications and benefit corporations put definition and meaning to what sustainability is in the context of changing an organization's operations. The more definition, the more momentum, the more recognition and attention we'll see being paid, and in turn, organizations like ours will be able to demonstrate more tangibly why it's in everyone's best interest to go in this direction."
I couldn't agree more with Chmael. I salute him and the others for being rock stars of a global movement of people using business as a force for good by adopting practices that positively impact their customers, their employees, the environment, and their communities at large.
Here is a list of "Five Reasons B Corporations Matter."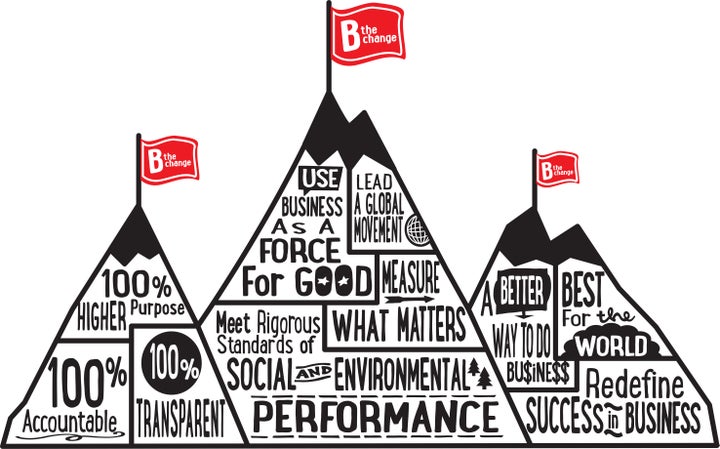 Related
Popular in the Community