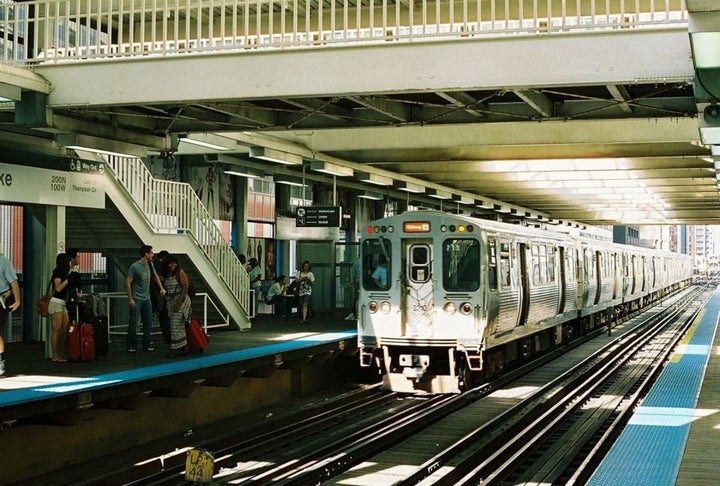 Though they didn't name names, the CTA said in the release:
"A published media report cites a 21 percent increase in crime at CTA rail stations, yet fails to provide context to those numbers, CTA officials said. For example, the most common rail station crime—fare evasion—was up 41 percent, contributing to much of the overall increase."
The Sun-Times report does note "violent crime is down 30 percent" and that arrests are being made more swiftly "in two of every three station crimes."
While the uptick in crime indicates the security cameras aren't brining crime numbers down by deterrence, their presence, as the Sun-Times said, has helped solve crimes more quickly after they do happen.
The CTA claims "reported crime" is on the rise because there are more cops present on the city's trains, leading to "an increase in arrests for crimes that might not have been otherwise reported."
"The I-Team also noticed a lack of uniformed officers on the CTA on several evenings, while riding different el lines, our producer and crew said they saw no police during six-hour periods."
Mass transit blogger Kevin O'Neil of The CTA Tattler told ABC, "Personally I have not seen a big presence of uniformed police officers. Occasionally I will see them. I'm not saying they're never there. I think there's more undercovers working and I won't say that people feel safer."
Two additional findings from ABC's report on the wide-spread nature of CTA crime showed statistically, riders are twice as likely to become a victim on a CTA train or platform than on a bus or at bus stop and that, on average, 19 CTA passengers are victimized every day.
To help clarify the numbers and claims: The Sun-Times focused its analysis on rail crimes specifically, while the CTA issued numbers about system-wide crime, including buses and bus stops; the Sun-Times differentiates between overall crime and "violent crime" — which includes murder, sexual assault and robbery — while the CTA release, though not explicitly saying so, seems to equate "serious crime" with "violent crime."