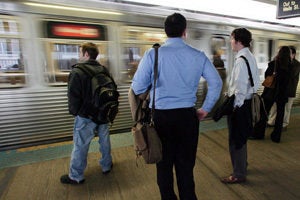 Monday morning the Chicago Sun-Times reported that Chicago Transit Authority president Richard Rodriguez canceled the free-car perq that dozens of high-ranking managers--including Rodriguez--used to drive back and forth to their jobs at the nation's second-largest public transit system.
An ironic situation seemingly made all better--except that Rodriguez has now decided to lease a car from the CTA instead--at a discount rate--to make sure he still doesn't have to ride to work on his own agency's buses and 'L' trains. In order to have more time with his kids in the morning.
All together now, folks: Are you kidding me?
Monday afternoon, I posted this video response to Rodriguez's decision on my personal blog, Chicago Carless:
(Video Blog: How are you doing your job if the one thing you're paid to promote you rebuff in the morning news?)
Soon after, Kevin O'Neil the editor of the Windy City's top transit blog, CTA Tattler, left this comment in my comment thread saying it doesn't matter that the CTA's head honcho refuses to commute in rush hour by the (ahem) CTA, saying in part:
"What makes you think that he thinks he's more important than them? I think he's doing what he thinks is best for him and his family. And he should. Let's fact it. The guy no doubt works more than the 40 hours a week that the average guy does. So he doesn't always see his kids at night at home. He sees them in the morning and gets some quality time with them in the car. So why begrudge him that?"
Why? Because he was hired to be the number-one promoter of the nation's number-two transit agency in its number-three city, that's why. I'm sure thousands of other Chicago parents would love to spend more time with their kids in the morning--and avoid a CTA commute, to boot. They don't get to do that. So why should Rodriguez, this city's new, supposedly fearless transit leader?
But this really takes the cake. Rodriguez has been driving to work for months now--not to mention crowing about it in major media. I think that's about as ironic (or is that moronic?) as it gets.
Trust me on that adjective. I used to be a grammar teacher and it's the most apt one I can come up with that still manages to keep this post family friendly. Or at least as family friendly as Rodriguez's morning drive.
___
MORE ON CTA PRESIDENT RICHARD RODRIGUEZ DRIVING TO WORK:
Read CTA Tattler's official rebuttal to my video post here.
REAL LIFE. REAL NEWS. REAL VOICES.
Help us tell more of the stories that matter from voices that too often remain unheard.