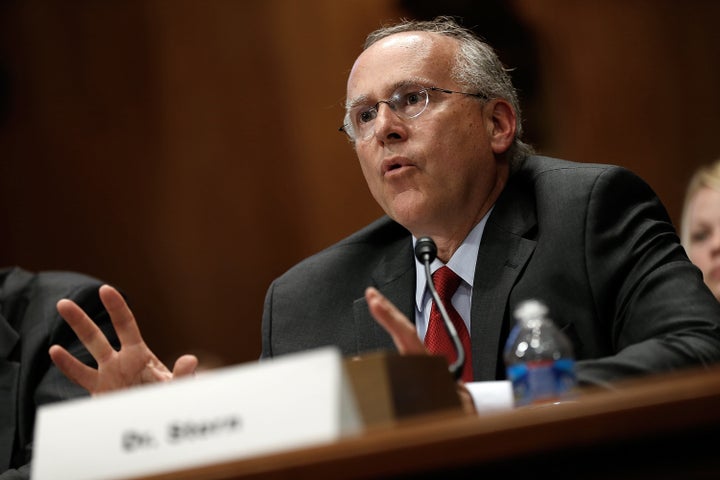 The objective is straightforward: diagnose chronic traumatic encephalopathy (CTE) in the living. Taking the necessary neurological, biological, and genetic steps to achieve that goal, however, is anything but clear-cut -- and would be groundbreaking, life-changing work in the fields of medicine and science.
Based in part at the Boston University School of Medicine and using the expertise of a collection of the country's leading experts, DIAGNOSE CTE will study the brain scans and biomarkers of 240 men between the ages of 45 and 74, per the Boston Globe. Half of those men will be former NFL players. Sixty will have played the game of football on the collegiate level. And the remaining 60 will have never seriously taken up a contact sport.
As of today, CTE -- the degenerative brain disease linked with repeated hits to the head, like those seen all too often on the football field -- has only been found and diagnosed by examining the brain tissue of the already deceased.
However, through meticulous neurological, psychiatric and biometric tracking, this research team hopes to be able to spot "changes in the brain" associated with CTE, thus enabling experts to collectively settle on a "method for diagnosis" -- and thereby, hopefully, one day, being able to detect the disease in patients before symptoms develop and the brain is irreversibly damaged.
"One of the things we know about these types of brain diseases is that if we can detect it early on and implement some kind of intervention that modifies the disease course, then in a way, that's prevention," Robert Stern, the study's lead investigator, told WBUR Wednesday. "By changing the course of the disease, slowing it down enough, at a time before there's too much brain destruction, that's the ultimate goal."
According to the Globe, the 240 participants will be "tracked for three years." Special attention will be paid to any markers that may be associated with what experts posit to be a series of chemical changes that ultimately leads to an "abnormal buildup" of the protein tau -- which has been found in a "distinct pattern" in the postmortem analyses of those with CTE.
These chemical changes are thought to be initially brought on by recurrent hits to the head, like those seen on nearly every down in an NFL contest.
Hence the belief that CTE is born on the football field. Hence former NFL safety Tim Fox's commitment to this study. And hence the NFL's apparent lack of transparency on issues related to CTE and head trauma -- an opaqueness Fox believes is directly tied to the league's self-interest.
"The NFL is scared to death of CTE because it can affect their bottom line," the 62-year-old Fox told WBUR. "And the reality is the NFL is all about making money. They've got 32 owners that want to protect their income source. And this is a dramatic threat to the game itself."
"It's a dramatic threat to Pop Warner. It's a threat to high school football. It's a threat to college football. And as people stop playing at those levels, they will not have the same level of interest in the NFL," Fox added.
If successful, this study would be groundbreaking, game changing and potentially life-saving. This research would enable experts to not only re-conceive "safety" as it relates to the game of football, but to aid all those with head trauma -- including our military veterans -- as they attempt to stave off the symptoms and perils associated with this havoc-wreaking disease.
"I now feel like we are in the toddler phase of CTE [research]," Stern said. "We need to be able to move to intervention and treatment. Diagnosis during life is that critical next step."
Calling all HuffPost superfans!
Sign up for membership to become a founding member and help shape HuffPost's next chapter
BEFORE YOU GO
PHOTO GALLERY
Former NFL Players With CTE