It looks like one of the the biggest "420" pot parties in Colorado will be shut down again in 2013, despite recreational marijuana having been legalized last November.
The University of Colorado Boulder announced Monday that for the second year in a row the university will be shut down on April 20 in an attempt to snuff out the annual 4/20 marijuana smoke-out on campus.
"We are committed to ending the unwelcome 4/20 gathering on the CU-Boulder campus, and this year's approach represents the continuance of a multi-year plan to achieve that end," said CU-Boulder Chancellor Philip P. DiStefano in a statement. "What's important here is the protection of CU's missions of research, teaching and service. This isn't about marijuana or drug laws. It's about not disrupting the important work of a world-class university."
In years past, the marijuana celebration has brought 10,000 to 12,000 people to campus to light up and no doubt this year with recreational weed newly legalized, university leaders were very likely concerned with drawing record crowds.
Another change coming this year is that the student government will not be hosting a concert this year in conjunction with the so-called pot smokers' holiday. Last year, student leaders organized a free April 20 concert on campus with hip hop artist Wyclef Jean at the Coors Event Center as an alternative to the campus smoke out.
Marijuana activists even filed suit against the University of Colorado Boulder for the shut down last year, but ultimately the University's ban on the campus smoke-out remained in effect. Denver marijuana attorney Rob Corry, represented the activists last year and was shocked by the school's ban.
"To my knowledge, there has never been a case where a public university has blockaded and shut down its entire campus to squelch free speech activity there," Corry told The Huffington Post regarding the campus shut down in 2012. "This is a radical overreaching on CU's part. When did marijuana become so offensive at CU-Boulder of all places?"
DiStefano maintains his claim that the 4/20 smoke-out is disruptive to to teaching and research on campus, but Corry emphatically disagreed with DiStefano last year:
"There is no evidence that this is a 'disruption' to CU's mission," Corry told The Huffington Post. "In fact, this peaceful protest is entirely consistent with CU's mission of education and empowering students and citizens to engage in open discussion and exchange of ideas regarding relevant issues of the day. A police crackdown against ideas will harm CU's reputation far more than any peaceful protest will."
The campus will again be closed to all unauthorized campus visitors on April 20, but will remain open to students, faculty and staff as usual. However, all authorized visitors will be asked to present their Buff OneCard IDs at campus entrances and other areas by law enforcement members.
Related
Before You Go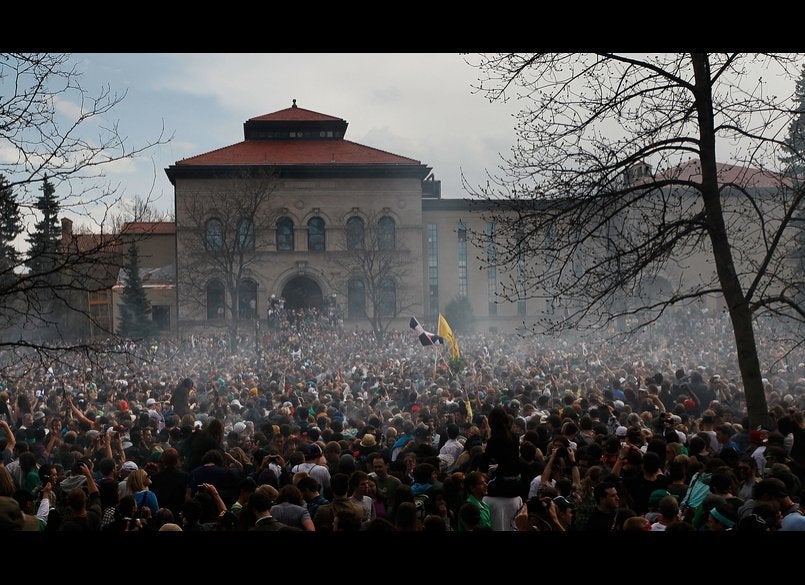 CU-Boulder 4/20 Smoke-Out
Popular in the Community