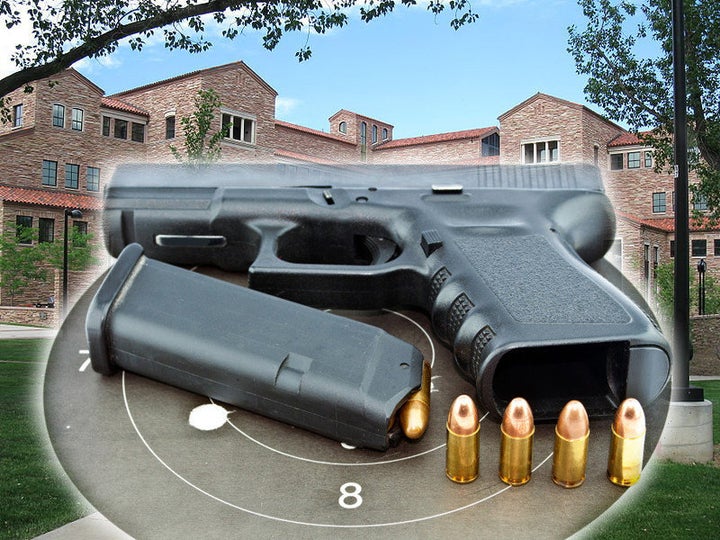 A top administrator at the University of Colorado says if a professor doesn't like his students legally bringing guns to class, he'll have to holster his emotions.
"My own personal policy in my classes is if I am aware that there is a firearm in the class -- registered or unregistered, concealed or unconcealed -- the class session is immediately canceled," Peterson said. "I want my students to feel unconstrained in their discussions."
Shortly after Peterson's comments were reported, CU-Boulder Chancellor Philip P. DiStefano said he can't do that.
"I have the utmost respect for Professor Peterson, who is an old friend and valued colleague, but I want to make clear that if the student carrying the weapon has a concealed-carry permit, the position implied by Professor Peterson's comments directly violates Colorado law and the operating principles of the campus," DiStefano wrote in the email to faculty.
Bronson Hilliard, spokesperson for the Boulder campus, declined to tell the Daily Camera what type of disciplinary actions professors would face if they violated campus gun rules.
The Colorado Supreme Court ruled in March that students with conceal-carry permits are allowed to bring guns into classrooms and labs, the AP reports, overturning a campus gun ban. However, CU said no one can bring a firearm into any event at Folsom Field or ticketed performance venue, even if the individual has a permit to carry.
The University of Colorado recently announced it would create separate dorms for students who carry guns, although the university estimates less than one percent of students and faculty there actually possess a concealed-carry permit.
"I believe we have taken responsible steps to adhere to the ruling of the Colorado Supreme Court while balancing that with the priority of providing a safe environment for our students, faculty and staff," DiStefano said in a statement last week.
According to the National Conference of State Legislatures, in a USA Today article, at least 14 states introduced bills to allow students and faculty to carry concealed weapons on the campuses of public colleges or to loosen restrictions on gun bans on campuses. The year before, nine states introduced legislation to allow guns on campus.
Peterson, DiStefano and CU's media relations department did not return requests for comment from The Huffington Post.
James Holmes, the alleged gunman behind the Aurora movie theater massacre, was pursuing a Ph.D. at the University of Colorado, at its Anschutz Medical Campus. CU is still investigating staff communication with Holmes and whether anyone at the university failed to notice potential warning signs.
Earlier in August, several people were killed when a gunman opened fire in a house blocks from the Texas A&M University campus in College Station. The gunman was unaffiliated with the university.
Related
Popular in the Community