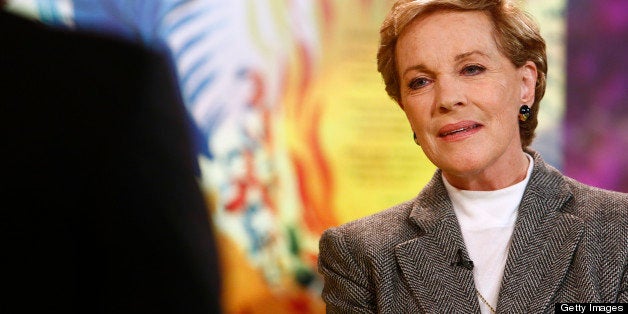 Legendary actress Julie Andrews bid a warm adieu to more than 6,000 University of Colorado graduates this morning, invoking references to her beloved movies and telling the Class of 2013 to "live lightly on this Earth and give generously."
"Use your knowledge, and your heart, to stand up for those who can't stand, speak for those who can't speak, be a beacon of light for those whose lives have become dark," Andrews told the graduates and their friends and family members assembled at Folsom Field.
CU awarded 6,084 degrees this morning -- including 4,687 bachelor's degrees, 903 master's degrees, 171 law degrees and 494 doctoral degrees.
Among them was graduating senior Liz Notary, who decorated her graduation cap with
space stickers -- including a NASA logo to represent her long-term career goal.
This afternoon, Notary will be commissioned as an officer and will begin her journey in the Air Force working as an engineer at Wright-Patterson Air Force base in Dayton, Ohio.
"This degree," she said, gently tugging on her orange graduation cord, symbolizing her engineering degree. "It's the hardest thing I've ever worked for in my life."
The Senior Class Council broke from an informal tradition of inviting only those with close CU ties to be the speaker and courted Andrews, the Academy Award-winning actress who starred in "The Sound of Music," "Mary Poppins" and "The Princess Diaries."
Andrews gripped the attention of her audience in the football stadium, immediately charming the crowd when she greeted them by saying: "Hello Buffalo people."
She told them she started Thursday evening on Pearl Street and "kissed the buffalo," a time-honored rite of passage for CU students. She ended her night at The Sink on University Hill, the same restaurant that President Barack Obama visited during his first trip to Boulder in April 2012.
She also made a Ralphie the Buffalo reference.
"I think I should be careful
Click on any photo to see full gallery
referring to Ralphie as a 'he,' because, as I understand it, Ralphie is really a she playing a he, right? Which pleases me. Because in 'Victor Victoria' -- for those of you who have not seen the movie or the musical -- I played a character that was a she playing a he who was playing a she.
"Clearly, Ralphie and I can relate."
Andrews encouraged the students to be life-long learners and to engage in not just random acts of kindness, but also planned ones.
"Be a part of all that is decent and be an ambassador for the kind of world that you want to live in," she said.
To help make her point that graduates should "go out and learn something" when faced with adversity, Andrews
shared a personal anecdote about a botched throat operation that caused her to lose her singing voice.
At the time, she was writing a children's book with her daughter.
"I was bemoaning my fate and she said, 'Mom, you've simply found a new way of using your voice,'" Andrews recalled. "Suddenly, the weight of sadness fell from my shoulders and I embraced this new learning experience wholeheartedly."
Since then, Andrews and her daughter have together written 30 children's books.
Andrews also made an endearing pitch for the arts during her speech.
"Wherever your path takes you, make the arts a meaningful part of your life in some way. Honestly, they are food for the soul. They revitalize us. They transport us. Inspires us. Shape us. Humble us. They connect us worldwide in ways that nothing else can."
'You blink and it's over'
Prior to the ceremony, graduates this morning lined up on Norlin Quad -- a final gathering place before they scatter on different career or graduate school paths. Preliminary results from a senior survey show that about 54 percent of graduates expect full-time employment to be their principal activity after graduation and 15 percent expect part-time work. Other plans include graduate school, military service, traveling and volunteering.
Many students decorated the tops of their caps to stand out in the crowd, using their mortar boards to give shout-outs to their moms and dads.
Journalism graduate Kenzie Knop wrote out a fitting Jack Kerouac quote atop her cap: "Nothing behind me, everything ahead of me, as is ever so on the road."
After graduation, she's hoping to land a job at a magazine or newspaper.
"I'll be happy as long as I'm writing," she said.
Rob Van Gulick, a graduating senior in integrative physiology, is planning to go on to graduate school in a physician's assistant program.
"The last four years have gone by so quick," he said. "You blink and it's over."
Contact Camera Staff Writer Brittany Anas at 303-473-1132 or anasb@dailycamera.com. ___
(c)2013 the Daily Camera (Boulder, Colo.)
Distributed by MCT Information Services
Calling all HuffPost superfans!
Sign up for membership to become a founding member and help shape HuffPost's next chapter
BEFORE YOU GO
PHOTO GALLERY
Celebrities Giving Commencement Speeches In 2013