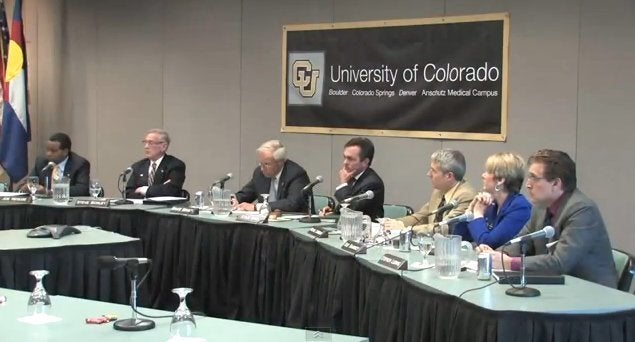 The University of Colorado board of regents voted 5-4 to close the university's journalism school as of June 30, the Boulder Daily Camera reports.
The regents voted on the motion and announced their decision to shut the 49-year-old school of journalism and mass communication at the University of Colorado in Boulder Thursday. Students currently enrolled in the program will be allowed to complete their full course and earn their degrees.
In a statement, school dean Paul S. Voakes said he expects that discontinuation of the program will make room for stronger journalism instruction at CU:
It's a "demise" of the School only in the technical, administrative sense. We will become a department of journalism and mass communication. The resolution the Regents adopted today commits the university to continuing a degree program in journalism/mass communication on the Boulder campus, and in ways that will keep us "competitive for accreditation."

The administration intends to keep our three most important resources intact -- our budget, our student body and our faculty. This will enable us to continue our educational programs with no disruption to our students' curricula.
Voakes went on to introduce a mid-range plan called Journalism Plus, which would require undergraduates pursuing a journalism degree to double major in journalism/mass communication and another subject of their choice, and is slated to be in place by 2012. In terms of journalism's future at CU, Voakes cited the school's exploratory committee's recommendation of opening a new school that would specialize in research and instruction of information, communication, media and technology.
Despite Voake's optimism, those who voted against the motion to close the school fear that the decision bodes ill. In an open letter, regents Joe Neguse, Monisha Merchant Sue Sharkey expressed their concern:
Make no mistake, "discontinuance" means closure. The Board of Regents was not being asked to authorize a new school that would presumably "align" journalism education with other important disciplines. We were not being asked to create a new "School of Information, Communication, and Media Technology" as described by Provost Moore's ICT committee, nor were we being asked to effectuate the recommendation of the Journalism School's Advisory Board to consolidate the School's curriculum with ATLAS as a "College of News, Information, and Technology." Both proposals were good ones-and had they been before the Board of Regents, perhaps we'd have voted differently.

Unfortunately, they were not. We were instead asked to close the School. As a result of today's vote, the journalism program will no longer be a stand-alone school, but rather, will be housed in the Graduate School on an impermanent basis for an unknown period of time. Thus, the future of CU-Boulder's journalism education, beyond the President's promise that it will continue, is unclear.
The journalism school's undergraduate program was placed under provisional accreditation last month, after the Accrediting Council on Education in Journalism and Mass Communications found it to be wanting in the "mission, admin and governance" category. The program would have had two years to correct its failings in order to remain accredited.
The school's master's program in newsgathering, however, failed to fulfill three of the nine standards considered by the team, which voted last month to strip the graduate program of its accreditation. A final decision would have been reached at the end of April.
What do you think? Should CU have kept their J-school open? Share your reaction in the comments section.
Related
Popular in the Community