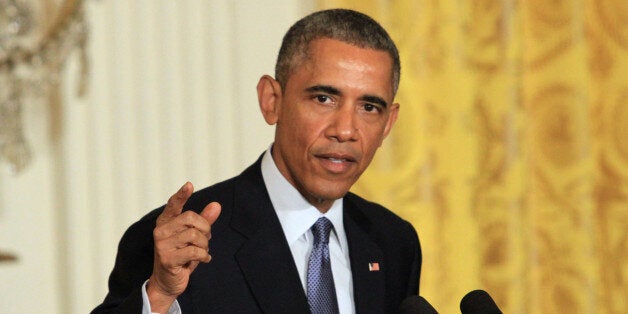 "Cuba is a circumstance in which, for 50 years, we have done the same thing over and over again and there hadn't been any change -- should we try something different with a relatively tiny country that doesn't pose any significant threat to us or our allies?" -- President Obama, NPR interview
President Obama has taken charge of "trying something different" with Cuba and Iran by initiating discrete and patient diplomatic approaches with two of America's most entrenched adversaries. He seeks to replace policies that have failed to achieve America's objectives. The President has directly taken on the powerful yet waning domestic and Congressional opposition to changing the bankrupt strategies. Though as he presses forward to improve Cuban relations and to conclude an historic agreement that would prevent Iran from getting a nuclear weapon, he realizes he will need Congressional cooperation in the future to complete the deals.
U.S. security interests in reaching new understandings with these two traditional "enemies" differ widely. The President noted in his recent NPR interview, "while Cuba is a relatively tiny country" that poses little threat to the U.S., Iran "is a large, sophisticated country that has a track record of state-sponsored terrorism, and that we know was attempting to build at least the component parts that would be required to develop a nuclear weapon." With Iran, the President added, "there's a lot of history -- that's different from the history between us and Cuba."
With Cuba, the President kicked the habit of hostile actions and embargoes that cut off the Cuban people, that had become an embarrassing, outdated Cold War U.S. legacy, and that had been spectacularly unsuccessful in achieving U.S. objectives. Perpetuating the same old policies enshrined Castro as a martyr to "American imperialism," and enabled him to exercise firm control over the Cuban nation. And the U.S. has already had direct contacts with Cuban leaders and people for decades, as American diplomats in our "U.S. Interest Section" in Havana have operated a proto-American Embassy since 1977. Americans and Cubans know how to talk to one another.
Even though the U.S. waited too long, President Obama has chosen a propitious moment to renew diplomatic relations. Americans have become weary of the old ways. Cuba's struggling economy is losing life support, dependent as it is on deeply troubled Venezuela. The Castros will cede control in 2018 to a new -- albeit communist -- generation that may prefer the Vietnamese to the U.S. development model. Tensions and problems will remain, but the U.S. will now have a better chance to play a more constructive role in Cuba's desperate need for change.
With Iran, the President faces far larger challenges. Eliminating the decades-long policies of coercion and sanctions depends on substantial change in Iran's actions and policies. Iran has been perceived as a threat to U.S. security interests since the 1979 Islamic Revolution. Distrust has virtually excluded official contact and made unlikely any official U.S. presence in Iran, particularly in the American Embassy, which stands as a bitter monument to U.S.-Iran relations. The U.S. and Iran will remain far apart culturally, linguistically and geographically, and Iran's leader Ali Khamenei will prefer distance from the "Great Satan."
Building regular bilateral communications will take years for the U.S. and Iran to work out in the wake of a nuclear agreement. For decades, American presidents have tried to get Iran to the table, using international sanctions and pressure. The Obama administration has been particularly assertive in trying to capitalize on the sanctions to get to talks. The new Iranian President elected in 2013 expressed willingness and the Obama Administration seized the moment to get Iran to agree to verifiable limitations on its nuclear program to assure it will not get a nuclear weapon. In return, the U.S. and others would progressively lift sanctions that would open Iran's economy to the global markets.
If Iran does not agree to a comprehensive deal with the U.S., the results could be grave for both parties. Maintaining the same old policies with Cuba would have been foolish and led to missed opportunities, but "more of the same" with Iran will work against American interests. The U.S. has brought Iran to the table and is close to concluding a comprehensive nuclear agreement. Failure to achieve one would leave few alternative strategies. A U.S. failure to implement such an internationally supported agreement could lead to a diminished U.S. leadership role in the world, to a reduction of international support for sanctions and restrictions on Iran's nuclear program, and ultimately to war.
Success with Cuba and Iran, on the other hand, could lead to improved opportunities for cooperation, to an eventual integration of the Cuban and Iranian people into the world and to a wider application of diplomacy to help meet challenges in the Middle East and Europe, where military force alone has shown it cannot achieve U.S. objectives.
How can the President enlist Congress in this new diplomatic strategy, since it will eventually determine the success or failure of these two deals? Only Congress can lift the embargo and sanctions. Presidential leadership skills combined with positive changes over time in Cuba and Iran will impact the public sentiment and Congressional willingness to support new policies toward these adversaries. Americans, who increasingly oppose costly conflict, may come to recognize that the U.S. would be better off with a Cuba and an Iran (without nuclear weapons) as functioning members of the international community. In woeful times ahead, President Obama could turn to Abraham Lincoln, who said that "Whoever molds public sentiment goes deeper than he who enacts statutes, or pronounces judicial decisions." President Obama and his successors will need to develop a "public sentiment" that it is time to test the value and limits of diplomacy to resolve some of America's most serious national-security challenges. He is off to a good start.
This post is part of a Huffington Post blog series called "90 Miles: Rethinking the Future of U.S.-Cuba Relations." The series puts the spotlight on the emerging relations between two long-standing Western Hemisphere foes and will feature pre-eminent thought leaders from the public and private sectors, academia, the NGO community, and prominent observers from both countries. Read all the other posts in the series here.
If you'd like to contribute your own blog on this topic, send a 500-850-word post to impactblogs@huffingtonpost.com (subject line: "90 Miles").
Related
Popular in the Community