Covering the walls of the Restaurant Paladar San Cristobal, an out-of-the-way eatery in Havana, Cuba, are dozens of vintage photos from the city's nightlife heyday. But one recent visit is yet to be memorialized on the wall, a visit from some of the world's most well known public figures.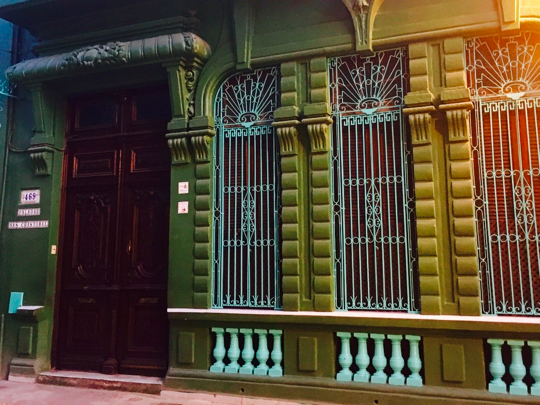 During his recent and historic trip to Cuba, President Obama and the First Lady dined at the restaurant. "It was very important that he visited our county," my waiter explained while pulling his phone out of his pocket to show me photos of the Obamas. His favorite picture showed the leader of the free world and his wife surrounded by the restaurant staff, smiling from ear to ear. But the Obamas weren't the guests that had the restaurant staff's tongues wagging.
It was another recent visit that could make an even bigger impact on American-Cuban relations. The waiter explained that just a few weeks ago, at the banquet table next to where I was seated, Hollywood royalty had dined. At a table festooned with a tablecloth made of taffeta and sequins and under the watchful eyes of assorted religious idols propped against the wall, the Kardashians enjoyed dinner during their first night in Cuba. "And Kanye, too," I was told.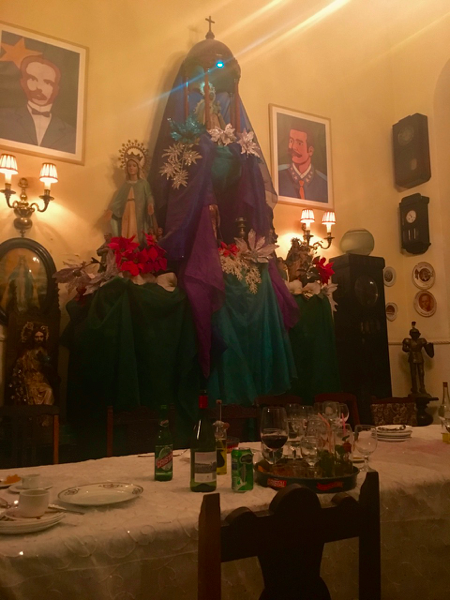 Several waiters in the restaurant dropped by my table, all eager to show me their photos from that visit. They had signed agreements to appear in an upcoming episode of Keeping up the Kardashians. This visit was a bit more logistically intricate than Presidential dinner, it seemed.
It's hard to imagine a greater disparity than that between the publicity-savvy Kardashians and the warm people of Cuba. Cubans emphasize sharing and support for others, with many citizens still inspired by the state's socialist ideals. The Kardashians epitomize vacuous consumerism and self-promotion.
The Cubans repair and repurpose the limited goods that make their way to the island nation — most famously their American automobiles, which are still running 60 years or more after their arrival. Kendall Jenner (she's a Kardashian, trust me) received a $300,000 Ferrari for her 18th birthday, reportedly leased.
Cuba is a Socialist nation ruled by a single Communist party, so it's understandable that a visit from the Kardashian family could be seen as a threat to the Cuban way of life. Couldn't Kim, Kourtney and Khloé easily beguile Cuban youth, leading them away from Communist ideals? Well, yes, at least some of those ideals.
The wait staff shared their dreams of emigrating to the U.S. to finally use their college degrees, which are woefully under-used in a country with limited professional employment opportunities.
But the restaurant owner, Carlos Cristóbal Márquez Valdés, has realized a different dream. Carlos's restaurant is among the best in the city, but a meal with drinks costs only about $25 in U.S. dollars. Surely this is the cheapest dinner a Kardashian has eaten in decades! Shouldn't the prices be much higher? How can a country starved for economic development resist the allure of American tourism dollars?
Well, Carlos just might find a way.
"This restaurant should be a place for Cubans too," Carlos says. He built the restaurant out of a family home he inherited and he remains committed to his broader Cuban family. "We cannot be for only tourists."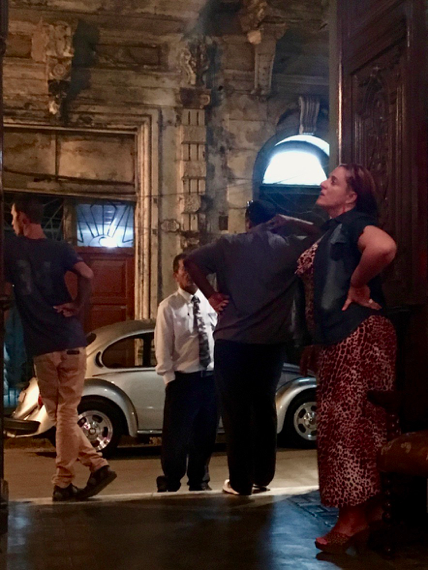 Change is coming to Cuba, and many worry capitalism will quickly eradicate the Cuban culture. Nearby, the latest installment of the popular "Fast and Furious" movie series recently filmed. And only a few days before my meal, a cruise ship arrived from Miami — the first in 40 years.
A few days after the Kardashian meal, the restaurant received an urgent call. Could staff prepare more meals for the family? The Kardashians wanted "take-out" for their flight back to the U.S. Packed along with those meals came the ideals of Cuba. If Cuba can survive a visit from the Kardashians, perhaps the best of their culture will survive an expanded relationship with the United States as well.
Calling all HuffPost superfans!
Sign up for membership to become a founding member and help shape HuffPost's next chapter
This post was published on the now-closed HuffPost Contributor platform. Contributors control their own work and posted freely to our site. If you need to flag this entry as abusive,
send us an email
.