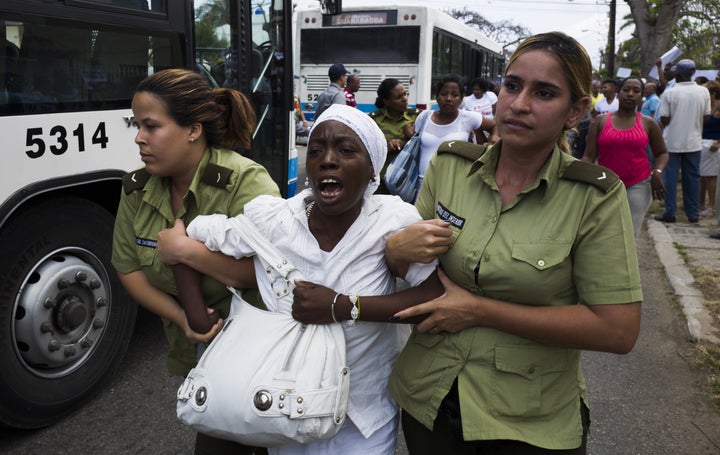 HAVANA -- After delivering a major speech aimed at the people of Cuba on Tuesday morning, U.S. President Barack Obama is scheduled to hold a meeting with members of the island's civil society, including prominent opposition activists.
Both the speech and the meeting will be closely followed by international human rights organizations and critics of Obama re-establishing diplomatic relations with Cuba. Supporters of Obama's move say that policy will do more to advance liberal reforms on the island than isolating the Castro government, while opponents have argued that the White House should have wrung out more concessions on human rights. The Cuban government, for its part, has played down criticism of its human rights record, saying the issue shouldn't influence diplomacy.
Whatever one's opinion, the human rights issue in Cuba will likely play a role in the U.S. Congress' willingness to overturn the American trade embargo against the island, according to Chris Sabatini, the director of the think tank Global Americans.
"For Congress to come together, there has to be progress on the human rights front," Sabatini told The WorldPost. "It's difficult to get that coalition to jell without some progress. This is a government that has survived through repression. It sees its ability to survive as being conditioned on the ability to control people's lives politically, socially and economically."
Here are some human rights issues that have been raised by both Cubans and international human rights groups:
Repeated political detentions.
As a one-party communist state, Cuba often takes an authoritarian stance toward political opposition. Just hours before Obama landed, the Cuban government detained some 50 opposition activists who had joined a peaceful weekly protest with the Ladies in White, a group founded in 2003 to rally against the jailing of government opponents. They were among some 2,500 politically motivated short-term detentions since the year's beginning, according to Human Rights Watch.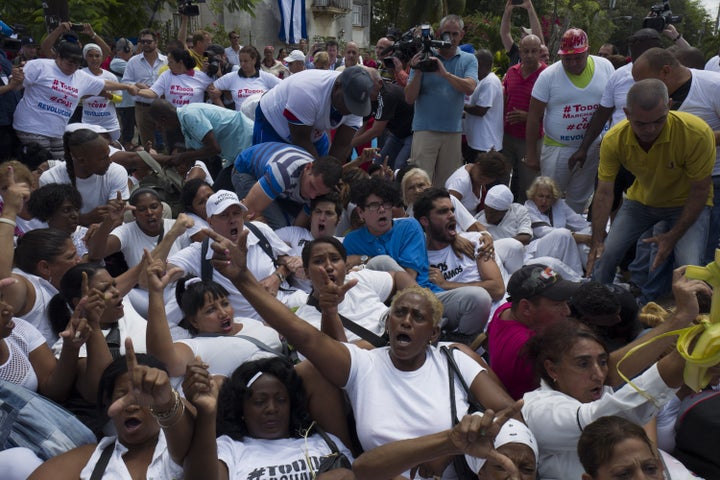 While Cuba has historically jailed many political opponents for terms of two decades or more, the Castro government has relied increasingly on short-term detentions in recent years. At a press conference Monday, Cuban head of state Raúl Castro denied the island held any political prisoners, but also said that human rights "should not be politicized" as the U.S. and Cuba normalize relations.
The most recent estimate of political prisoners on the island by the Cuban Commission of Human Rights and National Reconciliation, released in July, identified some 60 prisoners of conscience in Cuba, a list that included some armed rebels. At least two dozen of those on the list were convicted of nonviolent acts.
International groups including Human Rights Watch and Amnesty International have also called on the Cuban government to allow visits from international monitors to investigate prison conditions. Marselha Gonçalves Margerin, advocacy director for the Americas at Amnesty International, said Cuba is the only country in the Americas where her organization can't access jails.
"That was actually one part of the agreement from December 2014, when the two presidents, Obama and Castro, announced normalization of ties," Daniel Wilkinson of Human Rights Watch told WorldPost. "On the human rights front, Cuba agreed to release 53 political prisoners, which it did. It also agreed to allow these visits by these monitors, which have not happened yet."
The Castro government places restrictions on speech and media in ways both large and small. Pornography, for example, is prohibited, and travelers must declare when passing customs whether they're bringing any pornographic material with them. That restriction inspired the name of Gorki Aguila's punk band, Porno Para Ricardo, a reference to a friend by the same name who would ask people to bring him porn when they traveled out of the country.
"Can you imagine how ridiculous it is to prohibit something as beautiful as pornography?" Aguila told WorldPost. "Especially for a culture as sexually expressive as Cuba's is. Communists are very conservative. They want to ban everything involving pleasure."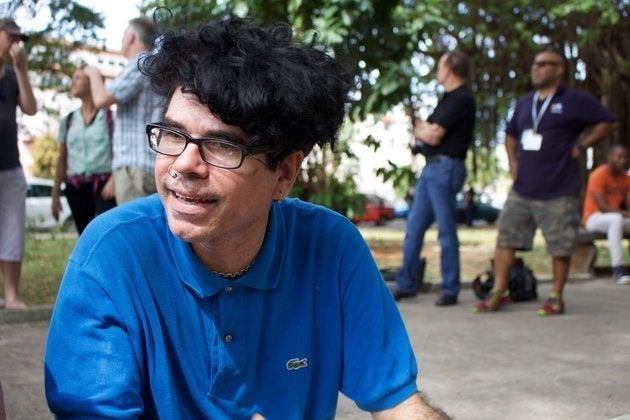 In a more lofty example, filmmaker and playwright Juan Carlos Cremata saw his work blackballed by the government institutions after writing a play titled, "The King is Dying." In Cuba, Cremata said writers must submit works for review before state institutions will allow them to be performed. The government interpreted the play as an insult to former Cuban head of state Fidel Castro.
"I don't want to do works against the government," Cremata told WorldPost. "I want to do work in favor of what I want to say."
The Castro government also blocks websites of writers affiliated with the opposition, like the digital newspaper 14 y Medio, founded by blogger Yoani Sánchez.
Here's how the Cuban government has responded:
The Cuban government acknowledges disagreements over human rights issues, but has traditionally pointed to state guarantees of free education, health care, housing and pensions as justification. Asked about its human rights record at the press conference on Monday, Raúl Castro expressed the same rationale.
"Do you think there's any more sacred right than the right to health, so that billions of children don't die just for the lack of a vaccine or a drug or a medicament?" Castro said. "We have many other rights -- a right to health, the right to education."
The Cuban government has its own claims against the U.S. They have for years called on the U.S. government to shut down the military prison in Guantánamo and stopped cashing the checks for leasing the base decades ago, contending that the territory should be returned.
Every year for roughly the last two decades, the United Nations has passed a resolution sponsored by Cuba calling for the U.S. to end the trade embargo against the island, which the Castro government views as a human rights issue. Amnesty International has also called for the lifting of the embargo, Gonçalves Margerin said.
The U.S. has no right to intervene.
Cuban state media also routinely runs stories criticizing civil rights issues in the United States and stories about its wars abroad, aimed in part at highlighting that the U.S. doesn't have the moral authority to make human rights demands on Cuba.
The distaste for outside interference is shared by many Cubans, even when they have their own problems with the government.
"I don't think that the way the Cuban government handles human rights is correct, but it's an internal issue that Cubans themselves will have to resolve," independent journalist Elaine Diaz, founder of the site Periodismo de Barrio, said in an interview with WorldPost. "Even feeling myself affected by the lack of freedom of expression because I'm a journalist, I still think it's a problem that should be solved by Cubans."
It's also a view shared by Obama. At Monday's press conference, Obama said he would continue to raise concerns to the Cuban government about detaining people for political reasons, but that the U.S. would refrain from trying to impose its will on the Castros.
"The goal of human rights dialogue is not for the United States to dictate to Cuba how they should govern themselves, but to make sure that we are having a frank and candid conversation around this issue," he said. "And hopefully that we can learn from each other."
Nick Robbins-Early contributed reporting.
Popular in the Community