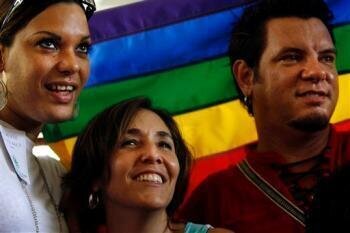 HAVANA, Mar 30 (IPS) - You could hear a pin drop and uncomfortable glances went round the room when the moderator of the debate invited contributions from the floor. A law student finally broke the silence, appealing for education to be a two-way street, so that homosexuals can "help us to accept them."
Perhaps unintentionally, the law student, Bárbara García, really broke the ice. The men and women who had spoken up to defend their sexual orientation against prejudice and misunderstanding had shown those present a reality that perhaps many considered alien to their experience, had no knowledge of, or knew of only in a distorted way.
"There are people who commit suicide because of their sexual orientation. We are not even going to talk about lesbians, who are doubly oppressed, as women and as homosexuals," said Alberto Roque, who introduced himself as a gay doctor and member of Cuba's ruling Communist Party.
Minutes later, Ema confided that she belonged to a Protestant church, and had tried to kill herself when she discovered that she was attracted to other women. Eventually she came to terms with her lesbian identity and no longer hides it.
"I think that a wider sense of respect is needed. I don't mean tolerance or acceptance, I mean respect for diversity," Roque said.
The 2009 campaign for respect for freedom of sexual orientation, under the slogan "Diversity is Natural", will try to contribute to "the education of society in general, with an emphasis on university students, about respect for people's free and responsible sexual orientation and gender identity, as an exercise in equity and social justice."
The National Centre for Sex Education (CENESEX) "cannot do this work on its own, which is why we have called on the youth of the country, who will become the future professionals and leaders of society," said Mariela Castro, the head of CENESEX, which has developed a wide-ranging programme in support of the right to sexual diversity since 2004.
Castro addressed the opening event of the campaign, a forum and debate held on Mar. 26 at the headquarters of the University Students Federation (FEU) at the University of Havana. There was standing room only at the forum, which was attended by students, university professors, CENESEX staff and representatives of the gay community.
Biology Professor María Fuentes said promoting this debate, which will continue at the university on a fortnightly basis, was an excellent initiative, because young people are agents of change. "It is a strategy that looks to the future," she said, regretting that none of the students from the biology department had attended.
According to CENESEX's Sexual Diversity Project, the campaign includes educational activities under the National Sex Education Programme, small group meetings, workshops, video-debates, talks and exchanges "to stimulate and promote reflection and debate among university students."
"This year we want to focus on audiences capable of being multiplier agents and extending the work, like the university population," said Castro. With this goal in mind, CENESEX initially worked on the campaign design with members of the Young Communist League and the FEU in Havana, and will later branch out into the provinces.
In an interview with IPS, the head of CENESEX and daughter of Cuban President Raúl Castro said the International Day against Homophobia and Transphobia (IDAHO) will be celebrated in Havana this year on May 16 and will be devoted to young people, and also to families, so that "parents may better understand" their homosexual or transsexual children.
She added that a date has still not been set for the Cuban parliament to debate a draft law to reform the Family Code, in force since 1975. The reform bill includes proposals on gender identity and the rights of sexual minorities.
"The work that we are doing will help to ease the prejudices behind these processes," she said.
Castro also said that the Catholic Church had communicated its negative views on the proposed reforms to the authorities. "There have been conversations. They were concerned about homosexual marriage, and were told that this is not being proposed," nor the adoption of children by homosexual couples, she said.
The reform bill would allow legal recognition of same-sex unions, and grant them the same rights as civil unions between heterosexual couples.
As for sex change operations for transsexual persons, approved in June 2008 by a Health Ministry resolution, which is another matter of concern to the Catholic Church and other religious denominations, Castro indicated that the decision remains in force.
Resolution 126 signed by Health Minister José Ramón Balaguer established a facility for comprehensive health care for transsexual persons as the only institution in the country authorised to carry out total or partial sex change operations.
Calling all HuffPost superfans!
Sign up for membership to become a founding member and help shape HuffPost's next chapter